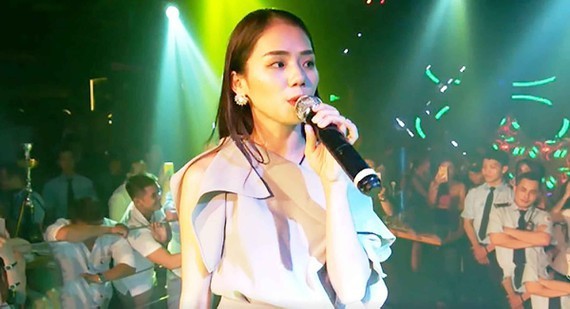 Former Internet sensation Huong Ly now performs live on stage
Along with the trend comes controversies surrounding the legality of covering songs without permission.
Music copyright is still a much disputed issue in Vietnamese showbiz. In the past, neither singers nor the audience were too concerned about copyright issues and the commercial benefits behind a covered song.
In the era of Internet however, when it is more and more usual to come across song covers, it became apparent that too many people, including well-established artists, are still oblivious to music copyright laws.
There has been an uproar in the online community lately when composer Khac Viet's agent pointed fingers at the singer Huong Ly for performing Khac Viet's song "Buoc qua doi nhau" (Missing out on you) at bars without permission.
According to the agent, the song was composed exclusively for singer Le Bao Binh to perform and film music videos.
Before that, Vietnamese pop music community was also making a fuss over the abundant of covers for the song "Do ta khong do nang" (Why save me and not her), written by the Chinese Co Doc Thi Nhan and released in January 2019.
By the end of June 2016, all singers who posted covers of the song were requested to have them removed or pay a royalty of VND5 million (about US$216) and 33% of their revenue from the song. As a result, many influential online figures took down their million-view videos of the song.
Regarding this matter, composer Nguyen Van Chung believed that covering any song without permission is inappropriate, even for non-commercial purpose. "Whether you are a professional singer or not, you should be respectful to other artists and their work", he added.
Theoretically, musicians and singers can entrust the Vietnam Center for Protection of Music Copyright (VCPMC) to manage their music copyrights. However, many believe that it is difficult for VCPMC to fully manage copyright issues related to song covers since there are both commercial and non-commercial covers on the market.
It is recommended that artists whose rights have been violated should be proactive and ask for legal intervention instead of trusting the conscience of cover singers. SGGP
Tan Nghia