Sotheby's pulls Vietnamese paintings from upcoming auction

Auction house Sotheby's Hong Kong has pulled several Vietnamese paintings from an upcoming sale due to uncertainty over their authenticity.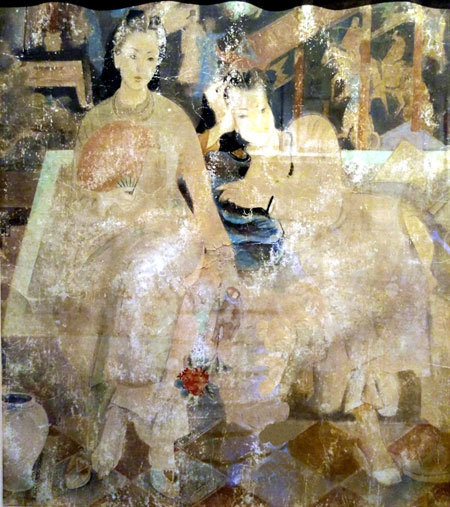 Resting Ladies by Tran Van Can displayed at the Viet Nam Museum of Fine Arts. — VNS Photo Doan Tung
In an email to Việt Nam News on September 23 Sothebys said they had become aware of concerns over the authenticity of To Ngoc Van's Lá Thư (The Letter) and Tran Van Can's Hai Thiếu Nữ Trước Bình Phong (Resting ladies).
"Sotheby's takes issues of authenticity seriously and has decided to withdraw the aforementioned paintings from the auction, allowing more time for further investigation," Press Manager Erica Ng wrote.
The Letter and Resting Ladies were slated to go under the hammer at a Modern & Contemporary Southeast Asian Art Evening Sale from October 5-6.
The Letter had been expected to go for HK$800,000-1,500,000 (US$100,000-192,000) and Resting Ladies from HK$60,000-90,000.
"The two paintings are in the Viet Nam National Fine Arts Museum's collection," said Bui Hoang Anh, a member of the Viet Nam Fine Arts Association and Editor-in-Chief of Fine Arts Magazine.
"The Letter owned by Sothebys looks nothing like the original at the museum, which has been damaged by time with several tears."
Resting Ladies was bought in 1965 from a family living in Ba Trieu Street thanks to an introduction by art critic Nguyen Hai Yen, according to Anh.
The national museum needs to confirm their paintings are originals, according to artist Pham Ha Hai, former secretary of the museum's Science Council.
"This is a matter of national ownership and the legality of the property," said Hai. "The museum should be responsible for the late artists."
He said the museum had documentation and other provenances registered with the Cultural Heritage Department.
"The museum is holding masterpieces as national treasures with all the proper documentation to ensure their legality," Nguyen Thu Huong, the museum's deputy director, told VN News. VNS