Spring festival organisers told to trim their budgets
VietNamNet Bridge – The Secretariat of the Communist Party of Viet Nam directed all agencies at localities throughout the country to enhance the party's ability to guide management and organisation of spring festivals.
VietNamNet Bridge – The Secretariat of the Communist Party of Viet Nam directed all agencies at localities throughout the country to enhance the party's ability to guide management and organisation of spring festivals.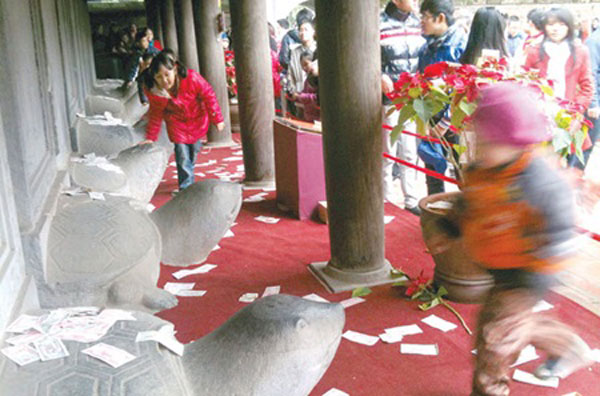 Small notes are scattered everywhere at the Temple of Literature in Ha Noi during the last Lunar New Year festival. This year, the use of small notes at pagodas and temples will be tightly controlled by the culture ministry and other concerned agencies.
Festivals should be organised at the lowest cost possible, and aim to develop the country's fine customs, according to the Party. They should also educate younger generations.
Party members and officials should act as good examples at festivals by following local regulations.
Localities were urged to cut down the number and frequency of festivals, limit the use of State budget allowances and encourage private organisations to fund them instead.
Officials will make more efforts to curb widespread festival practices with negative impacts like burning too much "vang ma" (joss paper or ghost money) and selling small bills for profit.
Festival management boards were also asked to ensure the preservation of relics and keep social order; control fires; and ensure food safety, traffic safety and hygiene at the festivals.
The price of services at festivals should be written down publicly to assure no visitors are cheated.
Ministry efforts
The Ministry of Culture, Sports and Tourism, along with other agencies, has created new regulations to improve the organisation of upcoming festivals.
Calligraphy exams were held for the first time ever at Van Mieu (the Temple of Literature). Only calligraphers who passed the exams held last week will be allowed to offer calligraphy-writing services at the temple.
"We demand the qualified calligraphers be able to write ancient characters beautifully," said scholar Pham Van Anh, a member of the judging board. "Our standards are very high this year."
The exam was carried out in two days, gathering more than 130 calligraphers from all across northern Viet Nam. Each contestant had to draw a calligraphy work of four to five Han-Nom (Chinese and Vietnamese ideographic characters) within 15 minutes. The characters must be precise and follow strict guidelines.
According to Tran Quoc Chi, deputy head of the UNESCO Calligraphy Club, they were looking to protect customers' rights, as well as calligraphers'.
About 49 per cent passed their exams. They and famous calligraphers – who were exempt from the exam due to their excellent achievements in the art – will receive official certificates stating their status as calligraphers.
There will be nearly 100 calligraphers offering their services at the site for the Year of the Goat Spring Calligraphy Festival from February 8 to March 5.
Van Mieu-Quoc Tu Giam Scientific and Cultural Activities Centre and the Viet Nam UNESCO Calligraphy Club organised the event.
There will be 100 calligrapher booths with the artists dressed in traditional costumes, selling elegantly written words.
Along with the calligraphy writing activities, an exhibition called Encouraging Study will showcase 70 works by famous calligraphers.
The Tet custom of calligraphy has been preserved by festivals exhibiting the art during the holidays. Visitors often ask for nice words written in calligraphy, hoping for good health, prosperity and luck. They're often used as decorations as well.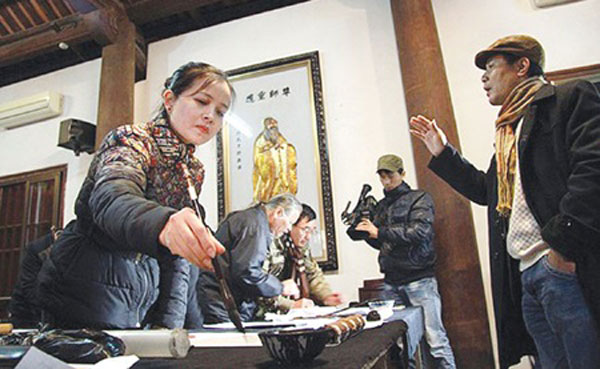 Test of characters: Calligraphers sit for an exam on Friday. — Photo baomoi.com
Calligraphy has taken place for almost a decade on the pavement along Van Mieu Street, which often causes congestion during the busy last days of the year. Starting last year, the Ha Noi Culture, Sports and Tourism Department decided to relocate the calligraphers to nearby Van Lake to ensure order and traffic safety.
No small banknotes
The Ministry of Culture, Sports and Tourism has issued a document urging local authorities to more closely control the "uncultured" use of small banknote as offerings at festivals and spiritual venues.
Small notes – VND200, 500, 1,000 and 5,000 – should not be put at Buddha statues or altars, or other sacred places. Small-notes exchange services also needed to be restricted, the ministry said.
The State Bank of Viet Nam has recently announced it won't print any more notes under VND5,000, which will save the State VND171 billion (US$ 8.1 million).
According to a survey conducted by the bank at pagodas and temples in Ha Noi, Hai Duong and Bac Ninh in 2013, when no more VND500 notes were printed, the State saved VND94 billion in printing, transporting and preserving costs.
Dao Minh Tu, the state bank's deputy general director, said selling small-valued notes for profit was illegal and that violators would be fined up to VND40 million.
"People often offer small-value notes at many temples and pagodas, and believe that the more small notes they give, the more they get protection from the Buddha," said Nguyen Hung Vi, who researches folk culture.
"This practice does not suit Buddhist norms. People can donate objects to monks or money to renovate pagodas. But putting bank notes on altars, Buddha and saints statues and other places in the worshipping places is wrong. It hurts monks and holy figures."
Pham Xuan Phuc, a Ministry of Culture, Sports and Tourism official, said that to stop people from scattering small notes during festival season this year, local authorities and concerned agencies should join in the process more actively and fine more violators.
"Besides, we should enhance people's awareness of Buddhism so that they follow correct practices," Phuc said.
There are around 8,000 festivals held across the country, 90 per cent of which are traditional festivals, mostly taking place in spring and autumn. They are considered the most beautiful, and they afford farmers the most free time.
Many practices that are considered rude have been banned in the last couple years, including gambling, burning votive paper and offering small notes at religious sites.
Trinh Thi Thuy, another official from the ministry, said concerned agencies and local authorities should co-operate more closely and impose even stricter fines on those who violate the new rules.
VNS