Stagnant transport plans probed at National Assembly
Facing stagnancy for years, transport infrastructure development has been highlighted by the National Assembly, triggering the urgent need to make strong moves to fast-track long-delayed initiatives.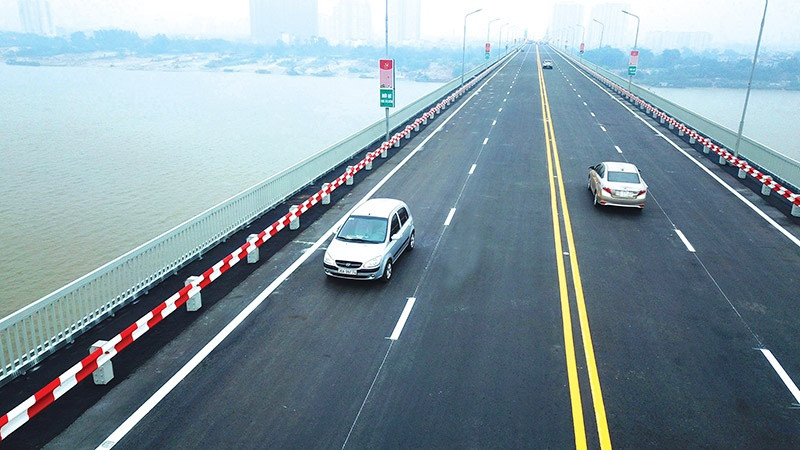 Photo: Le Toan
The National Assembly's (NA) June 9 Q&A session focused on discussions on the progress and quality of key national transport infrastructure projects, investment disbursement, and sluggishness, as well as possible solutions to bring back on track.
Truong Trong Nghia, NA deputy for Ho Chi Minh City, questioned Transport Minister Nguyen Van The about a lack of expressways in many economic hubs in the southwestern and Central Highlands regions. "They are yet to be developed in line with the huge potential of the southern economic hub. The situation has been the same for years," Nghia said.
In response, the minister said that the government is aware of the inappropriate development of expressways in regions. The government has approved the expressway development plan with the goal of developing 5,000km of expressways to better tap into regional potential, with the development plan of Beltway No.3 in Ho Chi Minh City and Beltway No.4 in Hanoi being examples of this.
For the Mekong Delta region, said to have a weak expressway network and difficulties in investment attraction, the Ministry of Transport (MoT) advised building Chau Doc-Can Tho-Tran De Expressway to connect gateway roads to the region and increase international connectivity with Cambodia.
At present, the National Highway No.51 is overloaded. Therefore, an expressway is now being developed using public investment to complete it soon. An expressway to the Nam Van Phong area is also being developed to facilitate regional industrial development.
"This term, the NA and government are heavily supporting national key transport projects. The current development plan is expected to ensure appropriate development of expressways between areas and regions," Minister The added.
Also at the Q&A session, NA deputies were concerned about the scarcity of materials for project development. Specifically, Trinh Lam Sinh from the Mekong Delta province of An Giang was concerned about challenges facing current transport projects to ensure their progress and quality after the government submitted to the NA for approval of five additional projects to expand city space and develop regional connectivity.
Other NA deputies are worried about the possibility of completing 360km of expressway in 2022 as requested by the prime minister amid rising material prices.
Minister The added that the MoT and other relevant ministries and localities had carried out fact-finding trips to construction sites, and will have better solutions for this issue.
The minister also underlined the sluggishness of some national transport projects, including Ho Chi Minh Highway. He explained in the 2000-2010 period, the project was on a good schedule and in 2016-2020, the country focused more on the eastern cluster of the North-South Expressway and many other projects. Therefore, resources became scarce for Ho Chi Minh Highway and other half-done ventures.
The transport sector leader said that the MoT takes the main responsibility for this stagnancy, but added slow site clearance in some cities and provinces is another valid reason. Moreover, Ho Chi Minh Highway has complex geological topography, making it a challenge during project development.
Regarding future developments, Minister The elaborated that expressways are being developed using public investment and the country ensures enough funding for them, so there may not be a lack of funding as in the past. "With strong determination from the government, the MoT, and localities, the Ho Chi Minh Highway and others will have a good development schedule," he insisted.
Along with expressways, many bridges and metro lines in Hanoi and Ho Chi Minh City are lagging behind schedule. End-July 2022 is the deadline for Ben Tre province and Chau Thanh district of Tien Giang province, both in the Mekong Delta, to complete the slow site clearance for construction of the Rach Mieu 2 Bridge project, which was kicked off in March to connect the two localities.
Rach Mieu 2 is one of many transport projects in stagnancy. Among 14 transport schemes approved by the NA in 2016-2020, six are currently delayed with investment of nearly $385 million, of which five are stagnant because of slow site clearance.
In addition, four national railway projects totalling over $304 million, which were expected to be completed in 2021, are not yet completed. The MoT notes some could be finished by October 2023 instead.
Meanwhile, it was revealed last week that construction of Ho Chi Minh's metro line No.2 has been rescheduled to 2025 as the city needs to find a new consultant. Line 2, approved in 2010, had an original price tag of $1.3 billion, which skyrocketed to $2.1 billion by the end of 2019 on rising material and construction costs.
Source: VIR