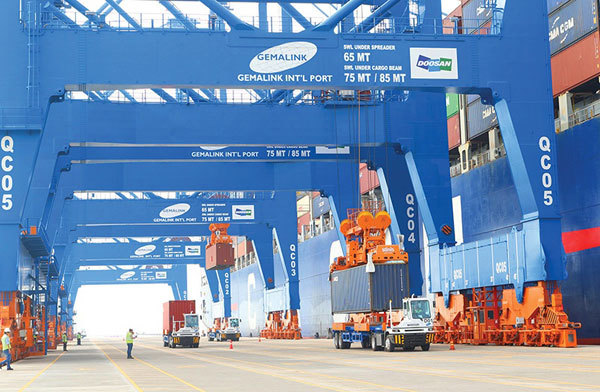 Ports are welcoming only a small portion of the cargo they were processing before the pandemic emerged. -- VIR Photo: Le Toan
Cai Mep International Terminal (CMIT) located in the southern province of Ba Ria-Vung Tau is waiting for a bold move from local authorities to loosen the stay-at-work policies to ease its burden.
Nguyen Xuan Ky, general director of CMIT told VIR, "The province planned to loosen the policies a few days ago and to find different solutions for businesses in various areas to facilitate their activities. However, the authorities have yet to apply them."
Ky added that the policy is causing extra costs of over $44,000 to CMIT per week. "The spirit of the workers is also affected as they have to work in a limited environment for a long time. We have no solution yet and have to wait for the authorities," Ky said.
CMIT has been applying the stay-at-work model since July 17 with 350 employees to ensure its smooth operation. The general director elaborated that the number is just enough to maintain general port operations but not enough to meet demand when the cargo volume increases.
In an effort to ease the situation, the port has sent a document to local authorities, asking for permission to apply more flexible labour management solutions. CMIT proposed continuing to apply the stay-at-work model for labourers from other provinces and those in pandemic-hit areas. For those vaccinated, the policies should be more flexible.
CMIT is just one of the ports facing challenges. Le Thanh Ven, deputy general director of Hau River Food Port Company, said that it has been implementing the model since July 22. After more than a month, about 30 workers resigned due to this changes.
"Before the pandemic, the port welcomed about up to 3,000 tonnes of cargo daily, which was processed by around 100-120 workers. Now we're working with 30 people that can only process about 400-500 tonnes of cargo a day," Ven admitted.
To deal with the situation, Hau River Port Company in the Mekong Delta city of Can Tho proposed to the locality to allow the recruitment of workers from unaffected areas as a substitute, ensuring daily health declarations and meeting COVID-19 testing rules. However, the Management Board of Can Tho Industrial and Export Processing Zones showed disagreement.
Lam Tien Dung, chairman of the board of Can Tho Port JSC, said that Can Tho Port is also in the same boat. As planned earlier, when starting to implement the stay-at-work model, the company had 25-30 dockers. However, only 11 stayed, while the rest left after over one month ago.
"The shortage of labourers is negatively impacting the port performance, especially for cargo in bags like rice and fertilisers," Dung elaborated. "On normal days, the port can process 500-600 tonnes of bagged cargo per day, but now we're down to 20-30 per cent of this amount. We even have to refuse many orders."
Hoang Hong Giang, deputy head of the Vietnam Maritime Administration (VMA), said ports are operating day and night so they need many workers. The prolonged stay-at-work policy cause extra costs and impact workers' psychology. Therefore, the optimal solution is to vaccinate all personnel.
Giang suggested that authorised agencies should introduce the zoning concept of the larger cities for ports. Also, localities should be consistent in regulations, thus preventing any difficulties in port operation.
Workers in green areas would be those living without infections and a high vaccination rate, committing to abide by the regulations on the pandemic prevention. Workers in yellow zones would be those living in low-risk areas but fully vaccinated with two shots. They should be allowed to freely move from the company to their home, argued Giang. Meanwhile, the localities could establish green paths for the transportation of workers and goods with designated pick-up places.
The stay-at-work model has been a special concern among domestic and foreign businesses. While the principle is sound, it places a huge burden on both companies and their workers in practice.
The Vietnam Logistics Business Association and the European Chamber of Commerce in Vietnam have asked the VMA to work with cities and provinces, urging them to allocate vaccines to workers in necessary sectors like infrastructure, while issuing green passes for them.
Source: VIR

The Ministry of Transport (MoT) has asked provincial and municipal authorities to ease the travel of labourers at seaports so as to avoid the disruption of production and supply chains amid the COVID-19 pandemic.

With unreceived containers piling up and hampering the work of much-reduced personnel, Cat Lai Port in Ho Chi Minh City has thrown in the towel and requested that importers readjust the shipping routes to alternative destinations.