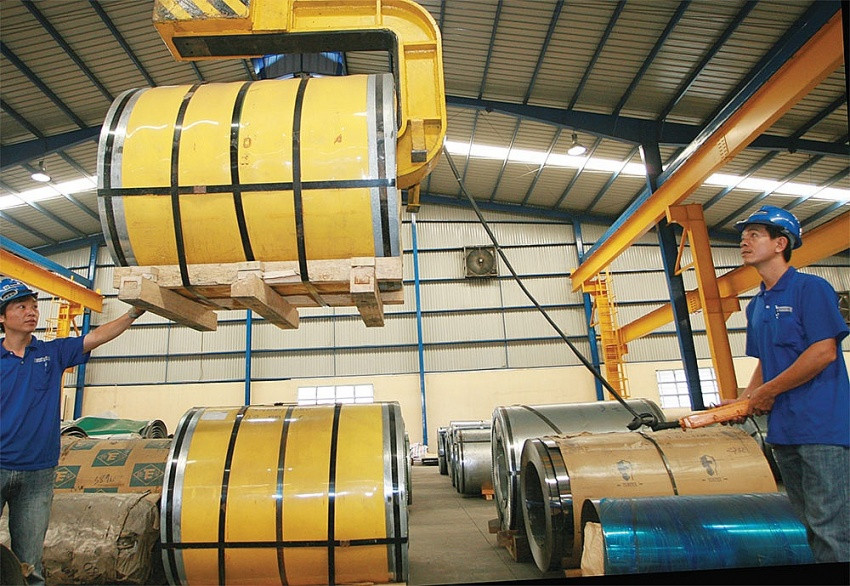 Supply-demand and raw material cost issues have not yet subsided, photo Le Toan
The deputy general manager of China's SUMEC International Technology Co., Ltd., Luan Shorden, arrived in Hanoi 10 days ago to discuss the possibility of selling raw steel.
China manufactures a substantial quantity of steel but imports a substantial amount of crude steel to meet local demand. Vietnam exported 11.68 million metric tonnes of steel to China in 2022.
According to Shorden, Vietnam can regularly and consistently ship crude steel to the Chinese market as a significant supplier, satisfying the cheap and quick criteria. "The continuous expansion of crude steel capacity will support this trade," he said.
Similar to Vietnam, exports continue to play a key role in China's surplus steel consumption. "China's land policy is less advantageous for steel production, with essentially no additional crude steel manufacturing capacity. The growing cost of Chinese steel manufacturing causes exports to lose their pricing advantage," Shorden added.
China's steel sector is limiting crude steel output and pushing exports of more steel products to the Middle East, India, and European markets concurrently. According to Shorden, China exported 67.4 million MT of completed steel in 2022, although flat steel accounted for 64 per cent and galvanised steel accounted for 12.5 per cent of total steel exports.
Doan Danh Tuan, vice president of the Vietnam Steel Association (VSA), said that there are few indications that the steel sector's troubles in terms of supply-demand and raw material costs have subsided. "Little has changed since the end of last year. This condition could last until the end of 2023, notwithstanding the worst-case scenario."
It is extremely difficult to discuss the profit margin of the company at this time, he added, citing the fact that many plants are presently only operating at 40-60 per cent of design capacity. According to VSA statistics, crude steel output declined 16 per cent in February 2023 compared to the same month in 2022.
According to Tuan, the price of raw materials varies "not according to the regulations." Currently, iron ore prices are approximately 40 per cent higher than they were at the end of 2022, which is 1.5 times higher than the five-year average. Coal prices are approximately $200 per tonne, which is double the five-year average.
Public investment and a $5 billion credit package for social housing projects are believed to be the primary drivers of the steel industry, resulting in the possibility of strong growth in the second half of the year. "The policy exists, but if it is not executed radically, the steel industry's hardships will persist," Tuan said.
In its February report, the VSA stated that the new steel potential in Southeast Asia and the plan to shift production to low-cost regions will strengthen its role as a supplier of raw steel to the region, allowing for the import of long-term billet in China as well as finished long steel products.
The new development cycle for the sector has not yet begun, but the sector went through its most difficult phase at the end of last year when the price of hot-rolled coil dropped from more than $900 per tonne to roughly $500 per tonne," stated Le Phuoc Vu, chairman of Hoa Sen Group, on March 10.
At the present selling price of roughly $700 per tonne, Hoa Sen will have a profit sufficient to recoup the loss in the first four months of this fiscal year during the following three months.
However, Vu believes that the market still faces many macroeconomic risks. In addition, the fierce competition in the domestic market, monetary tightening policies, and hot-rolled steel prices continue to fluctuate in complex ways, which may have a negative impact on demand, production, and the business activities of steel enterprises.
Hoa Sen, one of the largest steel producers in Vietnam, has two business projections for 2023. In the first scenario, the company anticipates $1.45 billion in revenue and $4.26 million in after-tax profit, which are 32 and 60 per cent lower than the previous year's results, respectively. In the second scenario, Hoa Sen anticipates $1.53 billion in revenue and $128 million in after-tax profit, which is 20 per cent higher.
"The steel market in the short term has quite a few good traits," according to Tran Thi Khanh Hien, director of VNDirect's Analysis Division. "Steel manufacturers anticipate enhanced public investment from the government, accounting for 18 per cent of total steel supply; and the Long Thanh airport project is contributing to reversing the decline in demand."
Steel is a unique sector with positive profit growth in 2023, according to Hien, due to the low base year of 2022. Hien predicted that industry leaders with substantial market shares will continue to dominate and recover more rapidly as a result of their brand advantage and distribution capacity.
"In order to improve resilience and robustness when steel prices change, enterprises must also be able to manage their inventories," Hien added.
Source: VIR