Straw burning worsens Hanoi suburban air pollution

Outlying districts in Hanoi have been badly affected by burning rice straw.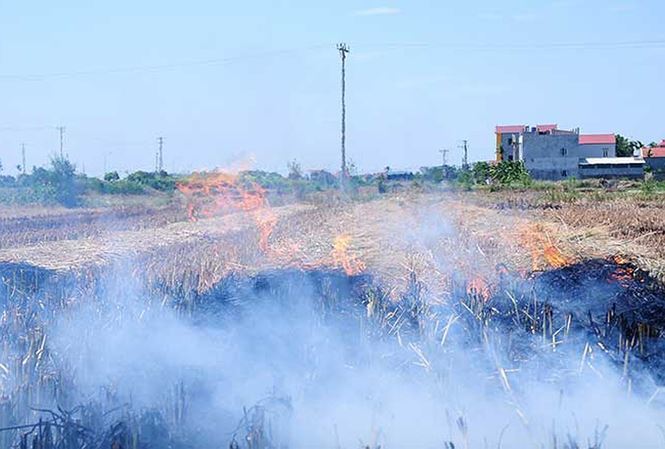 The straw burning in Hanoi
Ba Vi and Soc Son districts are now in the rice harvest time, so it is easy to see local people burn straw.
Results from Personal Air Monitor (PAM) Air showed that over the past days, the air quality in Minh Tri Commune in Soc Son and Phu Dong Commune in Ba Vi are often in bad condition which are sometimes even worse than some of Hanoi's inner-city areas.
For instance, at 7 am this morning, Air Quality Index (AQI) at Minh Tri was 143 and in Phu Dong was 160, equal to the capital city's most polluted level measured at Hang Trong and Bao Linh streets in Hoan Kiem District and Tam Trinh Street in Hoang Mai District and much higher than other inner-city streets such as Quan Hoa Street in Cau Giay and Thuong Dinh Street in Thanh Xuan.
At 8 pm on Monday evening, AQI in Ba Vi was recorded at 228 and at 180 in Soc Son.
Experts blamed this on rice straw being burnt in outlying districts.
Dr. Hoang Duong Tung, Chairman of the Vietnam Clean Air Network, the straw burning produces a great amount of PM2.5 described as superfine particles which can lead to many dangerous diseases, including cancers and gene mutation.
It will also cause other impacts such as greenhouse effect, smog in big cities like Hanoi.
Many countries such as Hong Kong and Singapore have banned straw burning. Any violator will be strictly punished.
Tien Phong/Dtinews

The local authorities have warned about the fire risks at thousands of local facilities in HCM City.  

Forest management officials in the northern mountainous province of Tuyen Quang are now using a forest fire-warning software on their smartphones as part of fire-prevention and efficiency measures.

Vietnam lacks comprehensive studies on air pollution and its impacts on health, life and the economy, experts said at a conference in HCM City on Friday (April 19).