Strong FDI inflows put pressure on recruitment

Demand for labor in Vietnam's manufacturing sector is rising sharply due to strong FDI inflows as a result of the transfer of orders and China-based facilities into Vietnam during the ongoing U.S.-China trade war.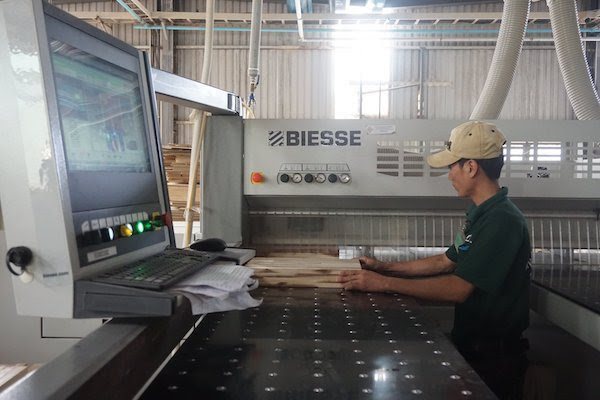 A laborer working at a factory. The demand for laborers in the production field is on the rise, according to a study made by VietnamWorks
Nguyen Van Hung, general director of CNCTech, which operates in the field of plastic injection, molding and plastic plating, said that the firm has received multiple new orders from customers in the United States and Europe.
CNCTech is planning to build one more plant and recruit some 500 laborers, including 100 highly skilled workers, within the next six months to meet rising demand. The firm has employed 150 laborers to date.
"It seems hard to recruit laborers now," Hung said, explaining that CNCTech is competing with not only domestic enterprises but also FDI firms, which are entering the country in droves.
FDI inflows, together with orders from foreign countries, under the impact of the trade war of the world's two largest economies, are worsening the shortage of manpower in Vietnam.
A study made by VietnamWorks, a leading recruitment website in Vietnam, showed that the demand for recruitment in the production field is on the rise. The first quarter of the year saw demand for labor at processing and manufacturing facilities rising 20%, much higher than the 10% average growth seen over the past three years.
Nguyen Phuong Mai, managing director of Navigos Search, told The Saigon Times that since the fourth quarter of 2018, many FDI manufacturers have made plans to move their factories from China to Vietnam and boost production volume. Most of them started acting on these plans in early 2019.
Also, multiple plants in supporting industries and the wood processing and real estate sectors have jumped on the bandwagon to expand their production scale with double or triple yields, according to Mai.
Tran Le Huy, general secretary of Binh Dinh Province's Forest Products Association, stated that as firms doing business in China have switched part of their business activities to Vietnam and invested in the wood processing industry here, domestic enterprises are facing difficulties with recruitment.
In addition, the demand for Chinese-speaking workers is rising strongly, resulting from the influence of strong capital inflows from China into Vietnam.
The number of requests for these laborers in the first five months soared 30% year-on-year, according to VietnamWorks.
Mai said that capital inflows into the country are expected to create more job opportunities for laborers at multinational firms.
However, Mai predicts these inflows will create labor scarcity in many fields, especially the production sector. SGT
Vu Dung

Foreign investors registered to pour US$1.73 billion into Viet Nam in June, bringing the total amount of foreign direct investment (FDI) committed to the country in the first six months of the year to $18.47 billion, down 9.2 per cent year on year.

Main sources for FDI growth in Vietnam in the near future would come from South Korea, China, Taiwan and Hong Kong (China).    

National Assembly deputies have raised their concerns about the potential risks of soaring Chinese foreign direct investment inflows into Vietnam.