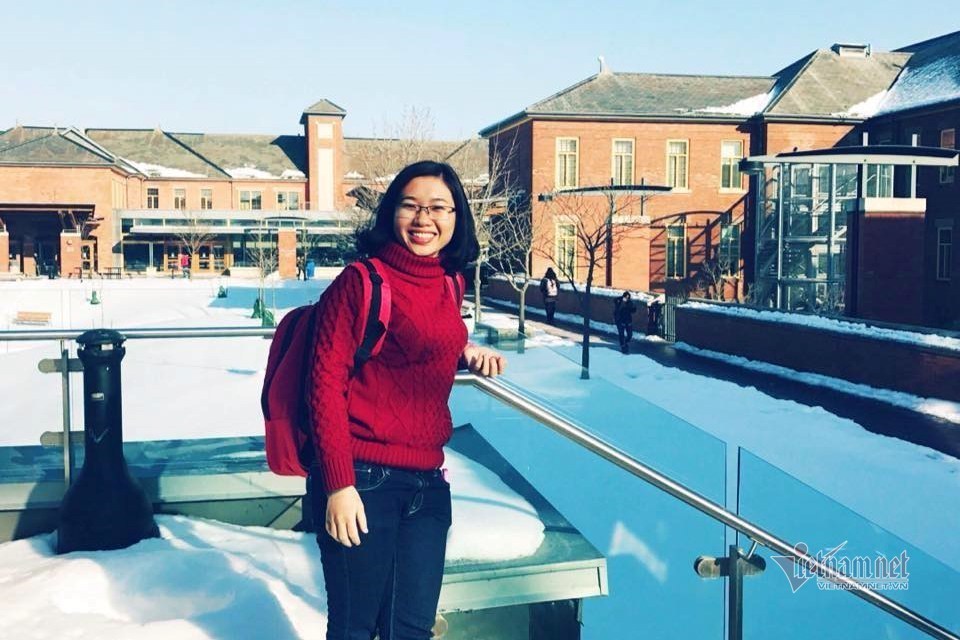 Bui Thi Thanh Linh
At the age of 18, Linh, born in a poor area in Dak Lak province, moved to HCM City to study accounting at HCM City Economics University.
For someone who had never gone out of the countryside, everything in the large city was unfamiliar.
"The first thing I suffered was culture shock," she recalled. "It was so difficult to adapt to new conditions. I did not know how to use slides for presentation, or use emails and USBs."
Linh many times thought whether she should continue to study. She finally decided that she mustn't step backwards and that the only thing to do was move forward. She could not return home for fear that her parents would worry about her.
"I forced myself to change to survive in the new environment." she said, remembering the difficult time 10 years ago.
A heavy burden was put on the shoulders of her parents who had to work to care for two daughters studying at university. They had to borrow money from banks to cover study expenses.
Another challenge for Linh was learning a foreign language. Her English skills were very poor, with limited vocabulary and basic grammar. Linh failed the first English test as she could not answer any question during the listening skill test.
Having no money to pay for English courses at foreign language centers, she spent hours riding her bicycle to the Youth Culture House to attend free English lessons, or went to parks in District 1 to strike up conversations with foreigners. Thanks to the free lessons, her English improved.
Linh's great effort, plus the scholarship the school offered to poor students, helped Linh fulfill her four-year study. She found a job as an accountant just one month after graduation.
She decided not to return to her hometown but stay in HCM City, though the salary was modest.
"Though the salary increased over time, I still tried to practice thrift and did not dare spend money on unessential things. I even spent less money during the four years after graduation because the company offered free lunches," she said.
At that time, she did not think of studying abroad because she believed this was just for students from well-off families. But she changed her mind after her sister, a lecturer at Tay Nguyen University, obtained a full scholarship to study in Australia.
She then began searching for information about overseas study and found a program operated by the Canadian government. Under the program, students had to deposit 10,000 CAD, or VND180 million, at a Canadian bank, pay one-year tuition (VND300 million), and have a minimum 5.0 IELTS score to study in Canada.
Linh used the money she had after four years of working, about VND250 million, to buy a land plot in Dak Lak, valued at VND210 million. The remaining money was used for documents, air tickets and basic items in Canada.
"I collected all the money I had left and borrowed money from people, committing to sell the land plot to pay debts if necessary," she recalled.
In early 2018, Linh left for Canada to study under the CES program.
The first months in Canada were a difficult time. She had to struggle and sometimes doubted her decision to go there.
After the first five months, she began working 20 hours a week. She took many different jobs, from waitress to officer at the school's library to seller at a supermarket. Sometimes she had to work until 1-2am and then begin her homework.
With the money from the sale of the land and income at the company, Linh has been able to pay all her debts. She is now a senior officer at a big company.
"If you are not poor in will and are persistent and focus on doing things very well, opportunities will come," Linh said.
"Keep going and there will be a way for you, and finally all the ways will lead to Rome," she added. 
Thoi Vu

Tran Duong Chinh, a 12th grader majoring in physics of the Hung Vuong High School for the Gifted, has become the first student from Phu Tho province to win a gold medal at the European Physics Olympiad (EuPhO).

Nguyen Trong Hieu, PhD, senior researcher and lecturer in solar energy at Australian National University, is a Vietnamese national.