As many as 115 students from 40 Robotics competition teams and 52 students from WeCode coding competition attended Robothon and Wecode 2019 Day with the theme 'FoodEffect 2050' in Hanoi recently.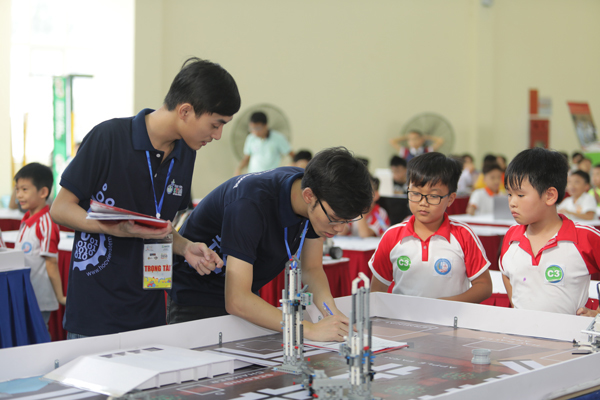 The event was organized by the STEM Institute in cooperation with the Hoa Lac Hi-tech Park Board of Management. The University of Technology participated in the event as a professional partner.

Prior to that, Robothon and Wecode 2019 was organized in Can Tho, Da Nang and HCM City.

Nguyen The Trung, president of DTT, head of the jury of the Robothon and Wecode Festival 2019, said the festival is a way to prepare children for necessary skills in the 4.0 era.

"In 10-20 more years, students will live in the 4.0 world. By that time, students will need life skills for that period, just like we need English now for integration. That is why we have organized the training activities," Trung said.

With the theme of food and agriculture technology for 2050, a robotics competition has encouraged students to put forward solutions to overcome food shortages that may occur in the future.
Through the day, students learn that in the future, the world will not only have mechanical devices like today, but also intelligent robots and machines which 'speak' with programmed languages.

Themed 'FoodEffect 2050', the main idea of the competition was the use of robots and automation in agricultural production.

Contestants were asked to program the robots so that they could harvest fruit, sow seeds accurately into boxes, identify and transport broken machines to the Repair Center, and carry parcels and fruit to the silo area or take them to the warehouse.

In the coding competition WeCode, contestants were asked to come up with solutions to create a sustainable food future by 2050. Participants could write games, mobile applications, cartoons, or write a Windows program, which introduced food challenges to 2050 and solutions in three directions: (1) Reducing demand for food and agricultural products; (2) Increasing food production without increasing agricultural land and (3) Protecting and preserving natural ecosystems in a sustainable way.

In the primary school category, the championship went to Nguyen Dat Hieu, a student at Xuan Dinh Primary School. The first prize was awarded to Nguyen Viet Hung, a third grader at Xuan Dinh Primary School.

In the intermediate category, Dinh Vu Tung Lam from the STEM Institute won the championship. The first prize went to Nguyen Huy Hoang from Trung Van Primary School.

In the advanced category, the first and second prizes were awarded to STEM Institute students Nguyen The Tan and Nguyen Gia Huy. 
Thanh Lich

Five students from the Hanoi-based Transport University have successfully produced a street paving material from plastic bags.

In 2018, Vietnamese student Tommy Nguyen decided to study abroad in a prestigious school in the UK.