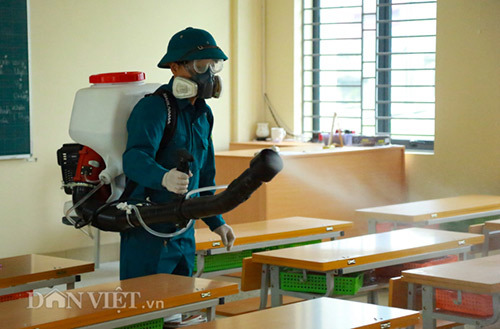 Disinfecting a classroom in Hanoi
Soc Trang provincial authorities have allowed students to return to high schools, universities, community colleges. Nurseries, primary and secondary schools remain close until March 8.
According to the Department of Health, the schools and colleges must work closely with the local medical centres to disinfect their premises and equipment. They will also not hold large-gathering events. The flag-raising ceremony will be carried out in class.
Hanoi University of Science and Technology, Kien Giang University, Tra Vinh University and Dong Thap University have also opened after a long break. Some universities have manufactured hundreds of litres of disinfectant and hand wash for students and teachers and have given them away to other universities. Tra Vinh University and Dong Thap University produced 2,500 litres and 600 litres of dry handwash respectively.
Tran Van Top, deputy head of Hanoi University of Science and Technology, said they had considered everything carefully. "Our top priority is the health of the students and lecturers. We have disinfected everything and sent students advice and guidance from the Ministry of Health," he said.
The Ministry of Health has sent an official document to the Ministry of Education and Training, Ministry of Labour, Invalids and Social Affairs and people's committees of all provinces and cities about precautions and preventive measures must be taken.
Schools and universities must ensure that there will be enough drinking water, clean cups, and hand wash. They are advised against using air-conditioners and must open the windows and use fans instead. Parents must also be advised about how to monitor their children's health.
Field trips and extra courses will not be held. Teachers must monitor the children's health and bring them to the clinic immediately if anything occurs.
Dan Viet/Dtinews
The Ministry of Education and Training (MOET) has adjusted the academic year schedule, delaying the high school finals to late July.

University and high school students in 23 provinces will go back to school on March 2, local authorities announced on Friday.