Cháo đậu xanh (green been porridge) or đậu đen (black bean porridge) with fried tofu and cà muối (salted egg plants) has existed for hundreds of years in Vietnam, particularly in the capital, according to Pham Tuan Hai, 48, former jury of the Viet Nam Master Chef programme.
Exploring a two-decade-old "Chao suon" cart vendor in Hanoi's Old Quarter
Have a bite of nostalgia with cháo sườn
Bowls of chao trai delight Hanoi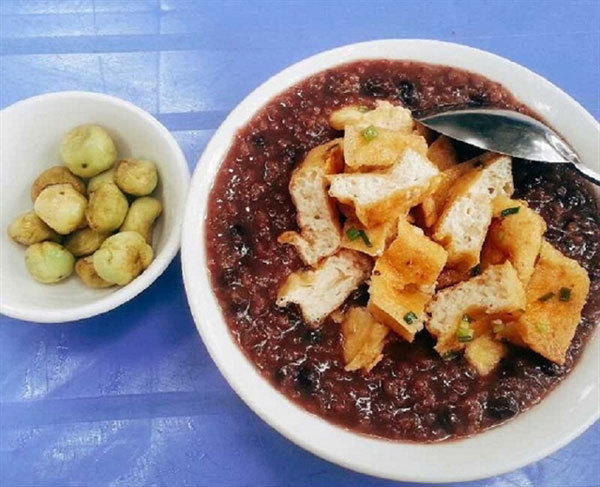 A bowl of traditional porridge of cháo đậu cà pháo can help to cool down summer heat. Photos Le Thi Ha
"For me, the dish is closely connected to my childhood as when I woke up every morning in summer, I saw a big pot of cháo cooked by my grandmother who told me it is very good for our health," Hai said.
The ingredients aren't complicated but Hai said his grandmother always carefully picked quality rice and green beans ordered from relatives in the northern province of Thai Binh.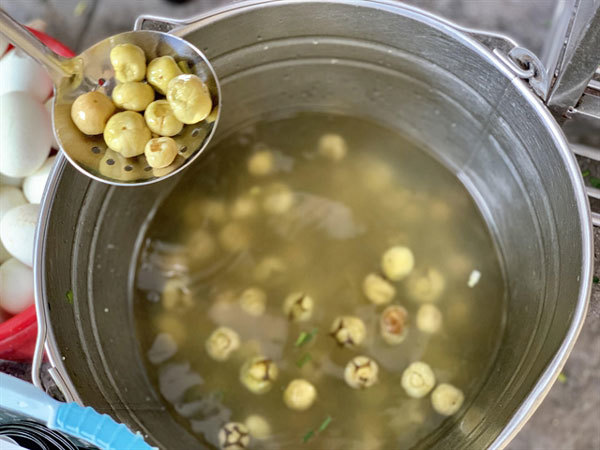 Cà pháo (salted egg plants) eaten with cháo đậu is interested by many locals both old and young.
The green or black beans should soak in water for several hours before being mixed with rice and cooked, Hải said, noting his grandmother often stewed the mix in a cast iron pot over the light fire of a charcoal stove for the rice and bean to mix together into a thick porridge.
"My grandmother chose tofu made by people from the famous Mo Market near Bach Mai Street. After frying all the tofu is soaked in a bowl of quality fish sauce, such as Phu Quoc, along with pieces of fresh onions which brings a special flavour that makes the mouth water," Hai said.
He said he would never forget how his grandmother salted the egg plants, with carefully chosen fresh and round egg plants cleaned and salted it in a light saltwater jar and then compressed with a stone for two days.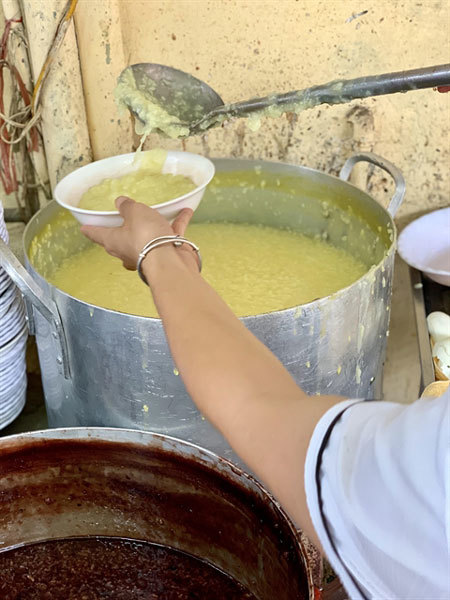 Big pots of tasty and delicious green bean and black bean are sold very well during summer.
"For me, my grandmother's cà muối is a speciality. It is white and crispy with specific flavours such as attractive sour and salted," Hai said.
"Though the dish may sound too salty the combination brings a tasty and delicious bowl of cháo with the natural fragrant sweet of rice and beans, buttery taste of fried tofu and crispy salted cà pháo."
Nguyen Thi Ly, 60, in Hanoi's Hai Ba Trung District, said "I enjoy the dish every day in summer. In the past I was interested in cháo sườn (pork rib porridge) thinking that it could have much more protein but cháo đậu cà pháo is not only rich of vitamins and being full for a long time but also helps you to cool down. It is a very suitable dish for hot days, particularly for the elderly and children."
Ly said she often cooks the dish at home for her family.
Dao Thu Hang of Trung Vuong Secondary School in Hoan Kiem District said she is addicted to the dish thanks to its harmonious and light flavours.
"I can eat a big bowl without feeling stodgy and much more important for a student is that the price is affordable at only VND15,000/bowl," she said.
Ho Nguyen Ngoc from HCM City said he likes eating phở most when in Hanoi but this summer he has enjoyed trying cháo đậu cà pháo.
Herbalist Tran Van Tuat from the National Hospital of Traditional Medicine said the dish helps tackle colds and fevers, reduces swelling, treats pimples and makes you feel younger.
"I often encourage my patients to eat the dish every morning to improve their health," Tuat said.
Former jury of Viet Nam's Master Chef Hai said many of his foreign friends call the dish specialty of Vietnam.
"The dish should be preserved and be handed down to younger generation," he said.

Where to enjoy the dish in Hà Nội:
The dish is available across the city, but here are a few of the top spots :
- Lane 105, 9 Bạch Mai Street, Hai Bà Trưng District
- Hàng Bè Market in the city centre (near Hòan Kiếm Lake)
- Lane 218 Tây Sơn Street, Đống Đa District.
- 9 Hàng Mành Street, Hoàn Kiếm District.
By Hoang Ho and Ha Nguyen
VNS