VietNamNet Bridge – Phuoc Hai Town is famous for having the oldest fishing village in the coastal province of Ba Ria-Vung Tau, but local families, who have been fishing for many generations, are facing growing hardship with increasingly reduced incomes.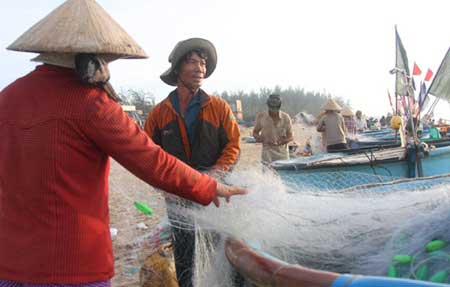 Nguyen Van Duc and his wife collect fish from their nets after a one-day journey at sea.
One of the main reasons for the thinning out of their wallets is the sharp reduction of seafood resources caused by overfishing by locals who often ignore regulations and catch fish of all kinds and sizes to sell.
"It's growing difficult to make a good living from fishing because of the significant depletion of seafood in recent years," said Tran Van Sy, 37, an owner of a small motorboat who manages to pocket an average VND500,000 (US$25) each trip at sea to help feed his family of six.
Like Sy, Nguyen Van Sau, 36, and Nguyen Van Duc, 47, also face much lower incomes and have begun to worry about their future.
"Many owners have had to sell or reduce the number of their boats to cope with the reduced yield and rising costs. Fishing is no longer a money-spinner," Tran Van Vinh, a veteran fisherman, said.
Moreover, the fishermen's self-admitted habit of indulging themselves in drinking after each sea journey and exchanging nearly all of their hard-earned money for crates of beer and food contribute to their struggle to survive in a slowly recovering economy.
Duc's 21-year-old son has followed his father's footsteps and become a fisherman, and Sy and Sau's young children will probably do the same, as they lack education, like many young people, to move to another line of work.
The lack of diversity in the town's economic structure, which has historically been dominated by the fishing industry, provides few choices for young people in a town that has no bank branches or ATMs. (A bigger town seven kilometres away, however, has a bank and ATM.)
Tran Thi Thanh Thao, who is on the staff of the town's Division of Labour, Social Affairs, and Invalids, said that up to 80 per cent of the town's young people have no choice but continue to follow their grandparents and parents as fishermen.
"Many leave school because there are no other jobs for them besides fishing," said Thao, adding that only six young people from the town went to vocational school last year.
Sau said: "We know nothing besides fishing and my children will be at sea we can not afford to allow them to go to school."
He complained that it was tough to provide enough money for his children so they could attend and complete high school.
Alternative income
So what path can be offered to these fishermen to help them escape their predicament? And how can town officials make improvements that will benefit their people?
With the rapid depletion of seafood resources, developing an alternative source of income like homestay tourism services could be one way of enhancing living standards and reducing the need for families to overfish.
But, the authorities of Phuoc Hai Town, which has a population of under 100,000, would be faced with a challenge, as such services would need to develop sustainably and hire trained staff.
In addition, local authorities would need to rigidly enforce rules on sustainable exploitation of seafood resources, and at the same time begin diversifying the town's economic picture to provide the locals with another livelihood.
Town officials say they are aware of the potential for tourism, and have built a new hotel and are welcoming investors.
They realise that a major selling point is the town's striking feature of having one of the long-standing fishing villages in the province located on its coastal edge.
As the mainstay of the province's fishing industry, the town is home to thousands of households who generation after generation have used round basket boats and small and large motorboats to catch fish from onshore to offshore areas.
During the morning and afternoon, the beach and street in front of the village and facing the sea is lively as colour-painted boats of all kinds anchor to unload fish for women who sell them at local markets or to traders.
And despite their conservative appearance and their reticent nature, the village people are generally friendly and honest. Talking with the fishermen about their sea trips often provides interesting stories that tourists would enjoy.
Many households, especially young couples who use small motorboats or round basket boats to make their one-day fishing trips, fish early and return at around lunch.
These young families, who have a level of education that is much better than their parents (whose language level is rather basic), could help initiate homestay services.
Tourists could stay at the young couple's houses, and sleep, eat, and go out on casual boat trips or even accompany fishermen on their daily rounds at sea.
"We would participate in a homestay if the town has a plan to develop the service at the village," Duc said.
Like Duc, Sau and Sy are enthusiastic about the idea.
"I would take part if my family was asked," said Sau, who has four children and a wife.
Only 20km away from Vung Tau City and half that distance to Long Hai Town, Phuoc Hai might not have the natural and economic conditions for a major tourism centre, but it is certainly a well-deserved place to visit.
So the new path for Phuoc Hai Town and its old fishing village could be one of sustainable development, one that offers an alternative income, reduces overexploitation of fish and encourages families to invest in education for their children.
Source: Vietnam Plus