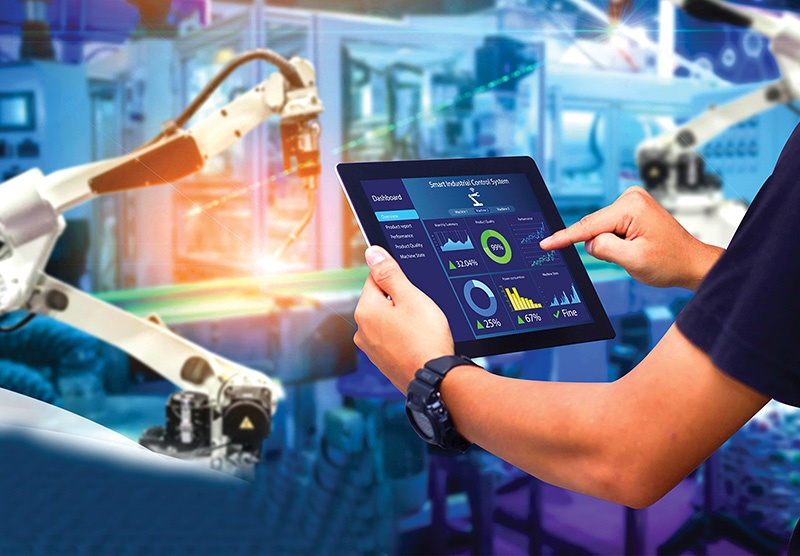 Some companies have gone from near bankruptcy to thriving because they embraced high technology. Photo: Le Toan
In recent months, Vietnam has been urged by international organisations to invest more in innovation and research and development, which will help the country attract more high-quality investment and climb regional and global value chains further.
The World Bank has just released a report titled "Vietnamese Science, Technology and Innovation" which stated that a digital gap persists when it comes to automation in manufacturing. A miniscule number of businesses in Vietnam use technologies associated with Industry 4.0 – for example, robotics or 3D printing.
"Given that only 29 per cent of firms use machines controlled by computers – meaning digital technology of Industry 3.0 - and only 8.7 per cent use this technology intensively, is a matter of concern," said the report. "The results show a significant distance to the technological frontier and dampens down the prospects of leapfrogging. Businesses in Vietnam need to continue accumulating innovation capabilities, first by upgrading processes to the use of digital technologies and then to more sophisticated Industry 4.0 ones. The dividends of doing so can be very large."
Moreover, firm investment in digital technology infrastructure in Vietnam remains low as indicated by the digital enabling index. The index measures the average investment compared to a situation of full use of digital infrastructure – from cloud services to computers – and ranges between zero and 100 where a value of 100 indicates complete access to each digital enabler.
"The enabling index for Vietnam suggests that on average businesses are operating at 38 of the full digital infrastructure index. While on average internet infrastructure is at 75, the access/use to digital platforms is only 27 of potential and 4 for cloud services," stated the survey.
According to Phan Hong Mai, an economic expert from the National Economics University in Hanoi, domestic businesses are aware of the importance of innovation, but they mainly focus on this regard in terms of improving product quality. "Basically, it means they attempt to make old products better rather than comprehensively improve the process from product design to distribution," Mai said. "Concurrently, upgrading products makes sense for only Vietnamese businesses but will not create new products for the world, and then will not lead to a rise of Vietnam's position in the global value chain."
The Ministry of Science and Technology also reported that under its recent survey, only 10 per cent of local businesses uses modern technologies and focuses on intensive training for human resources.
For example, Rang Dong Light Source and Vacuum Flask JSC used to be on the brink of bankruptcy. However, it rose to become one of Vietnam's top 500 biggest enterprises within 10 years thanks to application of high technologies and workforce training. Annually, Rang Dong contributes over $10 million to the state budget.
Innovation-oriented reform
Vietnam has been a trailblazer in its development success over the last 30 years. Sustained rapid growth averaging around 7 per cent since 1988 has led to an almost five-fold increase in its per capita income, propelling the economy to middle-income status in just one generation.
Driven by trade and investment openness, the country has attracted efficiency-seeking direct foreign investment and generated jobs in export-oriented, labour-intensive segments of global value chains (GVCs) in manufacturing. Today, Vietnam is the second-largest smartphone exporter, producing over 40 per cent of Samsung's global phone products – an embodiment of the success of its growth strategy.
Building on achievements like these, Vietnam's ambition is to join the club of upper middle-income countries by 2035 with South Korea, Singapore, and Japan as its role models.
According to the World Bank, the challenges of the global slowdown in growth and trade, combined with rapid changes in technologies related to Industry 4.0, have been put into sharp relief by the COVID-19 economic shock. Vietnam remains significantly exposed to economic spillovers from this shock due to its deep integration with the global economy, with manufacturing GVCs and tourism particularly at risk.
"Adoption and diffusion of digital and new technologies associated with Industry 4.0 offer opportunities for increased productivity growth and are also critical for building resilience in businesses in the face of crisis," said the World Bank report. "Accelerated technological change - particularly the new wave of digitalisation, automation, and increasingly sophisticated AI - is expected to reshape Vietnam's low-cost labour-intensive manufacturing-led export strategy. Technological disruption in production and distribution processes, nonetheless, will affect different manufacturing sub-sectors at varying speeds, and opportunities are emerging in services as a necessary complement to the success of manufacturing."
New business models, as evidenced by the entry of digital platform-based startups and super app groups like ZaloPay and MoMo, along with the increasing attractiveness of Vietnam as a destination for venture capital and private equity investors, are promising. COVID-19 has demonstrated the need to step-up the pace of adoption and diffusion of technologies, new business models, and digital solutions to support business flexibility and growth, according to the report.
The 13th National Party Congress recently noted that science and technology, and innovation in particular, must "become an important driving force in the new growth model, especially in the context of the rapidly developing Industry Revolution 4.0."
The Political Report, the most important document adopted at the congress, set a target that Vietnam will hit an average annual growth rate of 6.5-7 per cent in the 2021-2025 period. To this end, high-tech application in many sectors of the economy and fostering innovation are one of the key solutions.
The country will also "prioritise attraction of foreign-invested projects with high technology, an environmentally-friendly nature, and usage of skilled labourers and projects investing in sectors that need to be prioritised for development. The projects, moreover, are also required to have a connection and technology transfer with domestic enterprises and facilitate these enterprises to develop and effectively engage in GVCs."
Besides further improving the domestic investment and business climate, the country will also improve human resources quality, attract and foster talented people, and boost innovation and application of scientific and technological achievements, especially those from Industry 4.0. All of these will "lay new momentum for national rapid and sustainable development," noted the Political Report.
Looming risks
According to a report by the United Nations Development Programme on achieving the Sustainable Development Goals in Vietnam, the country faces some key risks including challenges of economic uncertainty, re-shoring manufacturing back towards developed economies, trade wars accompanying rising nationalism, the effects of climate change, and Industry 4.0-induced changes in GVCs, employment and human development.
"In addition to such challenges, Vietnam must address a number of specific issues related to balancing continued growth and maintaining a focus on inclusion, while pushing for greener growth," said the report.
It suggested that Vietnam must better prepare for, and adapt to, the impact of Industry 4.0 on drivers of growth and job creation. Accelerating Industry 4.0 offers both opportunities and risks in terms of future employment creation, as Vietnam embarks on new growth pathways. It is anticipated that automation and AI will displace jobs in several sectors that have been driving Vietnam's growth.
The International Labour Organization suggested 70 per cent of jobs in Vietnam were at risk of automation. Sectors with a very high proportion of jobs at risk of automation include agriculture, forestry, and fisheries (83.3 per cent at risk); manufacturing (74.4 per cent); food and beverages (68 per cent); textiles and garments (85 per cent); electronics (75 per cent); wholesale and repair of motor vehicles (84.1 per cent); service sector (about 32 per cent); and general retail (70 per cent).
An Oxford Economics and Cisco report on technology and the future of ASEAN jobs issued in 2018 also forecasted that 7.5 million jobs (largely in agriculture, manufacturing, wholesale, and retail) would be displaced by AI in the next 10 years in Vietnam. At the same time, millions of new jobs with different functions in the same segments would be created. Thus, the net job loss is about 1.7 million, 90 per cent of which will be in the agricultural sector.
Source: VIR