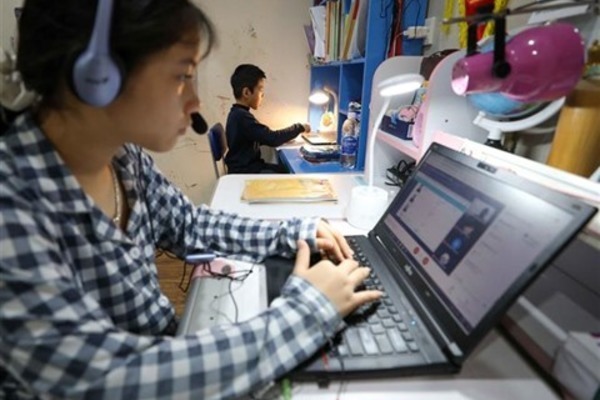 Cities and provinces have step by step returned to a "new normal". The policy on immunizing students aged 12-17 has opened up the possibility of students returning to school.
Students have studied online at home for nearly two years. Many parents think this is a temporary situation. However, Covid-19 still exists. And the world has witnessed the great achievements of digital transformation in every aspect of life, including education. Working at home has become more common while traffic congestion and crowds in big cities makes it difficult to apply Covid prevention measures.
In such conditions, despite the large vaccination coverage, using digital technology in teaching and learning is the new normal.
There are three levels of in-person studying in the new normal.
Level 1: online education platforms for all education levels.
The education system needs to improve the digital courseware for learners to access materials online instead of using hard copies. The interactions between teachers and learners is implemented with web-enhanced support. As such, the time that students have in in-person classes would be minimized.
The in-person studying with the support of online platforms should be prioritized for primary school students.
Level 2: hybrid model, i.e. the mixture of offline and online teaching at flexible ratios, depending on education levels. The time for online teaching could be 20-50 percent in new normal conditions.
The subjects that need discussions, interactions or experiments should be studied offline, while the providing of theoretical knowledge could be designed for online teaching.
Level 3: blended learning. In principle, this is also a mixture of online and offline learning, but the difference lies in the design of curricula which follows the flipped class principle.
Under the principle, learners will play a central role because they have to receive knowledge in an active way before attending online classes. After that, they will have in-person classes through interactions with teachers.
Learners will study online through digital courseware designed in a way to fit the education programs with short videos and podcasts, and do exercises personally or in groups. After that, when attending face-to-face classes, the topics of lessons will be discussed and interacted.
Under the flipped-classroom model, learners are considered as creative individuals and this will promote individual innovation and teamwork, creating a foundation for national innovation ability.
Promoting innovation
To implement online and offline teaching, the education system needs to develop a digital courseware store for all education levels. Each education establishment needs to have e-learning platforms friendly to learners and convenient for teachers.
There should be measurable outcome standards when designing curricula under the flipped-classroom model, and there should be technology that assess learners' outcome standards in a methodical way via online access.
Studying offline in the new normal doesn't necessarily mean in-person study with the traditional model, under which students must be in class all the time. In the new conditions, the education system needs to have a new approach of teaching based on education technological platforms such as web-enhanced support, either hybrid or blended.
This technology-enabled approach to learning will enhance 5K (in Vietnamese: Khau trang – facemask, Khu khuan – disinfection, Khoang cach – distance, Khong tu tap - no gathering, Khai bao y te - health declaration) principle compliance. Once the time for face-to-face is reduced, the number of people in traffic at rush hours will decrease also.
The model will help learners and teachers avoid the shocks when switching to online full time suddenly if the Covid-19 situation reaches the orange or red risk level.
More importantly, this will promote personal creativity of learners in particular and the nation in general in the long term. 
Prof Nguyen Trong Hoai (HCM City Economics University)

The problems in online teaching in Vietnam are due mostly to the lack of a locally made technology system specifically designed for teaching online.

Minister of Education and Training Nguyen Kim Son, when answering inquiries before the National Assembly, said his ministry is promoting an overall strategy on digital transformation in the educational sector.