Teenage saxophonist releases debut MV

The daughter of Vietnam's leading saxophonist Tran Manh Tuan, An Tran, is following in his footsteps, attracting the attention of Vietnamese musicians and audiences.
Saxophonist Tran Manh Tuan presents two new albums
Tran Manh Tuan - The best saxophonist in Vietnam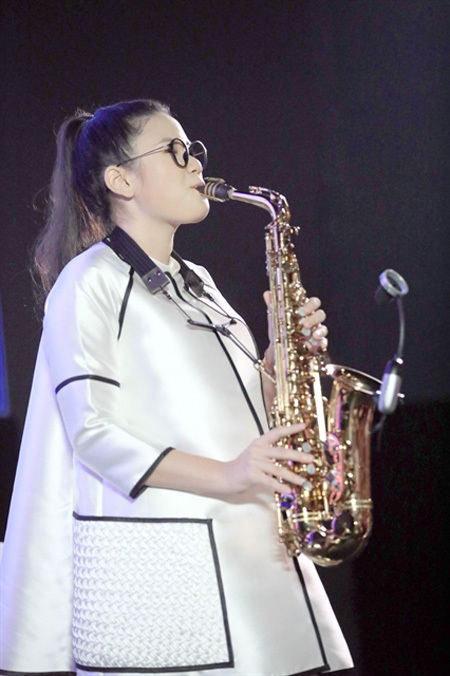 Teenage saxophonist An Tran releases MV Còn Tuổi Nào Cho Em (Time for You) as her first move into a professional music career. Photo courtesy of the artist
Now 15, An has released her first music video Còn Tuổi Nào Cho Em (Time for You), featuring a song of the same name by late composer Trinh Cong Son.
The song, which Son wrote in 1964 for his love in his twenties, Dao Anh, has been performed by both veteran and young singers such as Khanh Ly, Quang Dung and Miu Le.
As Còn Tuổi Nào Cho Em has a beautiful and gentle melody, Tuấn produced the MV to keep the happy memories of his daughter's youth. He blends smooth jazz and his love for her into the song's arrangement.
"An Trần is the largest project of my life," said the 47-year-old Tuan, who received a scholarship to study jazz at the Berklee College of Music in Boston, Massachusetts in the US, and became the first Vietnamese to study there.
Tuan invited director Diep Van, who has 20 years of experience in filmmaking, to make the video.
The eight-minute video tells a story of a teenage girl who is living happily with her family and friends, and has great passion for music.
The clip includes An's family, singer Trinh Vinh Trinh, Sơn's younger sister, and businessman and singer Duong Tan Son who has sung Son's works for 20 years.
An's MV Còn Tuổi Nào Cho Em earned nearly 4,300 views three days after release on YouTube.
The video has received praise from musicians and audiences.
Veteran singer Cam Van said she cried while watching the MV.
"The MV reminds me of days of raising my children. I also love the way she performed Trinh Cong Son's song. It's so pure and innocent," Van said.
Tuan said: "I'm so proud of what my daughter has done. My family will do anything for An to develop her talent."
Promising artist
Born in 2004, An, whose real name is Tran Dam An Phuc, showed her talent at a very young age.
She began playing saxophone at 5 years old and started her studies with her father at eight.
In September 2013, she amazed nationwide audiences when sharing the stage with her father in Dấu Ấn (Hallmark), a Việt Nam Television monthly music show that honours Vietnamese musicians and singers.
She performed Bèo Dạt Mây Trôi (Water-Fern and Wandering Clouds), a popular Vietnamese folk song which is known to be hard to play, after only two months of practice.
Since then, An has joined every music project launched by her father, including the Saigon Big Band from 2013 and the album Thằng Cuội (Legendary Shepherd on the Moon) in 2016.
She has accompanied her father at numerous stages in the country and abroad, such as the ASEAN One Jazz Festival in Thailand in 2015, and a music performance for delegates to the APEC Summit in Da Nang in 2017.
She performed with the Viet Nam National Symphony Orchestra in 2013, and internationally acclaimed jazz guitarist Nguyen Le in 2018.
She was the youngest artist to be invited to perform at the "We Are ASEAN – We Are One" music programme during the ASEAN Summit in Thailand in early August.
She was chosen as the ambassador for the Trinh Cong Son Scholarship, which provides opportunities for young and talented Vietnamese students from disadvantaged families to pursue their passion in music and arts.
Singer Trinh shared that Trinh Cong Son's family and the scholarship saw a true artist in An when she was at a young age.
"What An has done will inspire young talents to work hard to become artists," Trinh said.
An has received authentication as an official P. Mauriot saxophone Performing Artist and Endorser. The world-known saxophone manufacturer mentioned on its website that "An Tran will surely become one of the first female Vietnamese artists to lead the world of jazz".
The artist will soon attend the Idyll Wild Arts Academy in California, with the school's highest scholarship for an international student.
"I'm very lucky being born into a traditional music family. My family, my dad, who is also my mentor, and my friends and colleagues are always by my side at every moment of my life," An said.
By Phuong Mai
VNS