VietNamNet Bridge - The decision to resume the exploitation of Thach Khe, the biggest iron mine in SE Asia, and the biggest ever open-cast mine, has yet to be determined.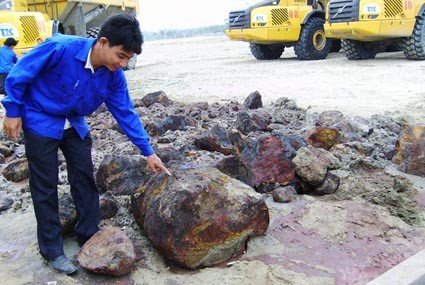 Following the Prime Minister's instruction, the Ministry of Planning and Investment (MPI) gathered a meeting with relevant parties to discuss the fate of Thach Khe.
The information about Thach Khe has once again been put on the table as the Vietanm Coal and Mineral Industries Group (Vinacomin), the nation's biggest miner, in late 2016 proposed to the Prime Minister a plan to resume exploitation at Thach Khe.
However, opinions vary about whether to continue exploiting iron ore at Thach Khe. While the Ministry of Industry and Trade (MOIT) urges to resume the exploitation, the Ha Tinh provincial authorities are indecisive.
The provincial authorities have expressed their concern about the capability of arranging capital for the project, saying that it is necessary to clarify the issue. They have also warned about the oversupply of iron ore as domestic demand is limited.
Meanwhile, environmentalists have warned about the possible impact on the environment, reminding them of the lessons from Formosa.
MOIT recently sent a document to the Prime Minister to clarify the issues of Ha Tinh provincial authorities' concerns.
The ministry admitted that the Thach Khe Iron JSC (TIC) doesn't have money to continue the investment, while the required investment capital for 2016 and upcoming years is very high.
The decision to resume the exploitation of Thach Khe, the biggest iron mine in SE Asia, and the biggest ever open-cast mine, has yet to be determined.
Besides, the investor will also have to pay for the granting of mineral exploitation rights, VND114 billion a year. The compensation for site clearance alone would cost VND1 trillion.
Meanwhile, TIC's only financial source is from iron exploitation. It is nearly impossible to seek capital from credit institutions to implement site clearance and resettlement.
Therefore, the ministry has thought of another solution – restructuring shareholders and mobilizing more capital to implement the project.
The shareholders with limited financial capability which did not contribute capital as scheduled, must transfer the capital contribution to existing shareholders or other capable enterprises.
Regarding consumption, MOIT affirmed that some domestic enterprises have committed to buy iron ore from Thach Khe. These include Hoa Phat Steel JSC and Thai Hung Trade JSC.
The total registered demand is 5,700 tons, while the total output of the first phase of exploitation is 5,000 tons per annum.
Also according to MOIT, the project is expected to occupy 4,821 hectares of land and affect the lives of 5,000 households in six communes as it will use a large volume of fresh water during the exploitation.
However, TIC has committed to apply necessary measures to protect the environment.
The company, for example, has suggested throwing waste to encroach on the sea instead of throwing waste on the mainland.
RELATED NEWS
PM orders action on sand mining crimes
Luong Bang