Thai giants who have been in Vietnam for decades
VietNamNet Bridge – The wave of Thai investment in Vietnam is not new. Decades ago, the Thais gained important development in Vietnam.
VietNamNet Bridge – The wave of Thai investment in Vietnam is not new. Decades ago, the Thais gained important development in Vietnam.
Amata Group
Established in 1989, Amata Corporation Public Company Limited is Thailand's largest listed conglomerate in the industrial estate sector of the Stock Exchange of Thailand. The company's headquarters are in Bangkok, Thailand and its Chief Executive Officer is Vikrom Kromadit.
Amata Viet Nam was established in December 1994 as a joint venture of Amata Corporation and Sonadezi Bien Hoa, Vietnam, a state-owned developer of industrial estates in Dong Nai province. This is first Amata's overseas integrated industrial estate. Strategically located on Highway No. 1, connecting the South and the North of Vietnam, Amata City Bien Hoa Industrial park proudly houses multinational corporations with a total investment of well over US$1.9 billion and a total workforce of more than 35,000 workers.
After the success of Amata Bien Hoa, they have developed Bien Hoa 1, Bien Hoa 2, and Go Dau IZ.
Last year Amata Corporation partnered with Tuan Chau group to develop a US$1.6-billion IZ, Amata City Ha Long, in Quang Ninh Province.
The two sides have formed a Tuan Chau-Amata joint venture company, with Amata owning 70 percent stake and Tuan Chau Group holding 30 percent.
The IZ will come up on an area of 5,789ha, catering to the tourism industry as it is located next to the world heritage spot Ha Long Bay, a popular travel destination.
In late 2013, the People's Committee of Quang Ninh agreed on the joint venture's investment procedures for a $2-billion hi-tech park and urban townships in Quang Yen, Uong Bi districts, and Ha Long City.
The construction of the 10-phase IP will require $1.6 billion and 10 to 15 years to be finished. It is expected to house some 1,000 factories, generate an investment value of up to $5 billion, and provide 300,000 jobs for local people.
Later, the IP is also expected to attract other industries and facilities such as research and development centers, logistics services, exhibition centers, and scientific laboratories.
The first phase of the IZ on 500ha will kick off this year, with an investment capital of US$60 million, and finish it by 2018.
Amata will fork out about $12 million for 20 percent of the first phase to construct a high-tech industrial park to exploit an expected boom of electronic production in Vietnam and to move Japan's production bases from China.
Amata Vietnam expects that investors from Japan, South Korea, and Taiwan will show willingness to move their production bases to Viet Nam, especially for establishing high-technology electronics companies. It plans to develop land in the IZ estate for high-tech investments.
Amata is moving north as Japanese manufacturers are expected to shift their production bases there by next year. The area is close to China and Japanese firms can enjoy the benefits of Vietnam's low labor costs while still selling products to China under the mainland's free trade agreement with Asean+6, known as the Regional Comprehensive Economic Partnership.
CP – the top animal feed producer in Vietnam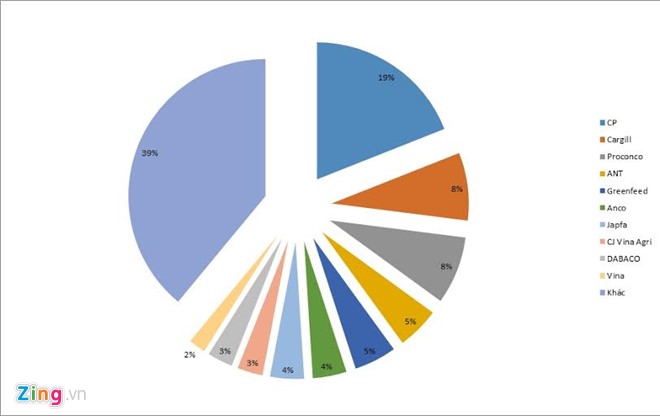 The major players on the animal feed market of Vietnam.
Charoen Pokphand Group (CP) was established in 1921 as a seed shop in Bangkok, Thailand. Nowadays, it is a group of multi-sector business and manufacturing. It is also one of the most powerful groups of Thailand in industry, agriculture and food processing.
C.P Group has operated in Vietnam since 1988 and established C.P. Vietnam Livestock Co., Ltd. in 1993, headquartered in Bien Hoa II Industrial Park, Bien Hoa City, Dong Nai Province. In 2011 the Company was renamed C.P Vietnam Livestock Corporation (CPV), offering feed for livestock, poultry, fish, and mash. It also engages in meat processing.
Since then, it has been expanding its production in feed, farm and food sectors. In 2014, CP reported revenue of $2.07 billion, including $867 million from feed production, the figure that many foreign invested enterprises in Vietnam dream of.
Vietnam's livestock industry, with a scale of about $6 billion/year for animal feed, and $18 billion/year for meat products, is an extremely attractive market, where CP is taking the lead.
BJC Group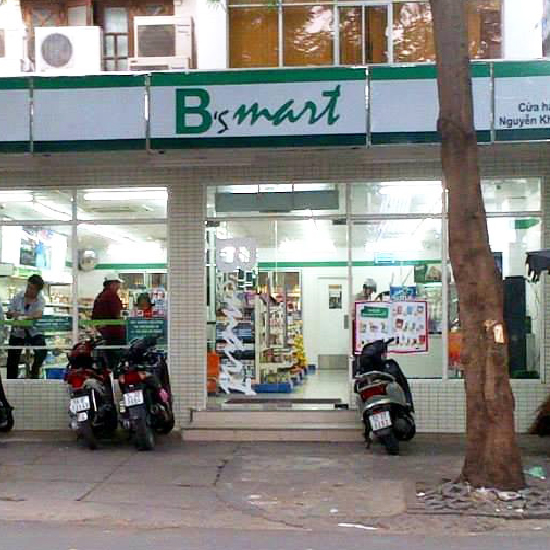 The Thai firm now owns leading retail brands in Vietnam such as Metro and B's Mart (formerly Family Mart).
Metro currently has 19 hypermarkets throughout the country. This is one of the largest and successful supermarket chains in Vietnam, with the largest customer base. In 2014, BJC acquired the chain from Metro Group of Germany.
B's Mart currently has dozens of shops in Ho Chi Minh City and is growing rapidly across the country. Acquired from Japanese partners and renamed from Family Mart, B's mart shows the determination of the BJC in developing its retail systems in Vietnam.
BJC entered into Vietnam a long time ago, operating in the field of production of glass bottles and beverage cans. BJC also has the Cellox toilet paper plant and the Ichiban tofu factory.
Through its subsidiary TTC Land, BJC is also the owner of Melia Hanoi Hotel. Over the past several years, Melia has always grossed over $20 million of revenue and pre-tax profit of about $10 million/year.
BJC also owns another hotel in Hanoi - Fraser Suites and an office building in HCM City - Melinh Point Tower.
Siam Cement Group (SCG)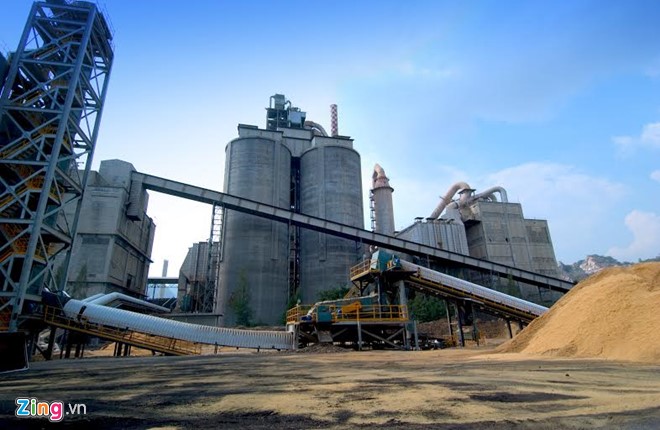 A factory of SCG in Vietnam.
SCG is the largest cement company in Thailand. In 2011, SGC was ranked as the second largest corporation in Thailand and the 620th in the world by Forbes.
SCG has been in Vietnam for more than 20 years, and currently has 20 subsidiaries specializing in building materials, such as cement, ceramic tiles, wrapping paper, petrochemicals ...
One of the biggest acquisition affairs of SCG in Vietnam is its purchase of the Buu Long Cement Plant in Dong Nai and bought 85% of shares in Prime Group Joint Stock Company (Vietnam) for about $250 million in late 2012.
In the most recent deal, SCG's subsidiary - TC Flexible Packaging Co., - acquired 80% shares in Vietnam's Tin Thanh Packaging JSC.
Thai Corp International
Thai Corp International (Vietnam) Co. Ltd. (TCI is a leading distributor of fast-moving consumer goods (FMCG) with 19 years of experience in the Vietnam market.
Currently, TCI works with all major distribution channels and has more than 300 sales representatives in all provinces and cities to care for all distributors and retail outlets across Vietnam. TCI provides faster service directly to supermarkets, agents, wholesale and retail shops in Ho Chi Minh City.
In 2010, TCI was one of the companies to obtain commercial business license from the Vietnamese government. Currently, TCI has distribution networks in 63 provinces with more than 1,000 agents for more than 50,000 retail outlets in Vietnam.
Nguyen Nam