Thailand moves to ease congestion at Bangkok-based airport

Don Mueang Airport in Bangkok has reached its full capacity and it isn't possible to expand or build another runway, the Airports of Thailand Plc said, urging budget airlines to switch to wide-body aircraft to ease congestion at the airport.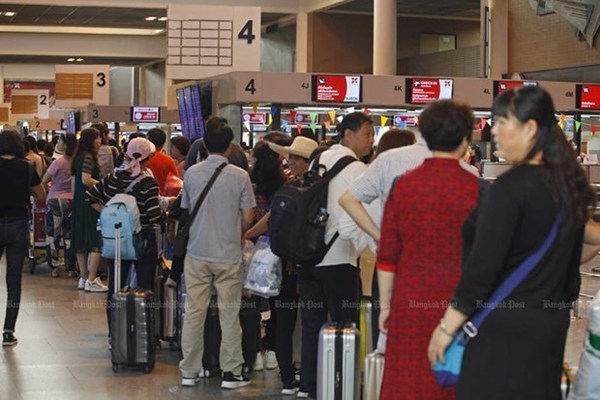 Passengers crowd Don Mueang airport in Thailand during the Songkran festival in April. (Photo: Bangkok Post)
Deputy general manager of Don Mueang airport Sumpun Kutranon said this year, Don Mueang has reached its full capacity of 52 flights per hour and it will create a bottleneck and cause further flight delays, local media reported.
Single-aisle jets used by low-cost carriers can carry between 100-200 passengers per flight, while wide-body jets can carry about 300 passengers each time the plane takes off, he explained.
Don Mueang airport is expected to reach its maximum passenger handling capacity of 40 million people by the end of the year. The airport is forecast to welcome some 41 million passengers next year, and 45 million passengers in 2023.
To improve passengers' experiences at the airport, the AoT has expanded the floor space for visitors to apply for visa-on-arrival, and increased the number of immigration checkpoints.
In the long run, the AoT and Transport Ministry will implement the third phase of Don Mueang airport's expansion scheme, which is valued at 39 billion THB (1.27 billion USD), from 2020 – 2025. The project has entered the design stage while its enviromental impact asssessment is being reviewed and budget proposal is being drafted, he said.
The construction work will include the demolition of the old domestic passenger terminal to make way for the new Terminal 3, which has the capacity to handle up to 18 million international passengers per year.
Both Terminal 1 and Terminal 2 will also be upgraded to handle 22 million domestic passengers per year, he added./. VNA