Thailand sells rice stockpile, Vietnam may lose buyers
VietNamNet Bridge - Soon after Thailand announced the plan to sell 11.4 million tons of rice in stockpile over a two-month period, Vietnam's exporters predicted they would be hurt by the move
VietNamNet Bridge - Soon after Thailand announced the plan to sell 11.4 million tons of rice in stockpile over a two-month period, Vietnam's exporters predicted they would be hurt by the move
.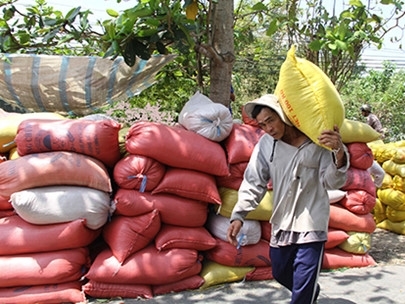 If the Thai government sells all of the 11.4 million tons, this will be the biggest sale campaign in the history of the world's biggest rice exporter. The amount is even higher than the average volume of rice the country exports every year.
Vietnamese rice exporters have said the big sales would force prices in the world market down and badly affect Vietnam's exports.
They said some partners have suspended imports because of the Thai announcement.
Nguyen Thanh Long, director of Gao Viet Company, confirmed that the customers who were negotiating for the company's rice have halted the negotiations.
The customers are those that want to buy white rice from Asian countries, including China, the Philippines and Africa.
Soon after Thailand announced the plan to sell 11.4 million tons of rice in stockpile over a two-month period, Vietnam's exporters predicted they would be hurt by the move.
An analyst said that though Thai old rice in stockpiles is not competitive with Vietnam's rice which has higher quality, the big sales will still affect Vietnam's rice export.
In the past, Thailand sometimes sold rice from its stockpile, about 1-2 million tons, but the sale still had an impact on Vietnam.
And now the impact will be much bigger with avvolume 5-6 times higher.
Vietnam now sells white rice at avprice $5-10 per ton lower than Thai rice. However, Long said Thailand will lower the prices to attract buyers. And this would force down Vietnam's rice price.
Luong Anh Tuan, director of Thinh Phat Food, also said that loyal markets had stopped negotiating to buy Vietnam's rice. They are waiting to see the moves to be taken by Thailand before making a decision.
"Meanwhile, other partners of Vietnam from China and Africa will haggle with Vietnamese exporters about the prices and try to force the prices down," Tuan said.
An official from the Ministry of Industry and Trade also said that Thai stockpile rice is worse than Vietnam's rice, but, for poor countries, low-price products would be the top choice.
Huynh The Nang, chair of the Vietnam Food Association, has reassured the public that there wasvno need to worry about Thai rice sale because the impact would not be significant.
According to Nang, Vietnam still has not fulfilled deliveries for all the contracts signed in the fourth quarter of 2015. Besides, rice exporters have signed many new contracts.
Vietnam exported 2 million tons in the first four months of the year, worth $916 million.
PL TPHCM