VietNamNet Bridge – A little girl from the central province of Thanh Hoa died of the H1N1 influenza strain known as swine flu at the Hanoi-based Central Hospital for Tropical Diseases this morning, April 23, reported the hospital's deputy director Nguyen Hong Ha.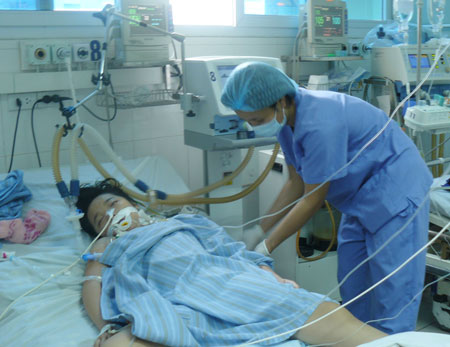 The little girl in hospital.
It is suspected that little girl caught the flu from her brother-in-law after this man, who is living in Hanoi.
About two weeks ago, the man paid a visit to the home of his parents-in-law in Thanh Hoa. He had influenza at that time and communicated flu to three others in the family. Two people were free of the disease while the girl's flu developed.
On April 16, she had a fever, cough, and shortness of breath. The family took her to the hospital of Vinh Loc district in Thanh Hoa. After one day of treatment, the patient got critical breathing problems and was transferred to the Hospital of Thanh Hoa province.
Only a day later, the respiratory problem became more serious. The X-ray scan showed wounds in her lung. The patient was transferred to the Central Hospital for Tuberculosis and Lung Diseases in Hanoi, where the X-ray scan detected that her lung wounds developed very quickly. The girl was again transferred to another hospital - the Central Hospital for Tropical Diseases.
Deputy Director Nguyen Hong Ha of the Central Hospital for Tropical Diseases said the patient was brought to the hospital in the state of severe respiratory distress. Testing results showed that she was positive for type A/H1N1 flu virus. Upon admission, the patient was treated by antiretroviral drugs but she died on the morning of April 23.
On April 22, the Central Hospital for Tropical Diseases also received an 83-year-old man who was transferred from the Agriculture Hospital with symptoms of flu.
Dr. Nguyen Van Kinh, Director of the Central Hospital for Tropical Diseases, said that flu patients died because they were brought to the hospital very late, after having complications such as respiratory failure and heavy pneumonia.
A/H1N1 influenza is the same as the other seasonal flu, with certain mortality. In Vietnam, the fatal rate from A/H1N1 influenza is very low, only about 0.7 percent.
Mai Lan