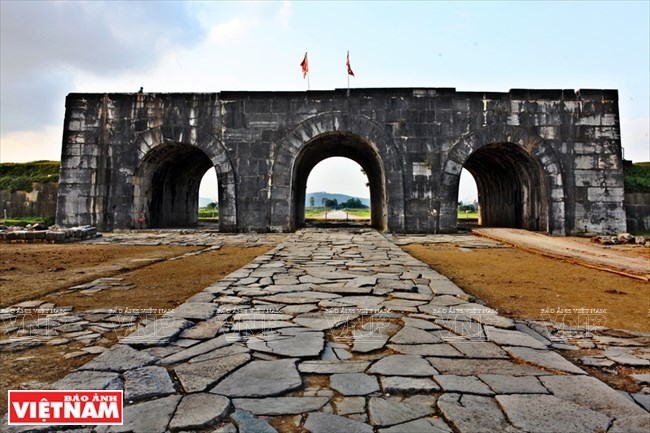 Ho citadel is an iconic symbol of Thanh Hoa province.
More than 500 actors and actresses will take part in the colourful and musically dazzling ceremony, giving the audience a glimpse of Thanh Hoa's culture and development history for years, with the use of breath-taking effects, lighting, and expressive choreography.
Popular theatre playwright and general director of the programme Le Quy Duong said at a press conference held in Hanoi on April 17 that tuong (classical drama), cheo (traditional opera), bronze drum performance, and recitation will be delivered on a splendid stage arranged with iconic symbols of Thanh Hoa province, including Dong Co temple, the citadel of the Ho Dynasty, Le Loi statute, and Ham Rong bridge.
Themed "Shining with the nation", the programme will be developed in three chapters: a sacred land of extraordinary people, heroic tradition and aspiration for prosperity.
Duong said that there should be more programmes on culture and history of the nation like this, helping the young generation have deeper understanding of the nation's culture and history, and how ancestors protected and built the country.
Last month, a worship ceremony dedicated to Heaven and Earth was held for the first time after 617 years at Nam Giao Worship Platform built during the Ho Dynasty in 1402. The ceremony was part of a series of events organised this year to celebrate the 990th anniversary of the province's naming.
The worship ceremony reflected a part of the ancient ritual conducted by the Ho Dynasty in the past. The event gathered thousands of Ho descendants from across the country, locals and tourists.
Historical documents say Nam Giao Worshipping Ceremony was one of the most important rituals under feudalism. The ceremony praises Heaven and Earth gods to confirm the power of the kings, who were assigned by Heaven and Earth to manage the country and people. Only the kings had the right and morality to conduct the worship ceremony.
Under the reign of Ho Quy Ly (1336-1407), the ceremony was conducted by the king every year to wish for prosperity.
The Nam Giao Platform at the Ho Dynasty Citadel is among three most ancient and intact worshipping platforms of its kind in Vietnam. The platform was built in August 1402 in today's Vinh Loc district, 2.5 km to the southeast of the famed Ho Citadel, a UNESCO's World Culture Heritage site.
The platform covers 2 hectares, leaning against Dun Mountain and looking over Nam Giao rice field. It has several levels, smaller from the foundation to the higher levels. A well-polished stone path leads to the platform, which was mainly built by blue stones and baked clay bricks and tiles.
Thanh Hoa province has recorded special hallmarks in the national protection and construction. It is home to many vestiges of ancient Vietnamese people with a wide range of prominent artifacts of the Dong Son culture of the Bronze Age. -VNA