The art of earning millions of VND a day through recycling
Cajuput peels, banana peels and old jeans are used by a Kien Giang man to make original paintings, while old tyres are used by a man in Binh Thuan to make tables, chairs and swings.
Paintings made from cajuput peels
Le Hoang Nhan in Dong Hung B commune in Kien Giang province is known as a talented craftsman who makes paintings from cajuput peels, banana sheaths and old jeans.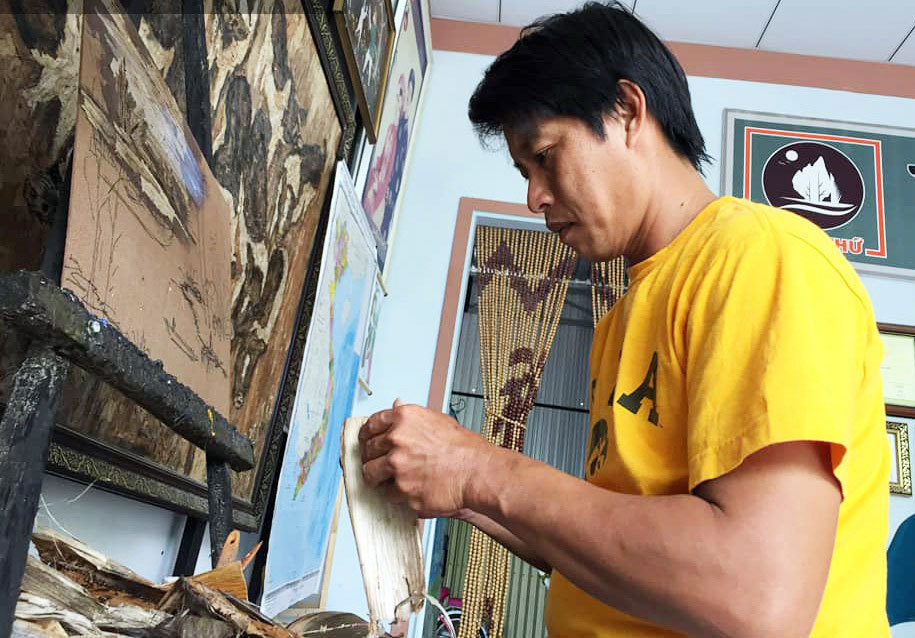 Le Hoang Nhan and his paintings
"Banana peels are stuck with a mixture of anti-termite and waterproof glue. So the durability of paintings is up to 20-30 years," he said.
Nhan can make one painting from banana peels within one day which can be sold for from hundreds of thousand to one million dong.
Original items made of old tires
Witnessing thousands of old tires heaped up on the sides of roads, which causes pollution, Duong Anh Vu in Binh Thuan province decided to use the tires to make original products such as chairs, tables and swings.
A set of a table and chairs is created from 70 bicycle tires. Finished products can withstand weight of up to 250 kilograms without iron frame. The parts of the products are connected by screws and stainless steel. The grooves on the surface of the tires help create distinctive and fancy patterns.
The café created from 24 si (Ficus benjamina L.) trees
A café located on Highway No 1A in Thu Thua district in Long An province catches people's attention thanks to its original design. The shop doesn't have walls, while the roof is created by tree leaves instead of corrugated iron in order to create a green space.
The café is 250 square meters on size with 24 si trees standing in rows.
Thanks to leaf canopies, the café is windy though no electric fan is on. Visitors are served on plastic tables and chairs, and hammocks.
The giant bang lang cuom (Lagerstroemia calyculata) stump
Nguyen Van Xuyen in Hiep Loi ward of Nga Bay City in Hau Giang province is the owner of a bang lang cuom stump hundreds of years old. It is 6 meters wide and 2.5 meters tall.
Xuyen revealed that it took him two years to persuade a man in Cambodia to sell the stump.
Insect market in HCM City

Cajuput peels, banana peels and old jeans are used by a Kien Giang man to make original paintings, while old tyres are used by a man in Binh Thuan to make tables, chairs and swings.
The insect market is located at the Che Lan Vien – Truong Chinh intersection in Tan Binh district.
The market opens in early morning, lasts two hours and closes before dawn.
The insects available at the market are collected from many sources, including farmed insects and caught from the wild. The sellers are from the suburban districts of Hoc Mon and Cu Chi, and some from Tay Ninh province.
The insects sell very quickly because nearly all sellers have loyal clients.

Original cactus garden
The cactus garden at the foot of Nhat Tan Bridge in the suburban district of Dong Anh in Hanoi is the address for young people to check in.
The garden is full of hundreds of types of large and small cacti which are both imported from America and crossbred in Vietnam.
In addition to the popular cacti species such as cylindrical and round-shaped ones, there are also special varieties such as dragon and rainbow cacti. There are crossbred varieties with genetic mutations which are more than 3 meters tall and 40 years old.
Farmer grows strange passion fruit
The visitors to the 2020 Vietnam International Agriculture Trade Fair organized in Can Tho City were surprised when seeing an unfamiliar fruit – sweet passion fruit, which is different from the commonly seen sour passion fruit.
This passion fruit has a sweet taste, rich aroma with yellow peel, and has round shape, and is very good for people's health.
The tree is grown by Nguyen Huu Cong, 61, from Soc Trang province. He said he has sold all 150 seedlings.
Village of rat meat addicts
In the ninth month of the lunar calendar, when farmers of Canh Nau hamlet in Hanoi finish the harvesting season, they go hunting for field rats. As rats can eat a lot of paddy, they are fat. One processed rat can be sold for VND120,000-150,000.
Locals said rat meat is just like dog and cat meat, but it is softer and better. This is the specialty of the hamlet, favored by all people, from the elderly to young, from women to children. 
Bao Han

Here is a list of coffee shops which are ideal destinations for young people to hang out.

Discarded items, after going through the hands of Nguyen Hong Linh, 74, in Nam Tu Lilem district in Hanoi, become beautiful useful things.