The firefighters who died for others
Four months have elapsed since the day the three firefighters of the Cau Giay District Police in Hanoi sacrificed themselves in service, but their parents, wives and children's sadness has not subsided.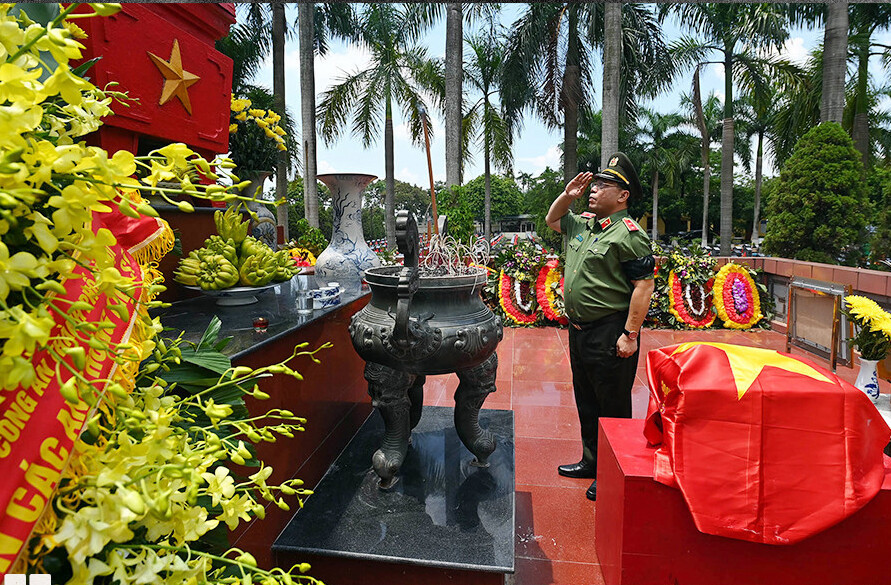 "How can we forget this? It is a big hole in our family which will need a long, long time to fill," said Do Van Tu, father of Revolutionary Martyr Do Duc Viet.
"My wife always cries when looking at his photo. In the past, we always reunited any time we had events to celebrate or every time we had dinner. But now…. We try to hold back and not to repeat the memories, heartache," Tu said.
November 24 was the birthday of Viet. His friends and comrades bought many birthday cakes and flowers to organize a party to commemorate him. "But we still cannot forget the heartache," he said.
The father of Lieutenant Do Duc Viet – Do Van Tu – also worked in the police. In his childhood, admiring his father, Viet decided to follow the father's career to become a firefighter, protecting the peaceful life of people.
Nguyen Thu Huyen, the life of Dang Anh Quan, one of the three Revolutionary Martyrs who sacrificed in the event couldn't hide emotions when talking with VietNamNet.
"People have returned to normal life, but my heart is still torn because of loss. I would like to say thanks to the sympathy that people shared with us during the most difficult moments. We could overcome the shock thanks to the encouragement of all people," she said.
Since the day Quan passed away, she has become the 'pillar' of the family. She has to go to the office every day, take care of her mother and two children on behalf of the father. The year-end work is always heavy, but she has to take on everything, from big to small work.
The pain also has not subsided yet for Tran Thi Thuy, the mother of Senior Colonel Dang Anh Quan. The small street shop by Lang Lake side is still open every day for her. It not only brings income but also helps ease the sadness about the son, who has been helping the mother take care of the younger sister until the girl grows up.
Meanwhile, Nguyen Thi Tuyet Hanh, the mother of Nguyen Dinh Phuc, said though she feels sorry about the son, this is the choice of Phuc.
Before Phuc joined the army, Phuc passed the exam to university and studied English and did very well.
"Losing children is an unfortunate event for every mother. But I am proud of you. You sacrifice to give life to many other people," Hanh said.
Kien Trung - Dinh Hieu