VietNamNet Bridge – A lot of big investors rushed to Ha Giang province to exploit minerals. Many of them have become moneyless as they injected money in empty holes under the earth, while the local land has become deserted.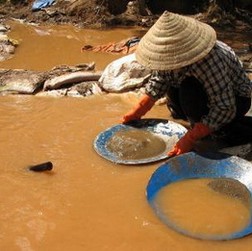 Those, who travel from Khuoi Diem dam to the Ngoc Ha Village, would have to cross a stream, about 3 kilometers long.
In the past, local people drank the water from the stream, but now they can't do that, because the water there is getting muddy and polluted with mining chemicals.
A lot of men flocked to the area, bringing multi-billions dong to look for gold and precious metals.
K was one of the "big guys" there--"was" because he is no more a big guy. He has become penniless after pouring money into empty mines.
Three years ago, a friend advised him to go to Vi Xuyen district in Ha Giang province to set up a mining company here. After a lot of efforts, he got the license for exploiting the Nui Bac manganese mine.
When granting license to K, the competent agencies affirmed that the manganese reserves in Nui Bac may be up to 56,000 tons.
K then poured big money into the exploitation after three years of following administrative procedures, recruiting workers and building roads. However, the mining stopped only after three months, because there was no more ore to be exploited.
K is not alone. A lot of other investors, both amateur and professional miners, have suffered from the "mineral dream."
DT Company Ltd joined forces with the Ferrous Metallurgy JSC asked for the permission to exploit manganese at the 30 hectare mine in Vi Xuyen district. The license was granted in July 2009. However, the production line still cannot operate because there is no mineral. Meanwhile, the joint venture has to pay bank loan interests every day.
In Ha Giang province, a new career has appeared – making up mines. There is no "mine market" in Ha Giang, but the "mine make-up" develops very rapidly. The ones who take the jobs could be the civil servants or freelancers.
Making up mines means fabricating the documents about metal mines and selling the "mines on the papers" to miners. The people who take this job have been very prospering.
It is estimated that at least eight mines in Vi Xuyen district, most of them are manganese mines, have stopped operation. The investors gambled their lives, pouring billions of dong into the earth, though they did not know what was there.
The manganese ores in Ha Giang province have not only made miners penniless, but also made local people miserable.
The manganese ore exploiters on Bac Mountain four years ago has dispossessed of the clean water source of local ethnic minority people, killed trees and turned the populous and rich land into deserted area.
In Ngoc Ha village, only tea plants still can live on the polluted area, but the teal leaf quality has been degrading. Growing tea is now the main source of income for Ly Minh Tien, a Dao ethnic minority man in Ngoc Minh hamlet.
Tien said he can sell 60 kilos of tea leaves a month and earn VND168,000, the sum of money which is big enough to buy 15 loafs of bread in Hanoi.
Thien Nhien