The miraculous journey of a patient who was in hospital for 11 years
In the last 11 years of his hemophilia treatment, Phan Huu Nghiem experienced 26 surgeries. His medical file has at least 65 medical records.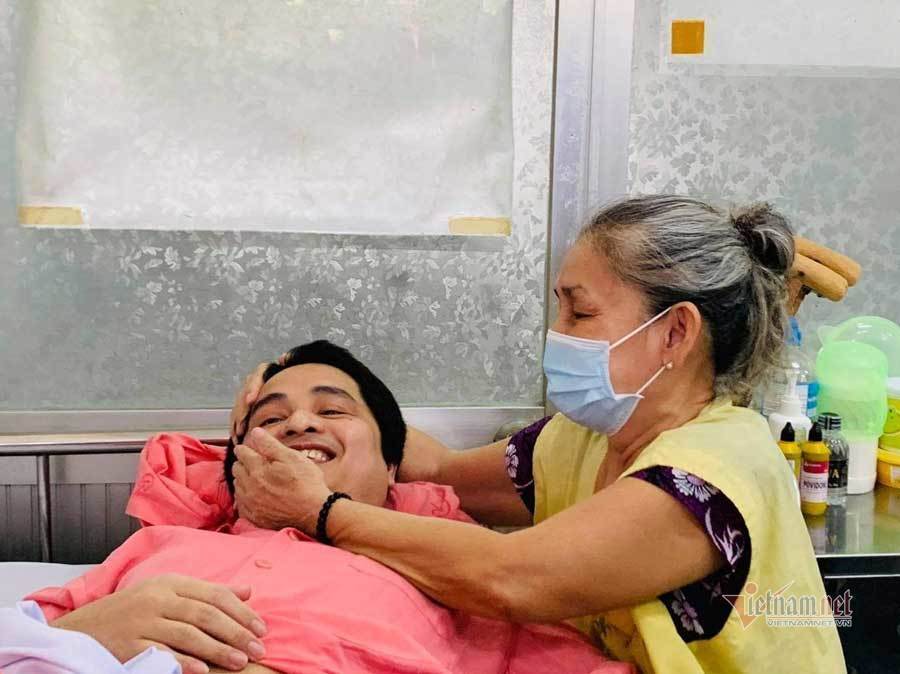 Phan Huu Nghiem and his mother
On April 14, Nghiem was officially discharged from Cho Ray Hospital in HCM City. The hospital director came to meet him in person and say congratulations.Nghiem had been in the hospital longer than any previous patient.
In 2003, Nghiem, who was born in 1984, accidentally fell. The wound caused lasting bleeding and his hip bone, thigh bone and pelvis started to decay.
In 2010, Nghiem was brought to Cho Ray Hospital with severe inherited hemophilia. At that time, he used Factor VIII (FVIII) medication, a very expensive product. There was no other effective therapy for his condition.
Nghiem said that in 2014 the hematoma suddenly became pock-marked with holes like laterite, causing blood and pus to ooze out. Dr Tran Thanh Tung, head of the Department of Hematology, had to perform surgery to save the patient under the instruction of Nguyen Truong Son, who is now Deputy Minister of Health.
The major surgery was conducted with surgeons from three departments, Hematology, Urology and Orthopedic Trauma. Blood, pus and necrotic bones were removed totaling up to 3 kilograms. The necrotic mass was ingrained so deeply that when most of it was removed, the surgeons could see the patient's intestines.
At that time, Nghiem's abdomen was like a leather ball that had been gouged out and become empty, leaving a huge hole. Doctors tried to make a skin graft and use different methods to fill in the hole, but they failed. The wound caused a prolonged blood infection.
"I felt lighter after the surgery, because 3 kilograms of blood and pus were removed. Doctors told me that the incision would heal after one year. But it did not. They then once again told me to wait one year more. I kept waiting, but the incision was still the same. I did not ask about the incision in the third year and felt disappointed. I was just lying in the hospital and sometimes I wanted to give up," Nghiem recalled.

Cho Ray Hospital doctors said that over the years they sometimes could not look at the mother's eyes as they still had not been able to cure her son.
Nghiem stayed at Cho Ray Hospital for seven years after the first surgery. One day, as Nghiem and his mother felt homesick, they decided to catch a bus to return home. When he was carried into the house, blood gushed from the wound, and the bleeding could not be stopped.
Nghiem then had to return to HCM City. The driver had to drive as fast as he could all the way as he feared Nghiem might die halfway there because of bleeding. On that day, Nghiem began living in the hospital and only returned home during Tet holidays.
Nghiem's life might have continued this way until his end of life if Dr Ngo Duc Hiep had not made a brave decision one day.
Hiep is head of the Department of Orthopedic Trauma and Burns. Not having the heart to see the patient living in such a situation, he decided to try a new costly therapy – fluid extraction with VAC method (Vacuum Assisted Closure).
All of the great efforts by the doctors and Nghiem were rewarded as the wound healed gradually.
Hiep said the dressing change alone requires a lot of patience. The bad odor from necrotic bone tissues spread throughout the room but medical workers never complained.
Nghiem's wound eventually healed. However, due to the removal of the inflamed bone, he can only sit in a wheelchair or use crutches. He now has been officially discharged from the hospital.
"With this return, I will be able to live with joy," Nghiem said.
According to the hospital, the 11-year treatment of Nghiem cost VND40 billion. Of this, VND38.3 billion was paid by health insurance. The remaining was paid by benefactors, responding to the call for help from Le Minh Hien, head of the hospital's social work division.
Nghiem's mother, Tran Thi Mai, has been next to her son for the last 11 years. Mai said she once lived on donated rice.
"They told me to feel free to have meals and help Nghiem in his treatment. They would ask for money from people to help me cover the expenses," she said.
Cho Ray Hospital doctors said that over the years they sometimes could not look at the mother's eyes as they still had not been able to cure her son. 
Ca Linh

Electronic medical record data will be connected among hospitals and health facilities across the country from July 1.

Doctor Mai Hong Son, who works at the 108 Military Central Hospital in Hanoi, did not choose nuclear medicine in the first place yet 10 years of hard work and diligent learning have turned him into an award-winning expert and researcher in the field.