The new potential of wellness tourism
Vietnam can be a strong competitor with other regional rivals in offering wellness tours as the country has so much to offer.
A group of more than 10 tourists lined up in a row and walked slowly and quietly so that they could hear their own breathing. The surroundings, unaffected by other human presence, continued as it always does – with the wind blowing in the foliage, the birds singing, and the sound of a stream burbling through the woods.
Occasionally, the group leader strikes the singing bowl she holds in her palm, creating a pleasant tone believed to calm brain waves. Walking in the Cát Bà National Park forest includes mindfulness practices among the activities of a wellness-focused trip organised by Lumina Retreats. This tour operator designs specialised programmes for people who seek adventure in the vast wellness terrain.
Wellness tourism has been defined by the Global Wellness Institute as travel associated with the pursuit of maintaining or enhancing one's personal wellbeing.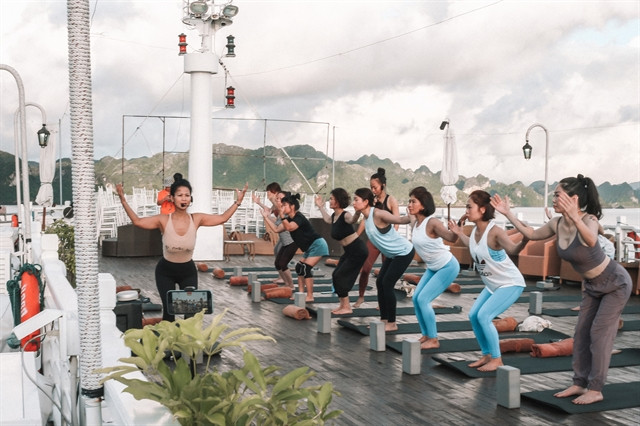 Tourists join a morning yoga section during their Hạ Long Bay cruise trip by Lumina Retreats. — Photo courtesy of LR
Although the concept of wellness tourism has gradually become popular in recent years in Việt Nam, this model has shown strong development lately, especially after the COVID pandemic.
Phùng Quang Thắng, vice president of the Việt Nam Society of Travel Agents, said: "It's been a stressful year for all people when their businesses have crashed, many others have lost loved ones, while others have lost jobs, and they also had to deal with the financial distress that comes with it."
"COVID-19 has upended every aspect of life and has aggravated the stress and anxiety of everyone. Now, as the pandemic subsides, many people desire to release all those negative feelings through the wellness trips to renew their mental, spiritual, and physical wellbeing."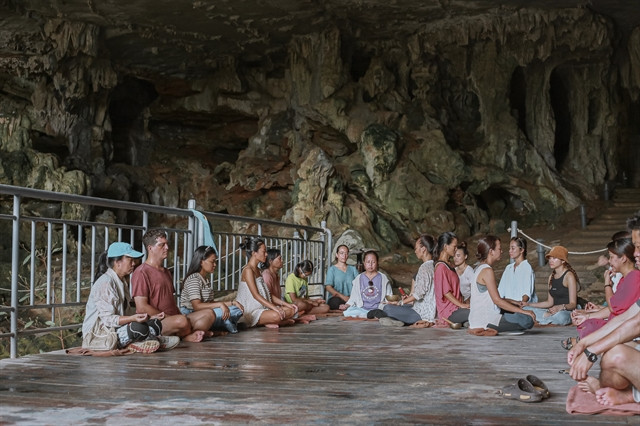 Tourists do meditation in Trinh Nữ Cave in Hạ Long Bay. — Photo courtesy of LR
Michelle Ford, CEO and founder of Luminary Wellness – a consulting and management agency for spas, resorts & retreats, has anticipated that during the post-COVID period, there would be a strong need for adventure as people were isolated and at home during this period, and the awareness of health and wellness was at the forefront of everyone's minds. That's why they launched their own in-house brand Lumina Retreats in early 2021.
"With the new wellness realisations, we could reflect on the types of travel we select for our special vacations and nature connection to bring more meaning to our lives. Travel was limited to the domestic environment, and we wanted the Vietnamese market and residents in Việt Nam travelling to a known destination to feel that sense of adventure and newness again," Ford said.
In July, Lumina Retreats, in partnership with Bhaya Cruises, debuted their wellness cruise in Hạ Long Bay. The three-day-two-night journey features a wellness-focused agenda featuring daily sunrise yoga classes, nighttime candlelit yin yoga practice under the stars, a healing breathwork workshop to support deep relaxation, and nature excursions to islands that include mindfulness practices, and other relaxing activities such as cycling, kayaking or swimming.
Joining the tour together with two friends, Bùi Thị Hồng Liên, who used to work in the software industry, said that she never had time for herself and her personal hobbies until she retired five years ago.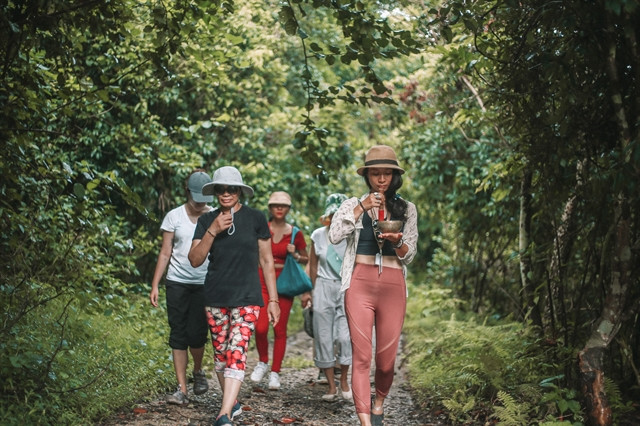 Walking in the forest in Cát Bà National Park includes mindfulness practices. — Photo courtesy of LR
"Yoga is something I've wanted to try but never practised seriously before. After hundreds of journeys for both leisure and business, I think a tour must combine two factors – travel which can improve health, and yoga, which is a powerful mindfulness practice. For me, happiness is when a person is healthy physically and mentally. And this cruise meets my expectation," she said.
Liên also revealed that she met her two friends during her previous trips and became friends as they discovered they have many things in common. Since then, they have often travelled together.
The retreat tour has proved that after isolation, meeting and travelling with a like-minded community and connecting with new friends bring extra value and fun.
For Hồng Anh, a woman from HCM City, the impressive experience she had when participating in a Lumina Retreats cruise trip in the Mekong River led her to joining the Hạ Long Bay retreat.
"Alongside extraordinary experiences, I've also got new connections and new friendships during my first retreats. I've just quit a very stressful job and will get a new job soon, so I hope this trip can be a refreshment for me to start my new job," she said.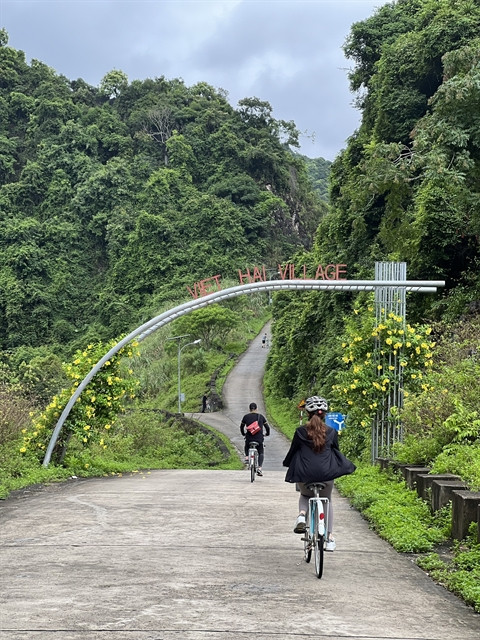 A wellness tour includes relaxing activities such as cycling, kayaking or swimming. — VNS Photo Thúy Hằng
Joining the wellness cruise together with her mother, Đinh Thị Ngọc Tân, a young businesswoman from HCM City, said the daughter-and-mother trip is very special for them.
"Although I've travelled quite a lot, this is the first time I have my mother join me. It took 30 years to have a trip with my mother," she said.
She saw her mother enjoy the tour and not skip any activities.
Challenge of being pioneers
Although wellness tourism is popular in many countries worldwide, it is still quite new in Việt Nam. However, pioneers like Lumina Retreats see the creative possibilities instead of only the challenges.
Lumina Retreats creator Ford said that the critical challenges in the wellness industry relate to understanding that wellness is a lifestyle, not a product.
"That means that all areas of the retreat need to be in harmony – from food to service, to experience, and the travellers expect their wellness lifestyle to be understood in all areas of their stay," she said.
The CEO also said that the other area is training and development.
"Việt Nam is emerging as a wellness destination, and when taking on a wellness project or pioneering a new wellness concept, it is essential to commit to investing in developing our country's future talent pool of wellness managers, specialised practitioners, coaches, yoga teachers, and therapists, and not only tap into the existing and limited human resources," she added.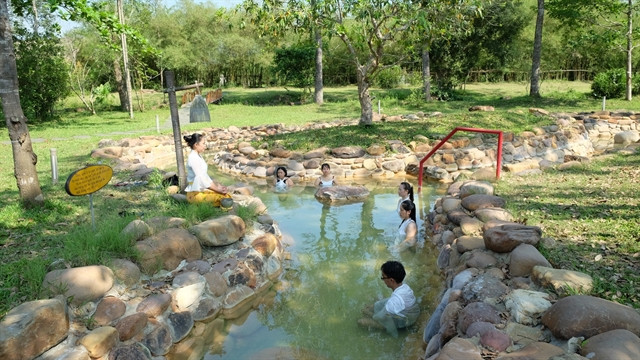 Hot spring water meditation is among the wellness activities offered by Alba Wellness Valley by Fusion. — Photo courtesy of Alba Wellness Valley by Fusion
At Alba Wellness Valley by Fusion – a wellness resort located at the source of the Alba hot spring in Huế City, looking for new ideas and practices is how they keep their services fresh.
"We never say 'no'. Instead, we rather say "why not" and try new things. If we want to be unique and offer the best services, we must think outside the box. We also need to listen and see how and what we can do to make our guests happy because happiness is a very important part of wellness," the resort's General Manager, Hylton Lipkin, said.
The resort offers an exceptional health and wellbeing experience through professional products such as the Mandala Wellness Retreat, Hot Spring Detox, and Healing Yourself Retreat.
Development
The Global Wellness Institute projects that wellness tourism will grow rapidly in the coming years as the world emerges from the pandemic (20.9 per cent annual growth), with the market reaching US$1.1 trillion in 2025. The institute also predicts Asia and the Pacific as the largest regional market for physical wellness activity, at $247 billion in 2020.
In Việt Nam, a recent market survey conducted by Luminary Wellness highlights that 85 per cent of the Vietnamese market has never experienced a wellness retreat before.
"So we feel the upcoming growth potential for retreats and wellness services is an unparalleled investment opportunity in Việt Nam," said Ford.
The retreats are only the beginning of her team's wellness vision in Việt Nam.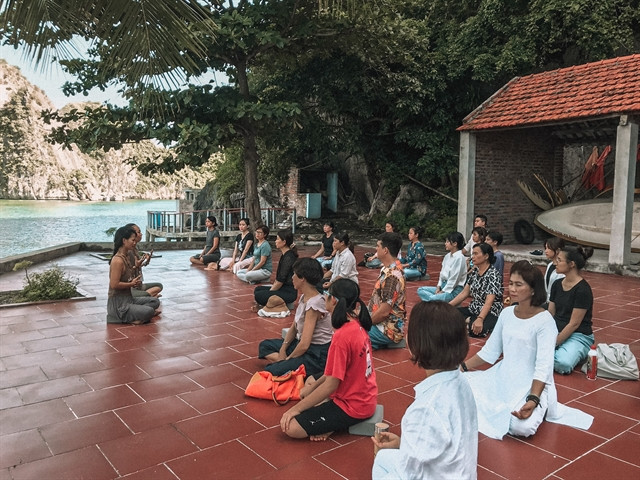 Doing meditation with a sea view during the cruise trip by Lumina Retreats. — Photo courtesy of LR
"On the retreat side, we intend to focus on a few high-quality, personalised and unique experiences that have a meaningful impact on your life, as opposed to an aggressive development plan. We hope that our retreat tribe follows us next to other destinations in Southeast Asia, and who knows, perhaps even an African Wellness Safari in the future," she said.
In addition to Wellness Cruise retreats in Hạ Long Bay and the Mekong, Lumina Retreats is currently developing their next retreat adventure in the Sơn Đoòng caves and Phong Nha area in Quảng Bình. The tour is expected to launch at the beginning of next year.
According to Lipkin, who is also Ambassador for Vietnam of World Wellness Weekend – a global event inspiring and empowering people to make healthier life choices, Việt Nam can be a strong competitor with other regional rivals in offering wellness tours as the country has so much to offer.
"Việt Nam is known for beautiful outdoor landscapes, natural beauty and heritage, so it is a no-brainer to add a few more wellness-orientated options to the menu and activities list. This S-shaped country has always been a popular destination, so there is no reason this should not help boost wellness tourism," he said.
Source: VNS