The secret key in the investigation involving Hanoi's former Chair Nguyen Duc Chung
With a stolen key, an investigative officer broke in and stole secret documents to give to Hanoi's former Chairman Nguyen Duc Chung.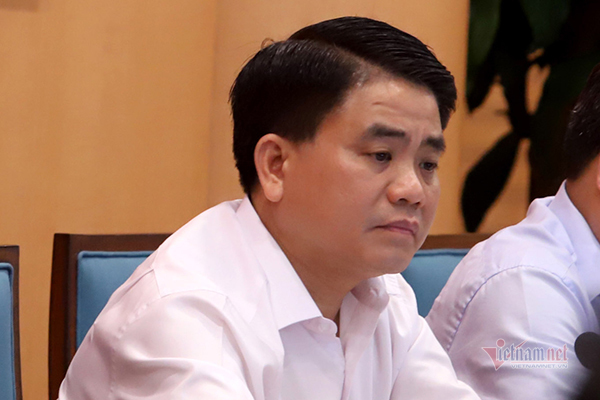 Hanoi former Chairman Nguyen Duc Chung. Photo: Tran Thuong
The Investigation and Security Agency under the Ministry of Public Security has completed its investigation and suggested that the Supreme People's Procuracy prosecute former Hanoi chairman Nguyen Duc Chung for appropriating the State's secret.
The agency also proposed prosecuting three accomplices of Chung - Nguyen Hoang Trung, Chung's driver; Nguyen Anh Ngoc, former deputy head of the editorial department at the Hanoi People's Committee; and Pham Quang Dung, a former official of the anti-corruption police department.
They were detained in July for appropriating the State's secret files related to Bui Quang Huy, general director of Hanoi-based Nhat Cuong Trading and Services Co., Ltd or Nhat Cuong Mobile, who fled after being charged with trading smuggled mobile phones and electronic devices.
According to Major General To An Xo, office manager of the Ministry of Public Security, Chung was also involved in accounting irregularities, money laundering and serious violations in bidding regulations at Nhat Cuong Mobile and the Hanoi People's Committee's mismanagement of State assets and wastefulness.
Moreover, the investigation agency found that Chung sent US$10,000 to Dung in 2019. However, the agency has not been able to ascertain why Chung sent the money to Dung.
Prime Minister Nguyen Xuan Phuc signed a decision temporarily suspending Chung from his post on August 11.
Chung was born in 1967 in Thang Long Commune, Kinh Mon District, Hai Duong Province. He had been leading the People's Committee of Hanoi since December 4, 2015. Before that, he was director of the Hanoi Social Order-Related Crime Investigation Police Department and Hanoi Police Director.
The secret key
According to investigation, from July 2019 to June 2020, Pham Quang Dung several times collected and appropriated documents related to the Nhat Cuong Company case.
Specifically, on the night of June 4, Dung broke into the office of Mr. Nguyen Van Thanh, Head of Division 14, Economic Police Bureau at 47 Pham Van Dong Street, Hanoi and used his smartphone to take photos of three secret documents related to the Nhat Cuong case on Thanh's desk.
According to the investigation, Dung provided 12 documents related to the Nhat Cuong Company case to Chung, including six state-level documents rated as "secret". These documents were transferred to Chung three times.
The behavior of Hanoi's former Chairman was committing the crime of appropriating State secret documents in the role of the mastermind and leader.
The nature of the fact that Chung gave Dung $10,000 has not been clarified yet, so the Investigation and Security Agency of the Ministry of Public Security have separated the above behavior for handling later.
According to investigators, during the investigation process, Chung admitted and clearly declared his criminal behavior. During his working time, Chung was rewarded many times for his outstanding performance, including the title Hero of the People's Armed Forces of the Doi Moi (renovation) period. He also has cancer.
Investigators proposed that agencies consider the above details to mitigate criminal liability for Chung in the prosecution and judgment process.
T. Nhung

The losses in the cases related to the former Hanoi Mayor include VND19.8 billion related to a digital bidding package and VND41 billion in a project to treat polluted lakes using inoculant Redoxy-3C in Hanoi.

The Standing Board of the People's Council of Hanoi has decided to suspend the duty and power of a deputy of the 15th municipal People's Council (2016-2021 tenure) of Hanoi Mayor Nguyen Duc Chung after Chung was prosecuted.