The wealth of the top 10 richest Vietnamese billionaires fluctuates year by year

While August, or the seventh month of the lunar year, brought good luck to many stock billionaires, September proved to be an unlucky month for them.
VIC shares of Vingroup saw the price decrease by VND3,700 per share by the end of September, or 3 percent compared with earlier that month, to VND119,800 per share.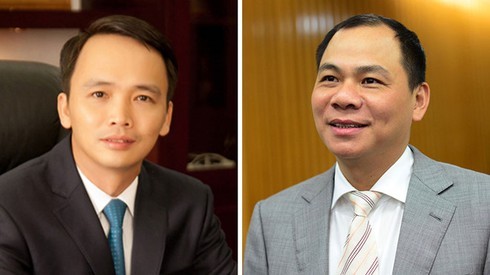 Trinh Van Quyet (left) and Pham Nhat Vuong


With the price, the total value of VIC held by Pham Nhat Vuong, chair of Vingroup and the first recognized dollar billionaire in Vietnam, was VND223.45 trillion. As such, the assets of richest Vietnamese person decreased sharply by VND6.9 trillion after one month.

The two deputy chairwomen of Vingroup, Pham Thu Huong (the wife of Vuong), and Pham Thuy Hang (Huong's sister), saw the asset value decrease by VND560 billion and VND373 billion, respectively.

While August, or the seventh month of the lunar year, brought good luck to many stock billionaires, September proved to be an unlucky month for them.
The value of the shares held by Huong is VND18.096 trillion, with which Huong stays firmly at the No 5 position in the list of the richest billionaires. Meanwhile, Hang is on the ninth position with the asset value of VND12.085 trillion.

The next position in the list, after Hang, belongs to chair of FLC Group Trinh Van Quyet, who has just won the lawsuit against Giao Duc Viet Nam online newspaper, but is among a few stock billionaires losing money in September.

Both FLC and ROS shares held by Quyet decreased in prices in September, thus decreading Quyet's assets by VND639 billion. The owner of FLC Group now has assets worth VND10.635 trillion, just VND3.7 trillion higher than the amount of VND6.9 trillion that Vuong has lost.

The top 10 stock billionaire list had one more billionaire whose assets decreased in September – Tran Dinh Long, chair of Hoa Phat Group. With HPG share price decreasing slightly last month, Long's assets decreased by VND175 billion to VND15.365 trillion. He now ranks sixth in top 10.

Meanwhile, the other five billionaires in top 10 all received good news at the end of September.

Nguyen Thi Phuong Thao, deputy chair of HD Bank (HDB) and CEO of Vietjet Air (VJC) has VND1.213 trillion more. As such, Thao's asset value increased to VND28.84 trillion, which allowed her to stand firmly at the No 2 position in top 10 billionaires.

Ho Hung Anh, chair of Techcombank (TCB), a big shareholder of Masan Group (MSN), had VND840 billion more, which raised his asset value to VND20.33 trillion and put him in the third position in top 10.

The fourth position belongs to Nguyen Dang Quang, chair of MSN and deputy chair of TCB, after he received VND800 billion more in stock assets which raised his asset value of VND20.016 trillion. 
H. Tu

After many years of being neglected, resort real estate in Binh Thuan province has been awakened by projects worth billions of dollars.

Billionaire Pham Nhat Vuong has for the first time moved up to the top 200 of the Forbes' rich list as of July 31.