Close relations
"My house and other assets have all been sold, the children are all I got," said Ms. Giap Thị Song Huong, looking tenderly at the youngsters sleeping soundly. Huong, who has never married, has spent the last 30 years caring for hundreds of abandoned children, ranging from newborns to 13-14 years old.
Huong, as a young lady of 18, chose to leave her village of Bac Giang and reside in Saigon to start a new life. Not wanting to bother her family, she begged to move out and earn a livelihood as an hourly maid, cleaning up bottles, after a few months upon arrival.
Ms. Huong was picking up discarded items at a landfill when she came upon an abandoned baby girl in a mound of rubbish, feebly breathing, and she felt a rush to save this little person.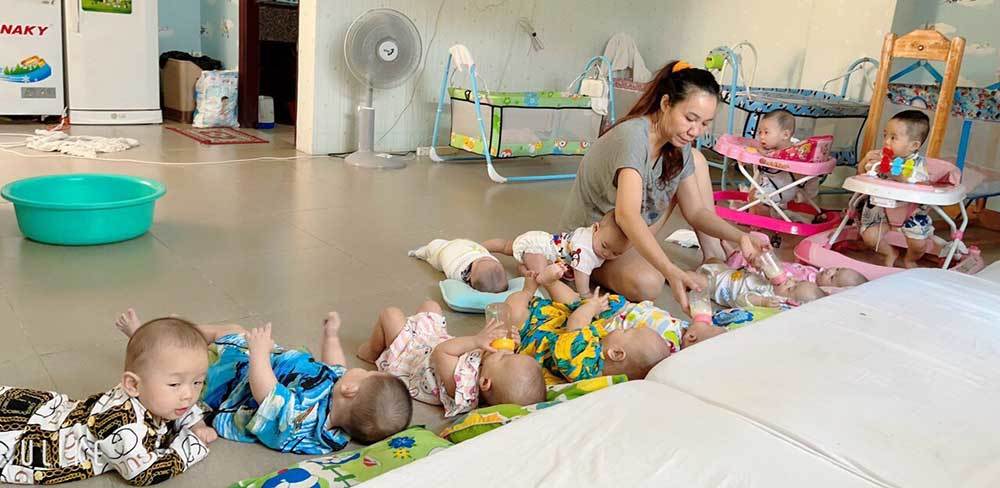 Ms. Giap Thi Song Huong looks after her adopted children.
Her family objected vehemently to an 18-year-old girl, unmarried and childless, with no work, adopting a baby. "My family was concerned that I did not yet have a spouse and children, and that if I adopt this child, I won't have a future, and that my relatives in the North would not understand the full situation and would believe I had an unplanned pregnancy with a random male, which to them would be unacceptable," Ms. Huong said.
She, however, adored the baby so much that she kept him and faced the trials that came with raising her. After keeping the child, she sold pickles and eggplants on the streets in addition to her regular job.
A female student in Huong's boarding house fell pregnant suddenly, a year later. Huong accompanied the girl to the hospital on the day of her birth, as she felt terrible that the student was alone and had no relatives.
However, shortly following the delivery, the girl discreetly vanished, leaving the child and unpaid medical bills behind. Upon the hospital's request for the fees, Ms. Huong had to use her mother's jewelry as a commitment which at the time was still insufficient. She then chose to seek help from numerous households in Go Vap and Phu Nhuan districts. Many people cursed and threatened to beat her as they believed she was a fraud, but in the end, she gathered enough money to cover the medical bills.
Huong has adopted hundreds of children since she met her destiny after meeting two abandoned toddlers over 30 years ago, who now have their own lives.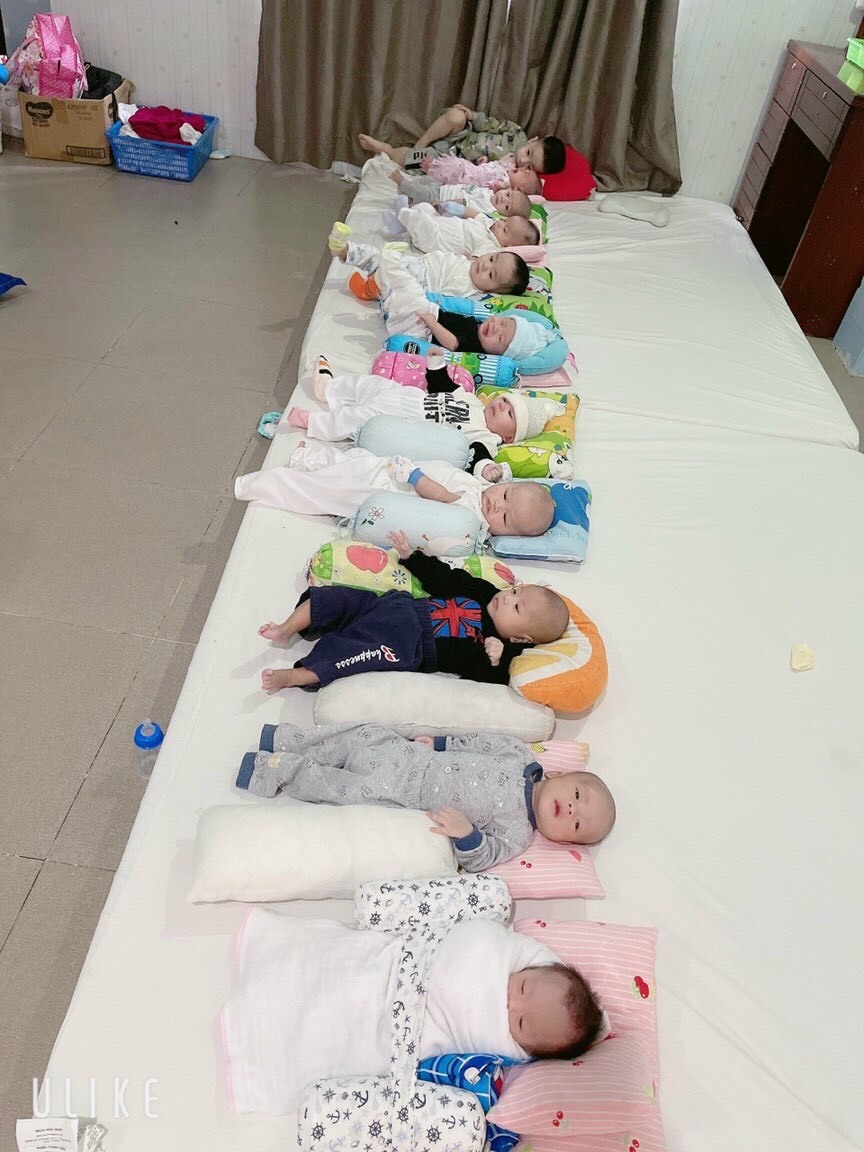 Ms. Huong has recently adopted dozens of newborns.
She saved enough money over those years to establish a little roadside pub, then a restaurant and later a hotel and a real estate company to help provide for her adopted children. Huong did not marry since she knew it would be difficult to balance her volunteer work and taking care of her own home. She hired a man to stage a false wedding when she was over 30 years old, compelled by her family to comfort her mother. The "groom" left the house on the wedding night after receiving the agreed-upon sum. For the following year, whenever she went to see her family, she had to contact this man to accompany her. Huong grew exhausted afterwards and ended up confessing it all to her family.
Longing to have biological child
Despite the fact that there are hundreds of adopted children, she still desired to be 'a true mum'. Because legislation at the time prohibited unmarried individuals from being artificially inseminated, Huong once again arranged a false marriage registration to carry out IVF operations. However, due to her age, she only succeeded one time after a dozen attempts at insemination, and the pregnancy was outside the uterus, necessitating emergency surgery. With her health worsening, she had to forget the ambition of having her own child in order to care for her adopted children.
The Covid-19 pandemic in the last two years has ravaged her business, and she has had to sell all of her property to care for her children. Since her Hong Hoa hotel, located at L 52 To Ky, Trung My Tay ward, district 12, in Ho Chi Minh City, is currently closed due to the epidemic, Ms. Huong has moved all 31 adopted children, most of whom are babies, to reside there. Adopted children who have already grown up and are presently unemployed are assisting in the care of the youngsters. They appear adept at feeding and changing diapers, irrespective of their gender.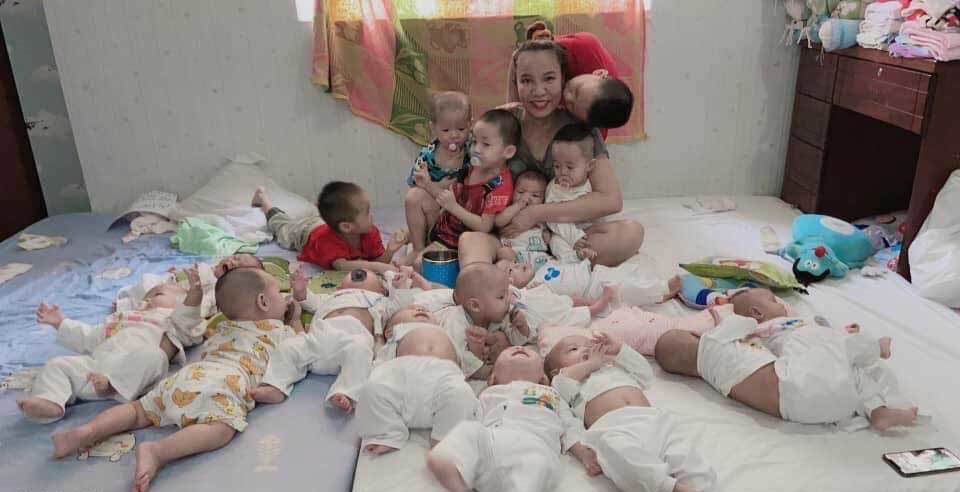 Huong's greatest joy is spending time with her children.
"I don't know who the children's parents are; every now and then, I get a phone call instructing me to go to a specific area to pick up a child there, with no additional information," Ms. Huong explained.
Huong's adopted children are all lovely, and have all been given her surname. They seem understanding of their condition and their mother's hardships, so they behave well. Looking at the youngsters gathering next to her, she sighed worriedly that her firm had been unable to operate for over a year owing to the epidemic, and the monthly cost of diapers, milk and food for the children had surpassed 100 million dong.
"For the last few months, family and friends have been aware that I am going through a tough time, and they have offered me assistance; nevertheless, if this scenario continues for a long time, I may not be able to handle it. I will do my best, but if my health and finances run out, I will have to turn the children over to the authorities," Huong said regretfully.
Many infertile individuals reach out to Huong and ask to adopt the children for a large sum of money, but she has refused for fear that if their real parents return to seek them, she will find herself at an absolute loss for words.
Thanh Phuong

Regardless of the weather, twice a day, Mrs. Hai Tri stands by the signboard in the middle of the crowded lane to help students get home safely from school.

In a state of severe respiratory failure, Mrs. Hanh still tried to get up and whisper to the doctor, asking to give up her ventilator to her husband...