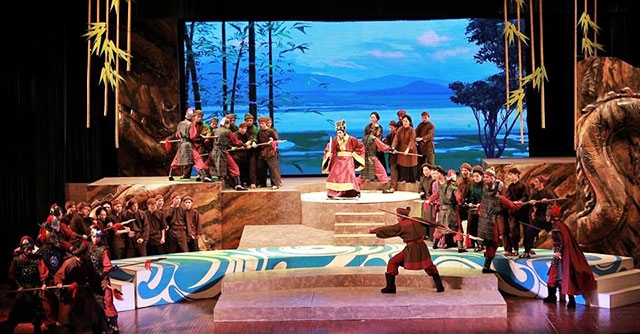 Theatrical stages need to innovate to meet the audience's ever-changing demands. — Photo nhandan.com.vn
Innovation is needed to meet the demands of today's audiences, according to experts.
Some theatrical plays have stood out for their serious investments in technology. Among these are Tuần Châu Hà Nội Company's Tinh hoa Bắc Bộ (The Quintessence of Tonkin), Gami Theme Park's Ký Ức Hội An (Hội An Memory), Việt Theatre's Tứ Phủ (Four Places), and Star Galaxy Theatre's Ionah.
Public acceptance of these plays has shown that multimedia, costumes, props, music and lighting are as important as artists' acting skills in bringing the best experience to audiences.
Vietnamese theatre in general has not caught up with technology, primarily because human and material resources are limited.
People's Artists Lê Huy Quang said that Vietnamese stages are small and one-dimensional, and artists cannot be creative with the stage setups.
This can be seen at the Hà Nội Opera House, Youth Theatre, Việt Nam Puppet Theatre, Thăng Long Puppet Theatre, Central Circus, Hồng Hà Theatre, and Đại Nam Theatre.
Some of these stages are 100 years old, Quang said, adding that even after renovation, they are still out of date.
Quang said he is concerned that most stage artists are not equipped with the latest technology skills.
The Fourth Industrial Revolution era requires people with good technological skills who can promote, communicate, sell tickets and bridge the gap between the stage and the audience, he said.
A seminar on the "Hà Nội Stage in Fourth Industrial Revolution" held by the Hà Nội Theatre Association recently received many proposals to improve the theatre arts.
Speaking at the event, People's Artist Trần Quốc Chiêm, chairman of the Hà Nội Association of Literature and Arts, said that it is difficult to attract audiences with an outdated lighting system and bulky stage decorations that take time to move between each set.
Technology application has become important to connect with the audience. However, he noted that artists should not be too dependent on technology because the originality of each play must be expressed by real interaction between performers and the audience.
Excessive use of technology or boycotting of technology is not the direction for modern theatrical arts, he said.
To improve quality, People's Artist Lê Tiến Thọ stressed the importance of presenting new topics that are relevant to people's lives.
Experts agreed that when performances are promoted well to the target audiences, the stage will never be forgotten.  VNS