Three provinces want to pilot locally-made vaccine Nanocovax
At least three provinces, including Binh Duong, Khanh Hoa and Dong Thap, said they want to participate in the trial phase of the locally-made Covid-19 vaccine Nanocovax.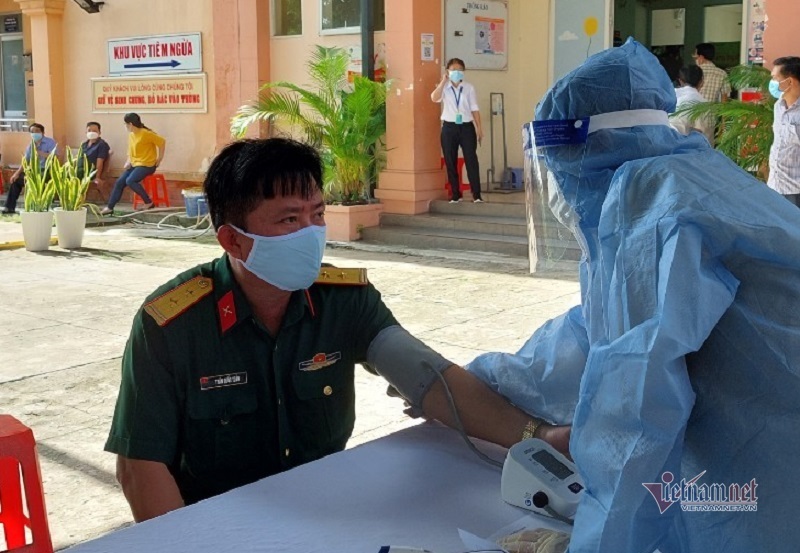 At a vaccination site in the southern province of Binh Duong.
Due to the rapid increase in the number of Covid-19 cases while supply of vaccines is limited, the southern province of Binh Duong – a pandemic hotspot - has asked for the Ministry of Health's approval for its participation in the pilot vaccination of Made-in-Vietnam Nanocovax vaccine.
Previously, the Union of Binh Duong's Enterprises sent an official dispatch to the People's Committee of Binh Duong province, proposing to participate in the pilot vaccination of Nanocovax vaccine for employees and workers at enterprises in the province. On August 2, Binh Duong authorities sent an urgent document on this issue to the Ministry of Health.
According to the Binh Duong Provincial People's Committee, if its proposal is approved, the province will allow the participation of 200,000 volunteers who are employees and workers of enterprises in Binh Duong province.
It is reported that up to half of the province's population (about 1.2 million people) are workers. Most of Covid-19 cases in this province are workers.
Meanwhile, the province has administered only 97,000 vaccine doses so far. It is administering an additional 285,000 doses allocated by the Ministry of Health.
Bin Duong plans to vaccinate over 95% of people over 18 years old, with a total of 3.2 million vaccine doses. However, the supply of vaccines is limited.
As of August 3 morning, Binh Duong had recorded more than 18,300 Covid-19 cases, ranking second in the country after Ho Chi Minh City (over 100,000 cases).
Khanh Hoa province has also asked the Ministry of Health's approval for trial vaccination of Nanocovax vaccine in this province. Dong Thap province has voiced its wish to join the trial phase of this vaccine.
Nanocovax vaccine has been developed by Nanogen Pharmaceutical Biotechnology Joint Stock Company since May 2020, based on recombinant protein technology. This vaccine is now under phase 3 of trial since June 11, 2021, in four provinces including Hanoi, Hung Yen, Long An and Tien Giang. This phase is scheduled to finish in August 2021.
Phase 3 trials are being conducted with 13,000 volunteers, divided into two phases, 3a with 1,000 people and 3b with 12,000 people. As many as 13,000 first doses in phase 3 have been administered, with the second dose expected to be completed before mid-August, according to the company.
Surrogate virus neutralization tests (sVNT) for the 1,000 people involved in phase 3a revealed 100% production of neutralizing antibodies at levels higher than 30 per cent, but further monitoring is needed.
In tandem with applying for conditional approval for emergency use, Nanogen is also asking the health ministry to consider phase 3c trials, which would involve 500,000 to 1 million volunteers. Trials of the vaccine on children 12-18 years old would be conducted once full approval is obtained.
Deputy Health Minister Tran Van Thuan said on August 2 that the Ministry of Health strongly supports provinces participating in the clinical trial of Nanocovax vaccine to expand the scope of research to assess the safety and effectiveness of the vaccine.
"However, registration to participate in clinical trials of vaccine must follow the research process. In particular, during the testing process, it is necessary to ensure the collection and management of data in a scientific, reliable and accurate manner," he said.
The Ministry of Health has always supported and created the most favorable conditions for companies and individuals to participate in the production of COVID-19 vaccines, having mobilized many industry-leading scientists in the country to participate in the assessment of vaccines, he said.
The health official wants Nanogen to submit a report on research results for phase 2 and initial phase 3 so that the National Ethics Committee in Biomedical Research can start evaluation for emergency approval for NanoCovax.
Xuan An - Thuy Hanh

The Dong Thap government has approved Vinh Hoan Corporation's proposal to order 200,000 doses of the locally-made Covid-19 vaccine Nanocovax and distribute them in the province.

After an emergency meeting, the National Ethics Council agreed to test the locally-made Covid-19 vaccine Nanocovax on 13,000 volunteers. This third phase trial will be completed in mid-August.