VietNamNet Bridge – No-one in Huu Nghi Hospital in Ha Noi knew that nurse Nguyen Anh Lan was pregnant until she gave birth to her third child early this year.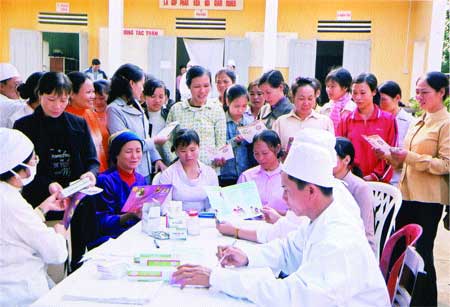 Birds and the bees: Medical workers help women in the central province of Thanh Hoa's Ha Vinh Commune learn about family planning and reproductive health.
Lan knew of the Government's policy of two children per family but because she hadn't produced a son, her husband and parents in-law pressured her to have a third child.
"It meant I had violated the government's policy and that my department and I would be fined by hospital leaders so I tried to tighten my pregnancy belt while I was at work so that no-one would know about my situation," said Lan.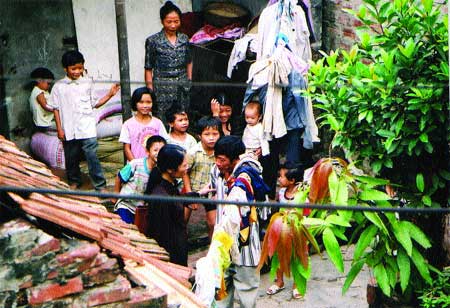 Safety in numbers: Despite being one of the poorest couples, Ngo Doan Nam and his wife Dang Thi Hai in Ha Noi's Co Ban Hamlet still have 7 children, most of whom have dropped out of school.
As it happened, Lan gave birth to a boy. Her entire family was happy, though she personally had lost her monthly bonus and had her salary capped for two years.
"I'm happy to have my son but I'm also sad because my department, including my boss, has been fined due to my 'fault'," said Lan.
Lan is among many women in Viet Nam trying to have a third child, said Nguyen Thanh Binh, of the Ha Noi Centre for Population and Family Planning.
He said research showed the rate of women giving birth to a third child has been increasing in provinces in the midland, north and north-western regions and the Central Highlands.
"The country should have solutions to deal with the situation in these regions while maintaining the trend of having two children in other regions if we are going to have a reduction of women giving birth to their third child," said Binh.
However a major factor involved was knowledge, he said.
The rate of well-educated women giving birth to a third child was low because they were aware that if children were to receive the best care and education and families were to enjoy a reasonable standard of living they shouldn't have more than two children.
Well-informed women also knew more about the importance of contraception compared to their less-educated counterparts who knew little or nothing.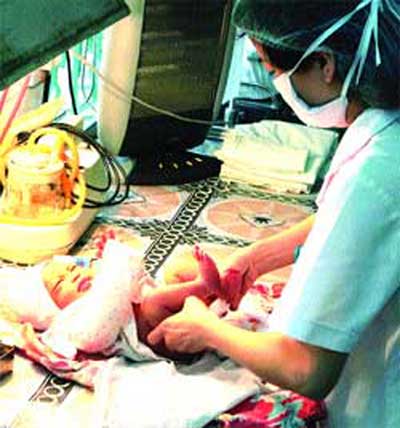 Looking after the future: A nurse takes care of a new born child.
"To change the situation, a national programme on family planning should educate couples, particularly poor women in rural, and remote areas, to change their ways of thinking," Binh said.
There were many reasons for people having too many children, he said, such as "the weak operations of local officials in charge of family planning", but it was mainly caused by the tradition of valuing men above women that led to their craving for a son.
Many couples with two daughters wanted to have a third child in the hope that it was a boy, said Binh. This attitude had even been increasing in urban areas, particularly among public employees.
But it also worked in reverse: many rich couples who had two sons wanted to have a daughter, said Binh.
There was also a concern over old age during which children were expected to take care of elderly parents.
Poor farmer Truong Ngoc Hung, in the central province of Nghe An's Quynh Doi Village, has five children. He's not taking any chances.
"We are very poor but we still tried to have five children or more to take care of us when we are old or ill," said Hung, adding that although two of his children worked far from home, there were still three others in the village to help him.
"We have no social and health insurance."
Duong Quoc Trong, chief of the General Office for Population Family Planning, said the office proposed measures to support families who had given birth to two daughters.
Those couples would receive a certain amount of money while their daughters would have school fees reduced and priorities at universities or vocational schools.
However, this supportive solution would only account for about 1 per cent of the problem.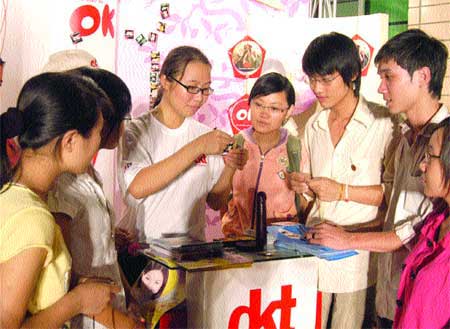 Essential education: Volunteers in Ha Noi show young people on how to prevent HIV/AIDS.
"The most important thing was to popularise having girls and to educate couples on the importance of only having two children, whether they were boys or girls," said Trong.
To Binh Minh, from the northern province of Quang Ninh, said his family, including parents and grandparents, were very happy that he had two sons.
"We don't envy parents with two daughters who receive financial help from the Government. My two sons bring us joy every day. My parents are proud of me because I'm fulfilling the duty of providing them with a grandson to worship my ancestors," said Minh.
An official from the United Nations Fund for Population and Family Planning (UNFPA), Nguyen Thi Hong Thanh, said the agency aimed to supply Viet Nam with services, information and projects to help Vietnamese carry out their family planning voluntarily.
The Government has devised strategies for its population and reproductive health, including publicity and education campaigns on population and family planning; improving the Vietnamese race; improving the lot of mothers and their children; improving reproductive health care for young people and minors and ethnic groups.
The nation's Law on Healthcare says it's the responsibility of all people to carry out family planning and the right of all to make their own decisions on childbearing.
The Population Ordinance's 7th clause strictly bans putting pressure on women to use contraceptive while the 9th clause says the Health Ministry should supply quality and comprehensive family planning services.
The General Office for Population Family Planning said to promote awareness of family planning among the Vietnamese, couples needed to have a medical check-up before getting married.
Dr Nguyen Thi Hong Minh, director of the Central Maternity Hospital's Centre for Productive Health and Family Planning, said couples should have tests to discover blood, genes and ailment factors that could affect their children's health.
"Apart from giving consultations about pre-nuptial issues, we tell them that they should believe in each other to ensure a solid marriage," Minh said.
Nguyen Thi Hue, deputy director of Thai Binh Province's Health Department, said many young rural women and men were still avoiding pre-nuptial medical check-ups because they were afraid an ailment would be discovered that could cause their lover to abandon them.
Dr Ta Van Tram, dean of the Tien Giang Medical College, said gender and sex education needed to be promoted among adolescents.
"Information on sex has been booming on the internet and has much affected adolescents, so promoting gender education among them is needed to ensure a healthy body and spirit development," said Tram.
In the Mekong Delta province of Tien Giang, sex education had been brought to schools through forums and meetings. Conversations on the issues had also been carried out at a number of coffee shops.
"We need to teach the facts officially in schools," Tram said.
Dr Nguyen Thi Kim Dung of the Tien Giang General Hospital said UNFPA's project on improving quality and the effective use of reproductive health care services was now being implemented in the province's 14 grade schools in Chau Thanh, Cai Be and My Tho City.
The project's other activities included delivering information on reproductive and sexual health to youths and workers in industrial parks and among street kids.
Biology professor Nguyen Lan Dung said gender and sex education was urgently needed throughout the entire society, particularly among parents of adolescents and at schools.
"We should have a comprehensive plan on the issues, taking in relevant agencies such as the Education Ministry, youth committees and women's associations, while learning from the experiences and the contents of sex education and reproductive health of other countries and applying them effectively in Viet Nam," Dung said.
Dung said those in charge of population control and family planning in Viet Nam should provide more incentives and effective measures to encourage couples to have no more than two children to maintain their living standards and the wellbeing of their offspring.
Source: VNS