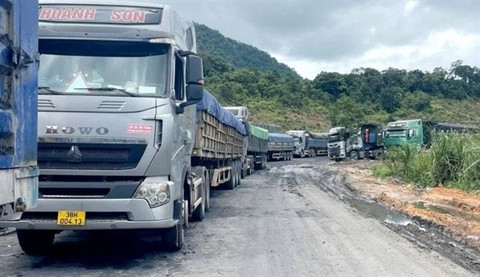 Trucks transport coal from Laos to Việt Nam through La Lay border gate in Quảng Trị to Thừa Thiên Huế. — Photo GT24h
The People's Committee of Thừa Thiên Huế Province has allowed PTS FAR EAST INVESTMENT JCS to study a plan to build a cross-border coal conveyor route to bring coal from Laos to Việt Nam.
The project, expected to cost VNĐ8 trillion (over US$335 million), is divided into three phases. It is slated for completion in two years.
In the first phase, the investor will build a conveyor line from a warehouse in Cô Tài Village to a warehouse at the Hồng Vân border gate in the province's A Lưới District. It will have a total length of 12-15 km.
In the second phase, a conveyor belt of 25-30 km will be developed from the Hồng Vân border gate to the Cam Lộ-Túy Loan Expressway.
In phase 3, the investor will install a 75-85 kilometres conveyor belt that runs from the Kà Lừm coal mine in Laos' Sekong Province to the A Đớt border gate in A Lưới District. The total area of ​​land used is about 70ha.
There are approximately 670 million tonnes of coal reserves in the Kà Lừm District.
The company plans to transport coal 4-6 million tonnes per year in 2023-24 and 8-10 million tonnes annually in 2025-26, and 15 million tonnes per year or more starting in 2027.
Local authorities asked the company to comply with the laws of Việt Nam and Laos, pay attention to technology, and minimise impacts on the environment and forest land in addition to coordinating with relevant departments, branches and units to make the project feasible and most effective. — VNS