The 32-year-old used to work as a public employee in the southern coastal city of Vung Tau, and made his classy little handbags after work. He decided in 2018 it was time to wholeheartedly focus his efforts on his hobby, which became his main source of income.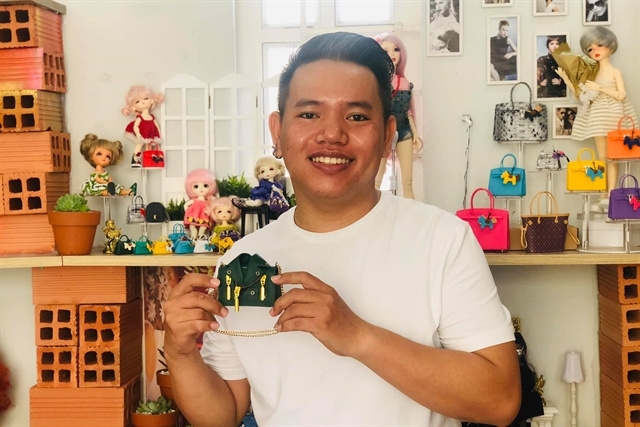 His handbags can fit into the palm of your hand and some are as small as just a few centimetres in length, but all are meticulously made with great attention to detail.
While Doan is happy with his new career, he admits to being questioned intensely by both family and friends about why he would give up a state government job and a bright future to pursue what is essentially an unstable line of work.
"This has been my passion since I was small," he explained. "At first, I only made the bags and accessories as a hobby, but now I'm full-time. I'm earning tens of millions of dong a month."
"Many international customers from the US, Australia, and Thailand have given me positive feedback and placed additional orders."
Back to childhood
Unlike other boys of his age, Doan's interest when he was small was using rags to make clothes and accessories for dolls.
"I was teased by the other kids for having a 'girl's hobby'," he remembered. "I didn't know how to defend myself so I stopped doing it. I studied design for a while later on but then started working in a public office."
His job as a state official made him restless and stressed. He once again took up his childhood hobby, and found happiness in doing so.
He then discovered a Facebook group of people with a similar interest, and also started collecting more dolls and making clothes and accessories to dress them up.
"I made moulds for the handbags initially, then put them together by imitating branded designs," he said. "I only did it for fun and didn't expect the praise that started to come my way and the orders to buy them. It encouraged me to continue."
After deciding to leave his state job and become a full-time doll handbag maker, there was pressure to make it work and remain financially afloat. But he knew in his heart he'd made the right choice.
As the first to pursue such a profession in Vietnam, Doan had to learn many things himself.
The process of making doll handbags starts with draping, cutting leather, sewing, and decorating. The maker has to refine the features on each product, so the bags resemble the real ones as much as possible.
The hardest part, he said, was finding appropriate accessories for the handbags.
"They are hard to get in Vietnam, so I had to order them from overseas and then wait a couple of months for them to arrive," Doan explained.
"And many suppliers weren't willing to accept a single order, so I often had to buy hundreds or even thousands of accessories at one time."
Early on, a new product may have taken Doan dozens of hours to make. Gradually, as he became more accustomed to the process, it only took a few hours to create a single bag. He saved the patterns of all the bags he has made, and now, when he receives an order, it takes him no time at all to stitch one together.
He now makes five or six a day, with each selling for VNĐ300,000-700,000 ($13-30) depending on the size and design. Most of his customers are office workers, doll collectors, and other sellers.
Incredibly for someone in such a line of work, Doan is colour-blind.
"I can't distinguish reds from greens, or hues moving from dark to light," he said. "Sometimes, when a customer sends an order, I have to ask them to clarify the colours."
Every time he heads to the market to buy the materials, he has to ask the vendors to confirm the colour, and then attaches a piece of paper to the fabric so he knows which is which.
But Doan doesn't consider it much of a barrier. Rather, it reminds him of the need to be meticulous and patient in his work.
"There are also times when I feel a little bored after repeating the same patterns over and over again," he said. "So before I accept an order, I always let the customer know that it may take some time."
He's still actually working on orders he received two years ago.
"My customers understand that making a perfect product needs time. They allow me to work on the bag when I feel in the mood and they are willing to wait."
The advantage his products hold is that they are of good quality yet cheap.
"One American customer didn't believe the bag had been made by hand because of its sophisticated design and price, which is just one-tenth of what it costs in the US," he said. "It wasn't until I filmed the process that customers believed how I went about it and started to place large orders."
While other doll handbags sold widely in Thailand and China can't be opened, Doan's handcrafted bags open just like a real one.
"I always aim to give customers what they want," he explained. "Many say they really like the feeling of unboxing a brand-new bag, so I buy plain boxes, stick labels on them, and wrap the doll in fabric bags inside, to make the miniature products look like authentic ones."
"If customers aren't happy, I take the bag back and give them a refund. But my principle is to never discount my products. Each bag is a product of my own work and dedication and I don't want them to lose their value."
VNS

 The EU-Vietnam FTA (EVFTA) is expected to bring more opportunities to Vietnam's enterprises to export products to the EU. However, it will be not easy for handicraft producers to obtain bigger market share there.