Top 5 camping sites in Quang Ninh that you do not want to miss
Quang Ninh has attracted backpackers' attention with its riveting campgrounds such as Binh Lieu, Phuong Hoang Mountain and others.
Video: Drone FPV Quang Ninh

The beauty of Binh Lieu in reed season
Binh Lieu is in the northeast of Quang Ninh Province, about 280 kilometers from Ha Noi, and about 120 kilometers away from Ha Long City. Although the path to Binh Lieu is a zigzagging one, it is wide enough for visitors to use.
At the end of October, Binh Lieu puts on a pristine white shirt with white meadows blossoming on the hills along the boundary stones. The higher you go, the more magnificent the scenery.
It is recommended that backpackers stay for at least 2 days and 1 night to be able to fully enjoy the splendor of Binh Lieu.
While exploring Binh Lieu, travelers can try to reach certain famous boundary markers which are 1297, 1326, 1300, and the most challenging one, the highest marker 1305. They must walk on a long and steep path, which is also called "dinosaur's backbone." This is the border between Vietnam and China. It is about three kilometers wide with more than two thousand stairs.
Binh Lieu is a now hot travel spot in Quang Ninh. There are many other breathtaking sites, one of which is Cao Ly Mountain.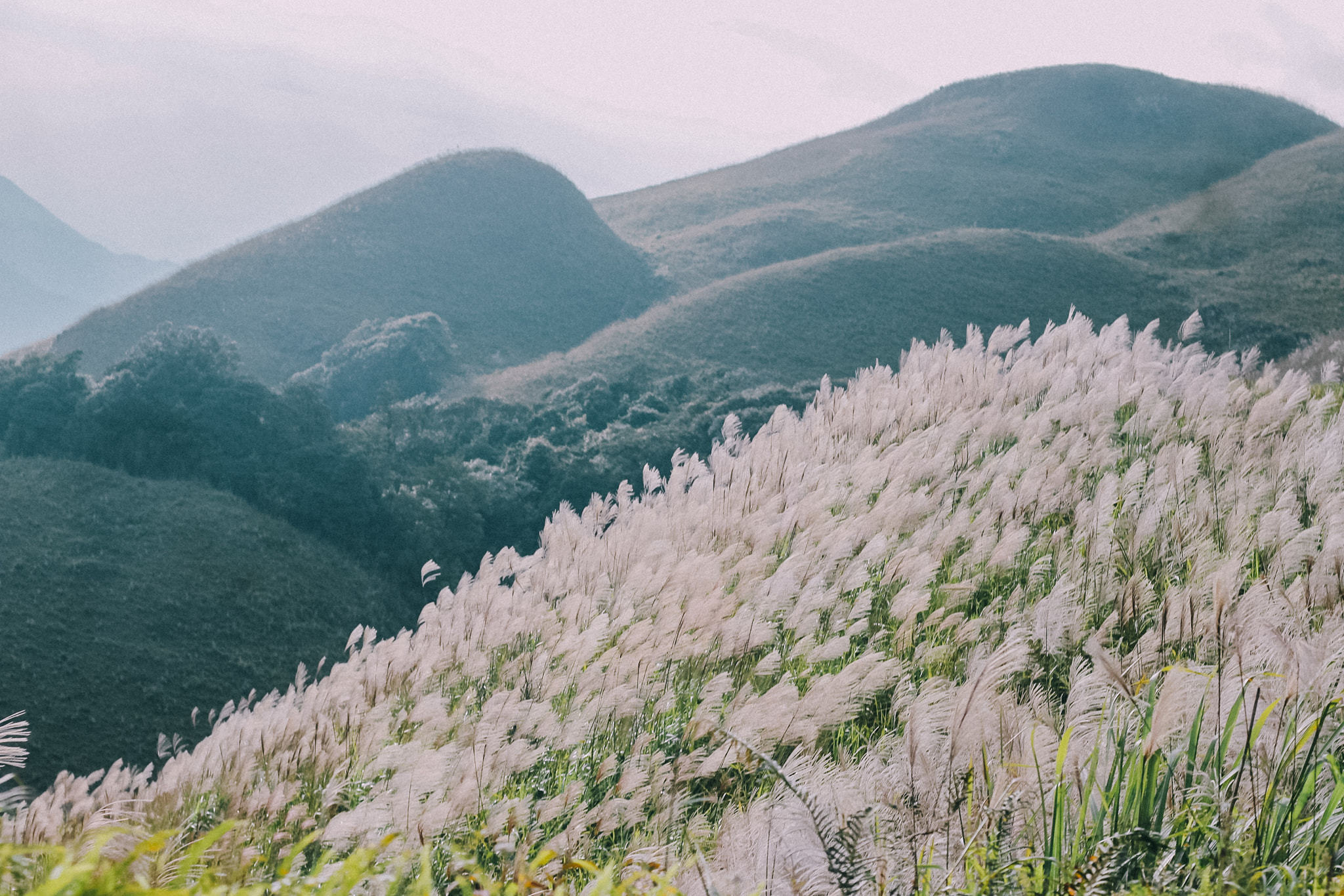 A hill is colored white with reed grasses at year end. Photo: Nguyen Duc Cong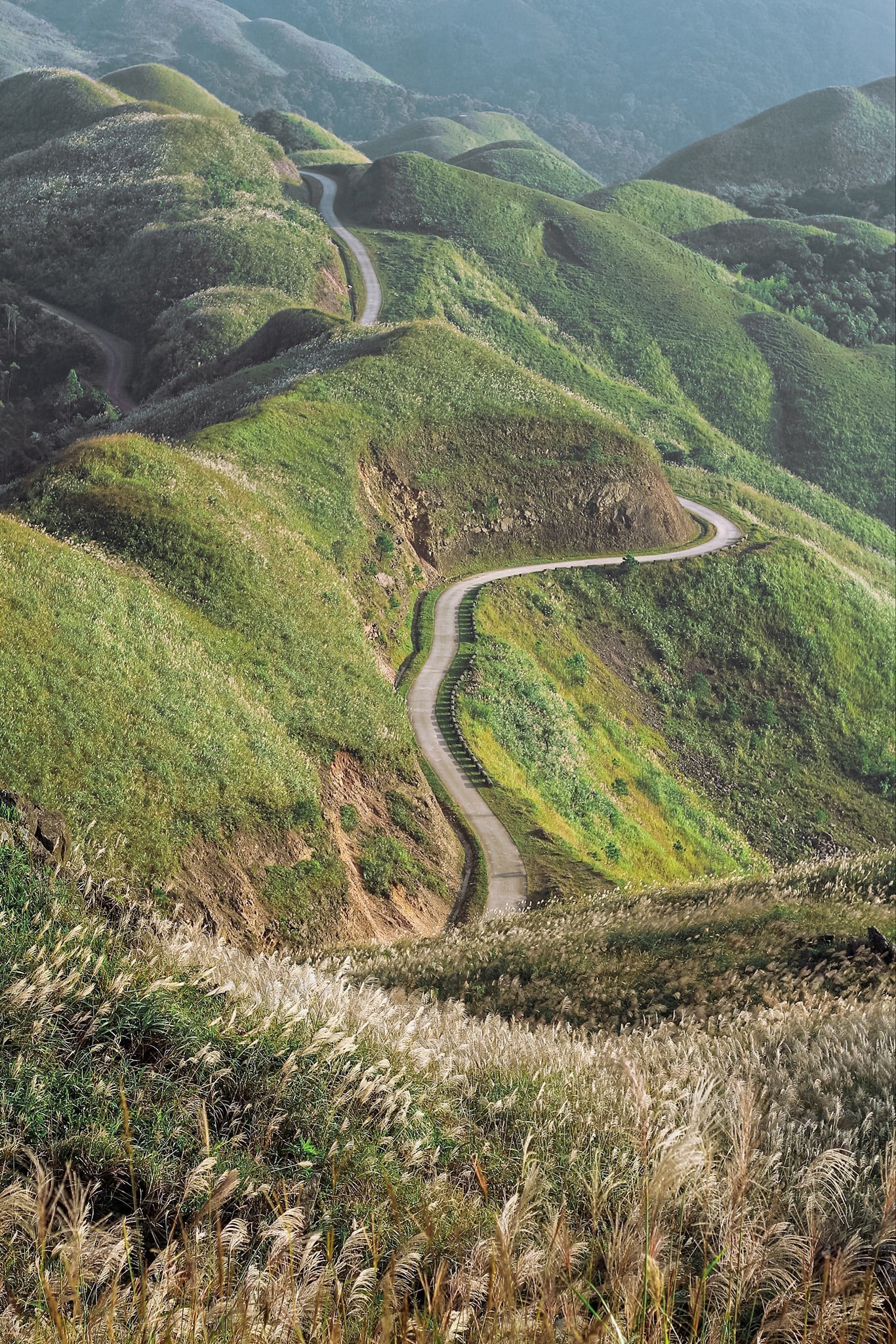 Photo: Nguyen Duc Cong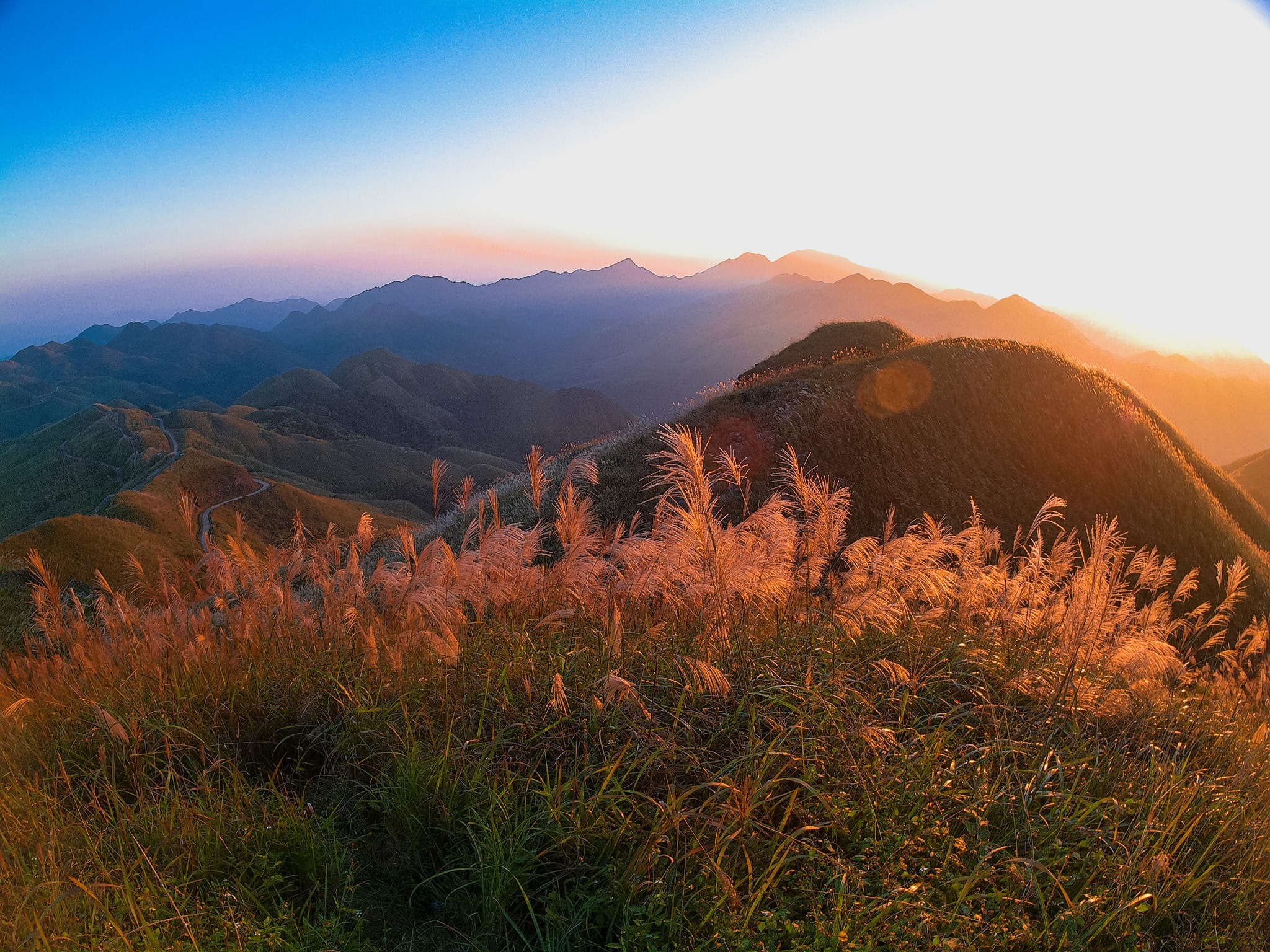 Photo: Nguyen Duc Cong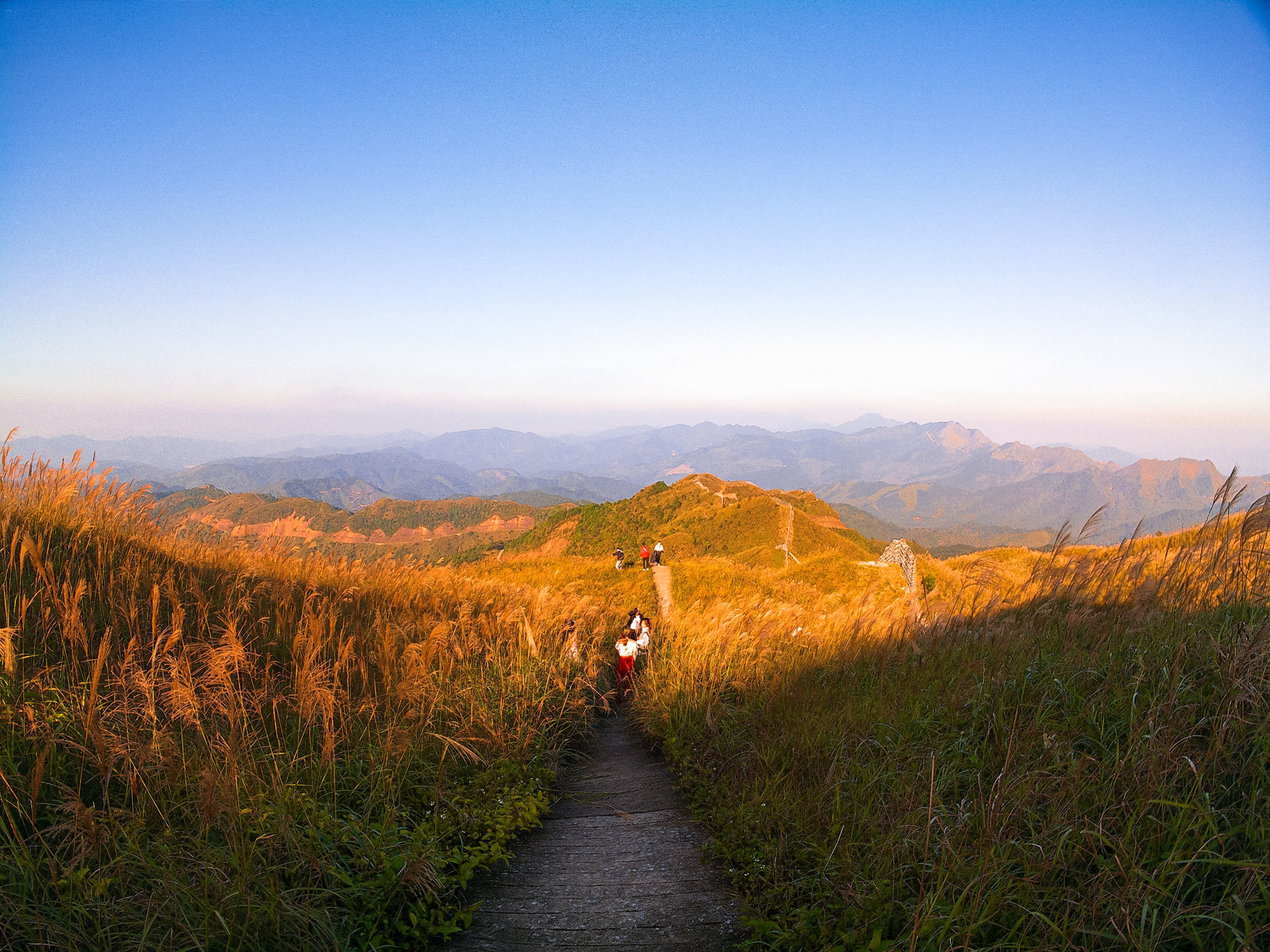 Photo: Nguyen Duc Cong
Cao Ly Mountain in Binh Lieu
Cao Ly Mountain range stretches more than 40km2. It has eight peaks at more than 1,000m above sea level, including Cao Xiem Peak which is 1,429 meters high.
Average temperature on Cao Ly Mountain is 4 degree C lower than that in Binh Lieu Town and 6 degree C lower than in Ha Long City. At some areas on the mountain, clouds cover the entire sky one third of the year, a perfect condition for "cloud hunting."
Backpackers can camp at the mountain's base to enjoy an outdoor party and the fresh air in the area.
From the campsite, it takes travelers 40 minutes to climb up to the peak of the mountain. Along the way, visitors can occasionally see cool clouds.
When backpackers reach the peak, they can take pleasure in the sunlight and beauty of the countryside which features the ethnic identity of Dao and San Chi people.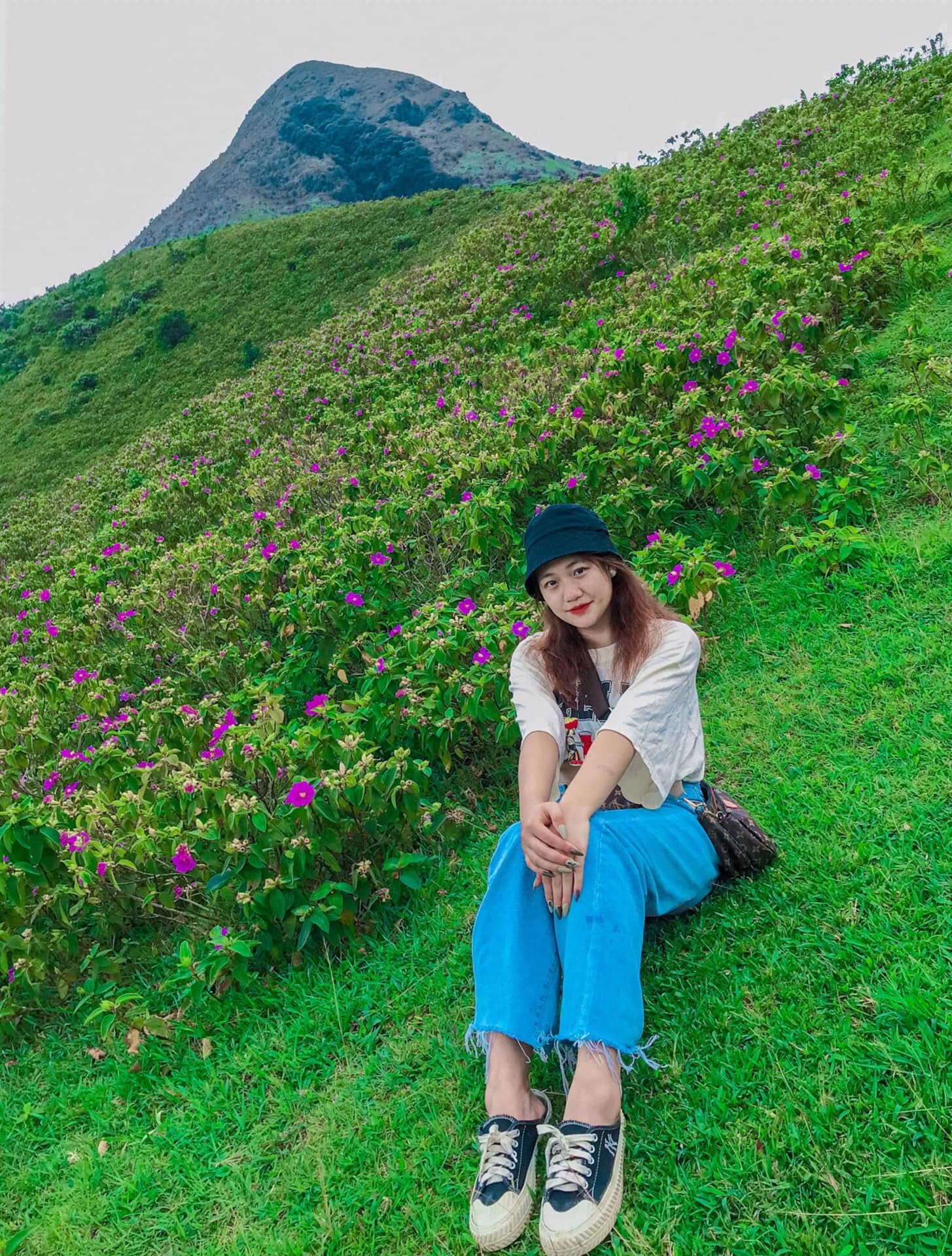 Cao Ly Mountain is a fascinating site for young people to wander around. Photo: Huyen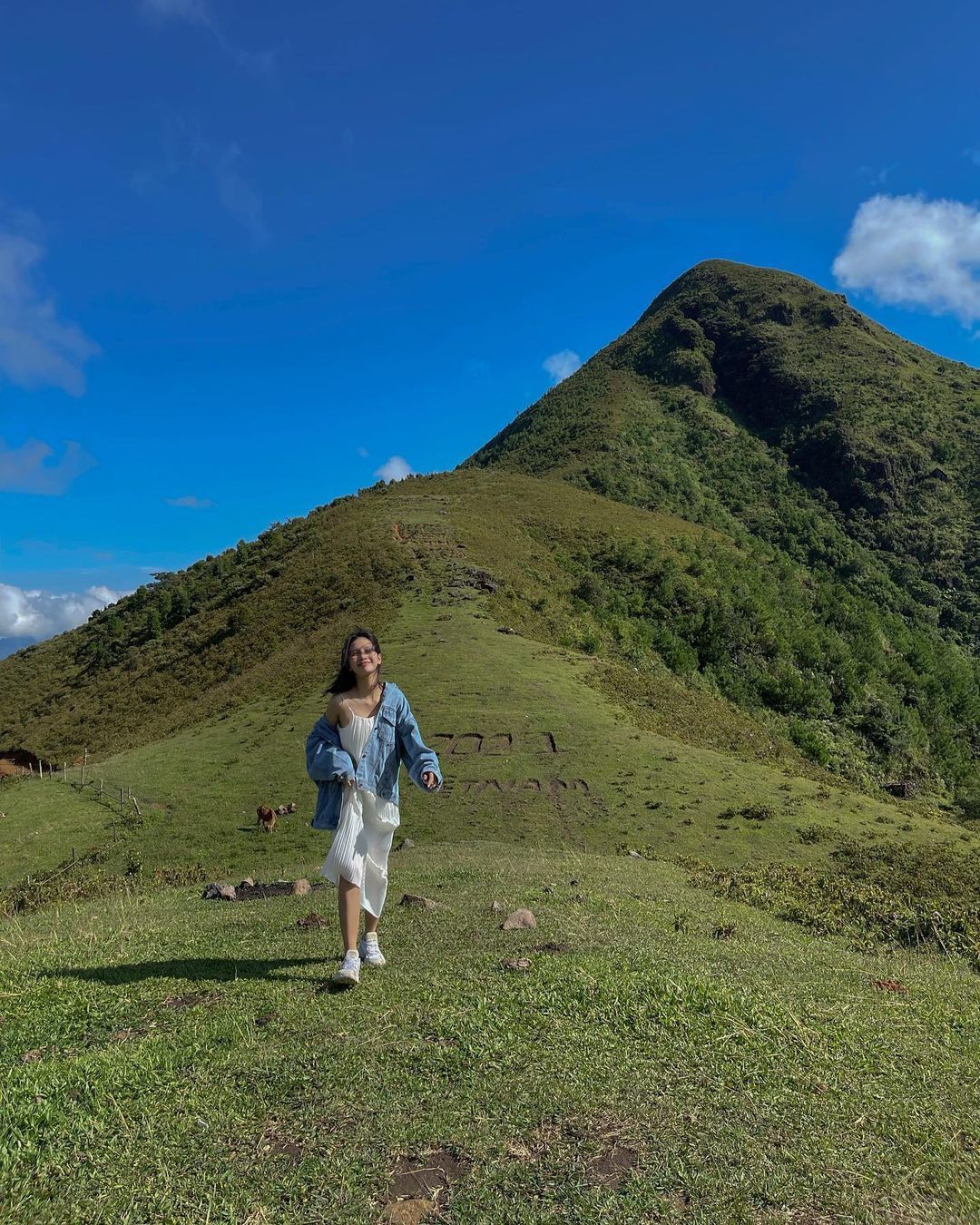 Photo: Lam Anh Nguyen
Da Chong Mountain in Dong Trieu
There is an uncommon mountain at the base of Bao Dai Mountain, also called Vay Rong Mountain, in Dong Trieu Town, Quang Ninh.
On this mountain, instead of trees, there are massive gray rocks stacked vertically on top of one another like a painting in the blue sky. Locals refer to this mountain as Da Chong Mountain. After travelling around 120 kilometers from Hanoi, you can arrive in this location to explore.
At every year end, Da Chong Mountain is an ideal camping site due to its tranquility atmosphere and cool climate. Together with Ba Bac Pagoda and Ngoa Van Pagoda, they create a Tran Dynasty relic cultural landscape in Dong Trieu, extending to Yen Tu special national monument.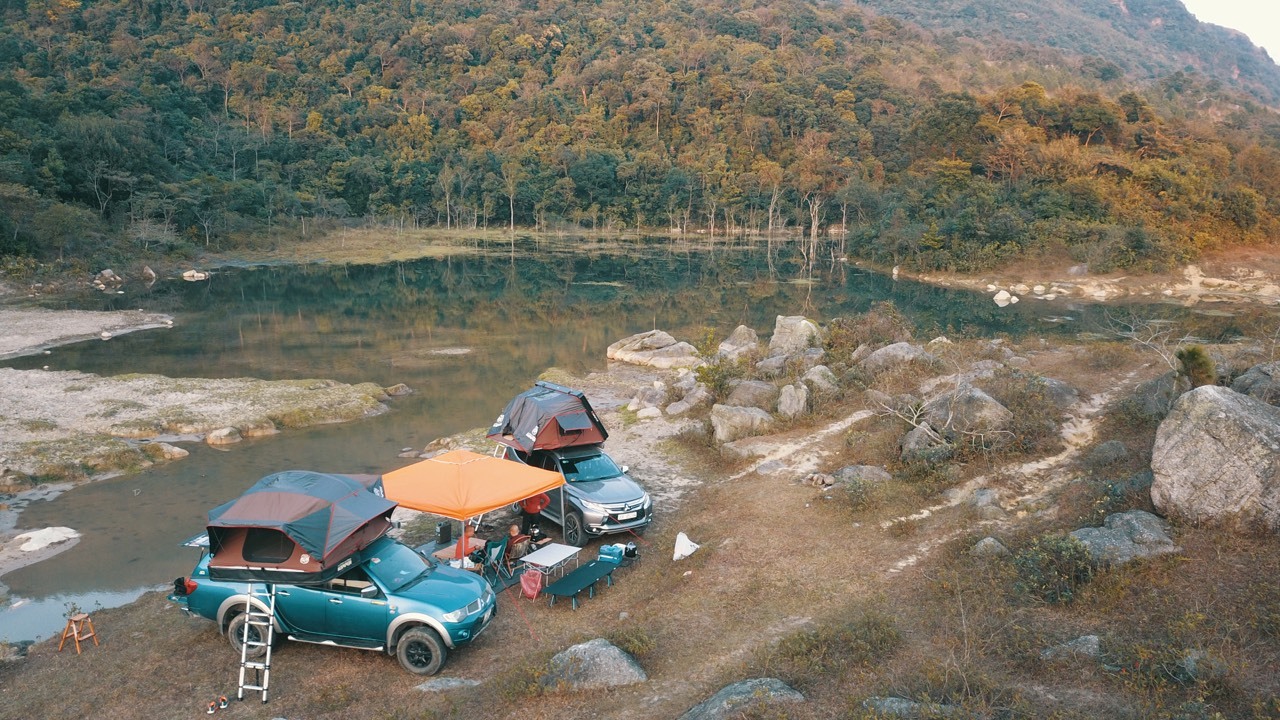 Camping on Da Chong Mountain. Photo: Pham Tuan Dat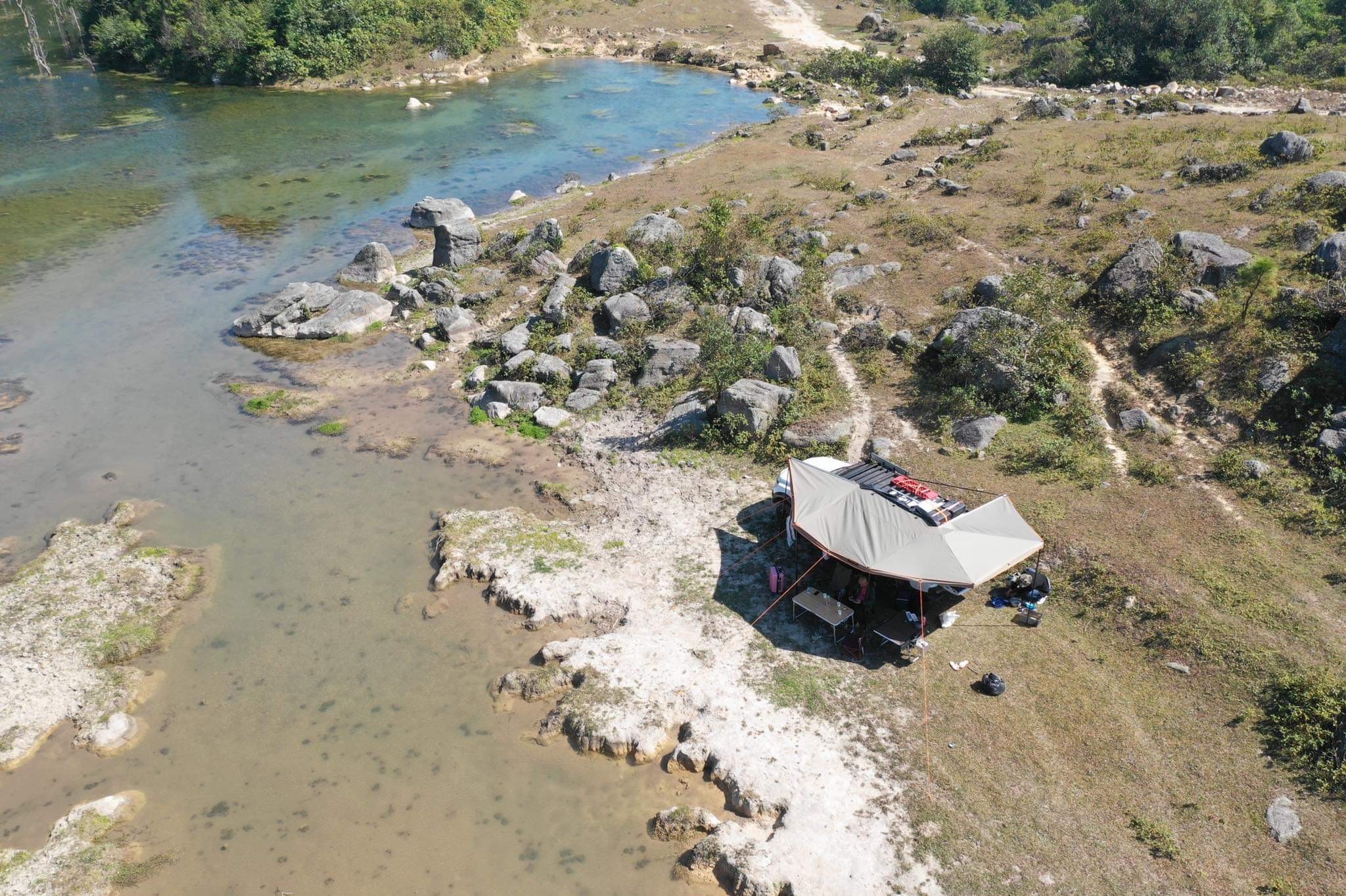 Photo: Pham Tuan Dat
Phuong Hoang Mountain in Uong Bi
Phuong Hoang Mountain range is located in Bac Son Ward, about 8 kilometers from the center of Uong Bi City, about 50 kilometers from Ha Long City, and 135 kilometers from Hanoi. The mountain range has an altitude of 455 meters, so the weather is cool, with dew in the early morning.
In each season, Phuong Hoang Mountain has a unique beauty. In spring and summer, green grassland reminds many tourists of the Northwest mountains. From November to about January, the grassland turns yellow. Visitors call it the burning grass season, where the scenery is similar to Da Lat city (Lam Dong).
The best time to go to Phuong Hoang Mountain is in the last months of the year, when the weather is not too cold. At this time of the year, the grassland has changed color and the sky is clear blue. The climbing path to Phuong Hoang Mountain is not too difficult, but the slope is high and the road is rocky. It is suggested that visitors wear shoes and light clothes. When camping, visitors should be careful if they light a fire, especially in the dry grass season so as not to cause forest fires. After the visit, backpackers must remember to clean the campsite to protect the unspoiled landscape.
Some people believe that Phuong Hoang Hills at year end is as spectacular as Da Lat.
The charm of Phuong Hoang Hills in the burning grass season. Photo: Pham Cong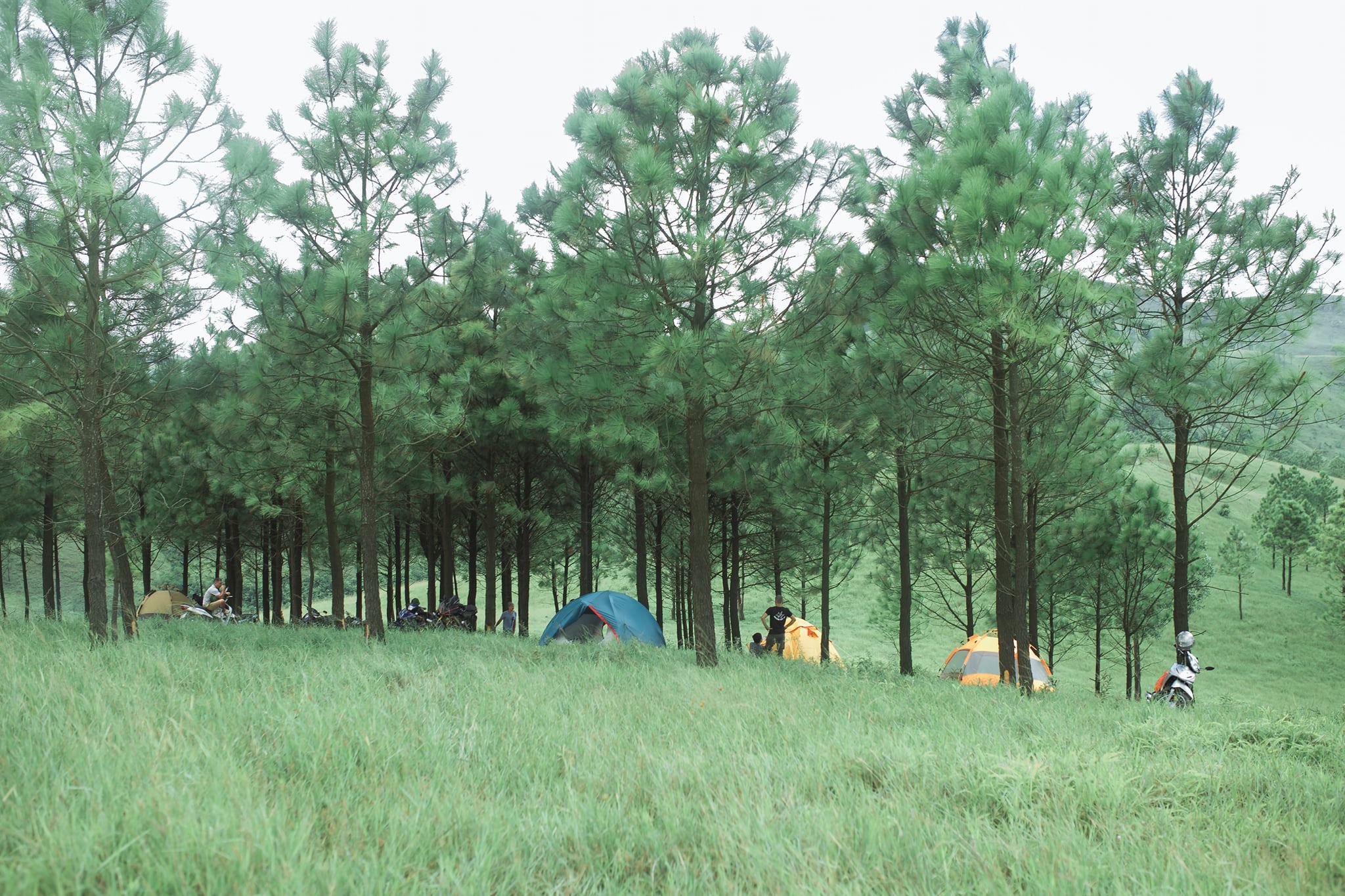 Camping on Phuong Hoang Mountain. Photo: CampingTour
Binh Huong Hill in Uong Bi
Binh Huong is a mountain range located in Vang Danh Ward, Uong Bi City, Quang Ninh Province. Binh Huong has a height of 470 meters, a width of 3 kilometers, and is about 10 kilometers from the center of Uong Bi City, 50 kilometers from Ha Long City, and 130 kilometers from Hanoi.
Exploring Binh Huong at the end of the year is a perfect opportunity as the weather is not too cold, and visitors can observe the unspoiled beauty of mountains and grasslands around the area in the burning grass season.
The two most beautiful times to wander around Binh Huong are at sunrise and sunset. For the sunrise, you should start at the base of the mountain at 5am and, if visitors are lucky enough, they will see a gentle sea of clouds in the morning mist. To watch the sunset, travelers should start at 3pm.
It costs from 250,000 to 700,000 VND per day to rent a tent (depending on capacity of the tent). There is also a service that provide grilled chicken and rice balls at reasonable prices (300,000 VND and 10,000 VND per serving respectively).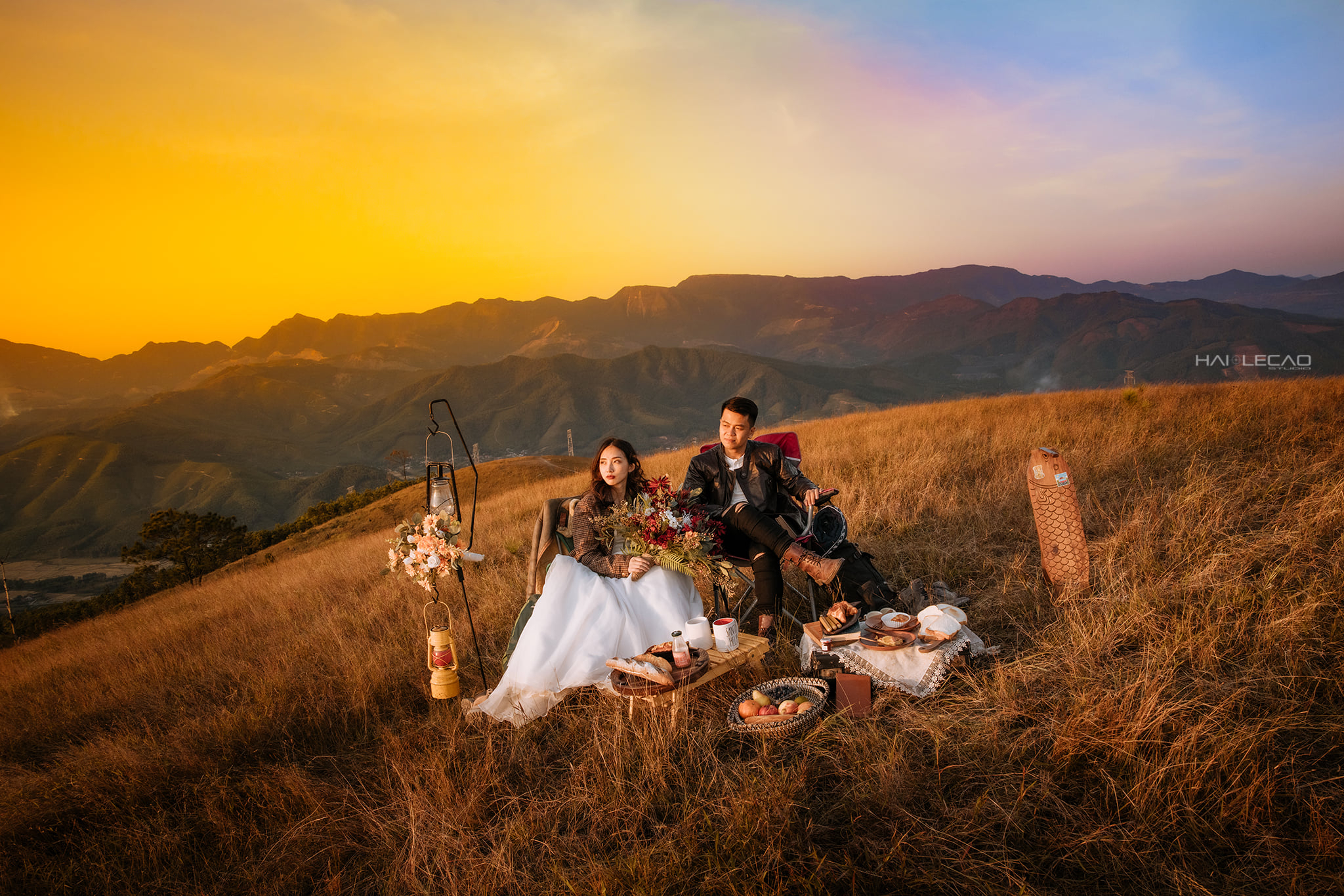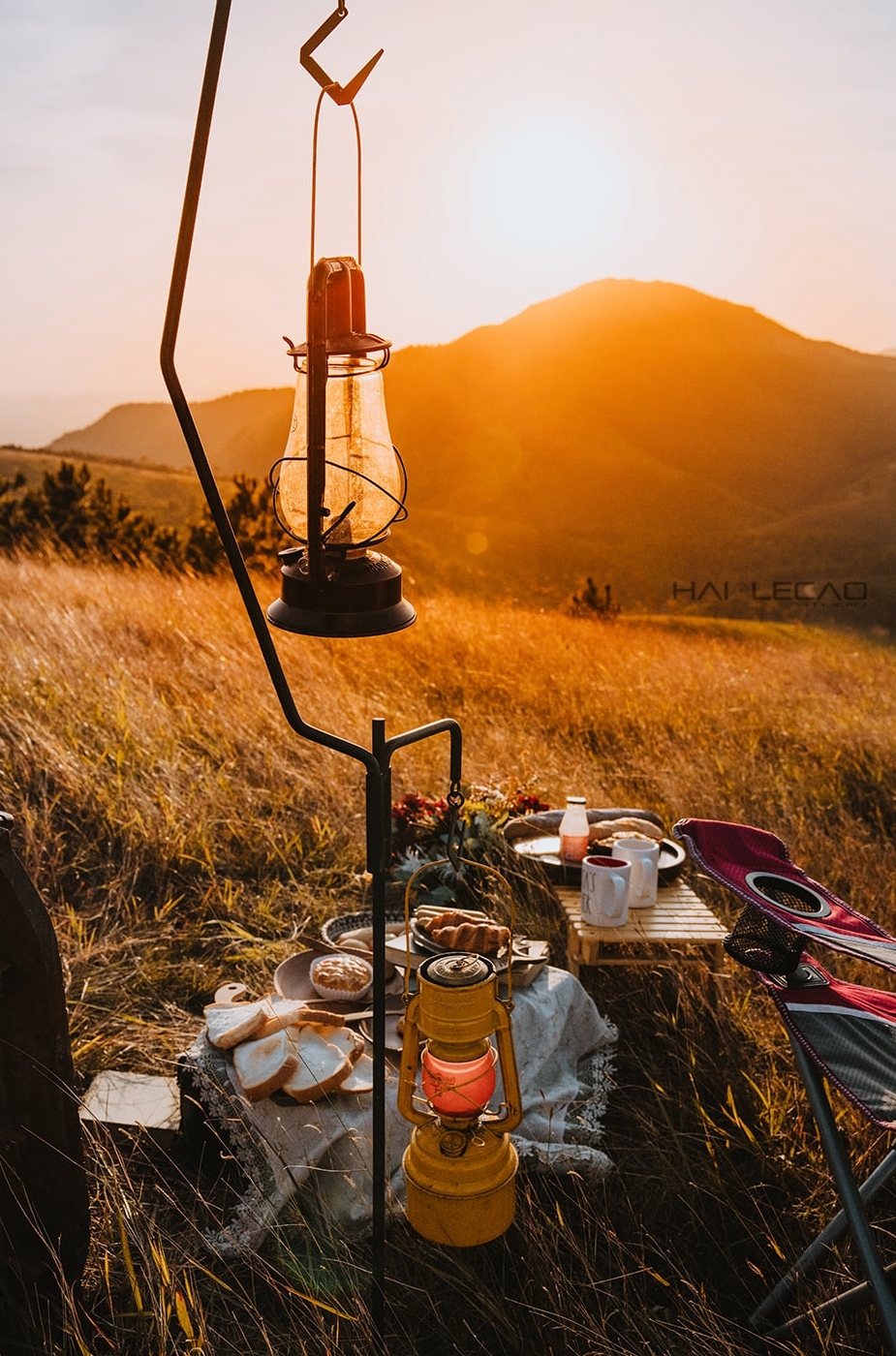 Like Phuong Hoang Mountain, at the end of the year, backpackers are amazed at the stunning view of burning grass on Binh Huong Hill.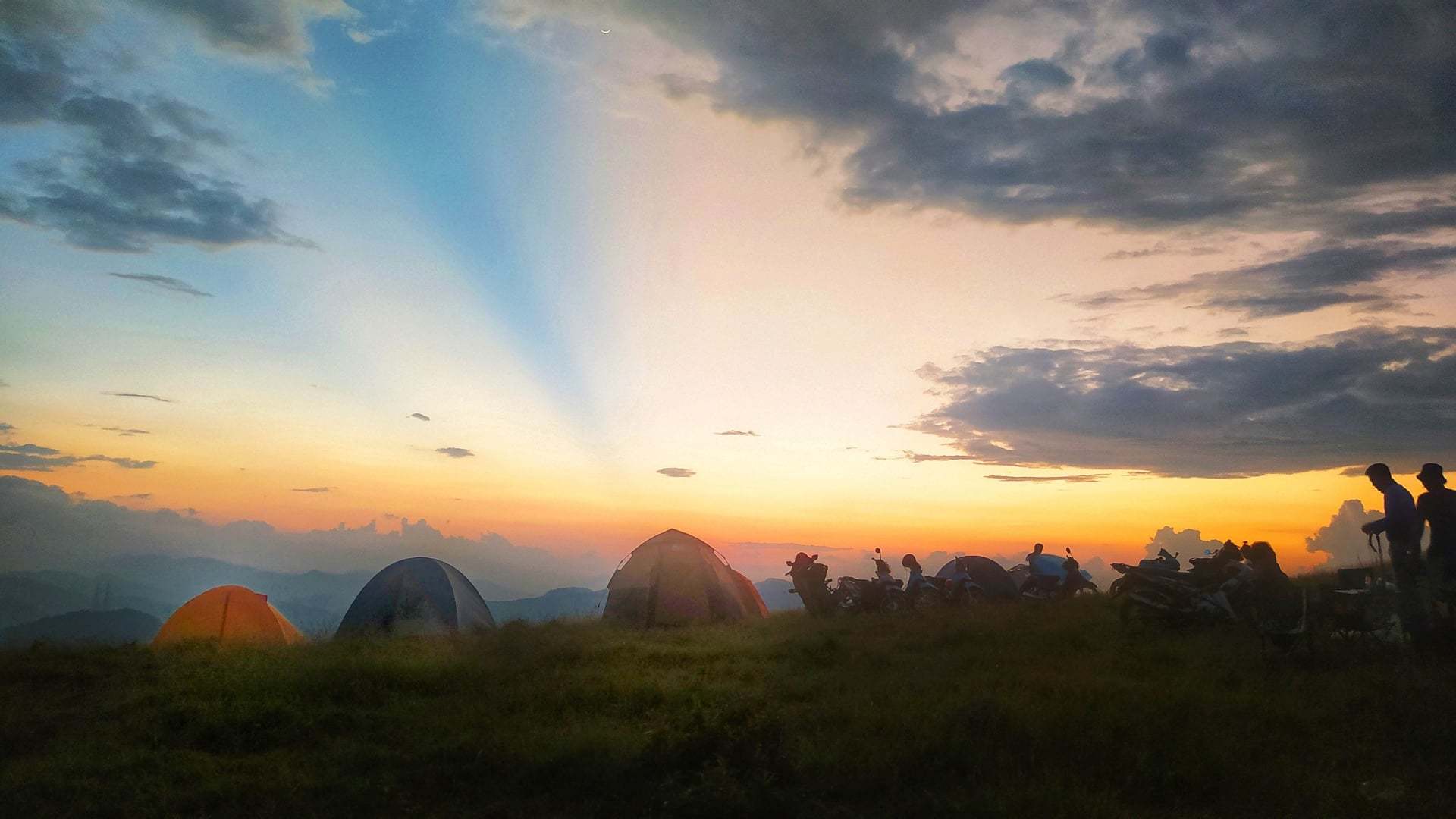 Camping on Binh Huong Hill – a fun trip that young people cannot resist. Photo: Quang Duc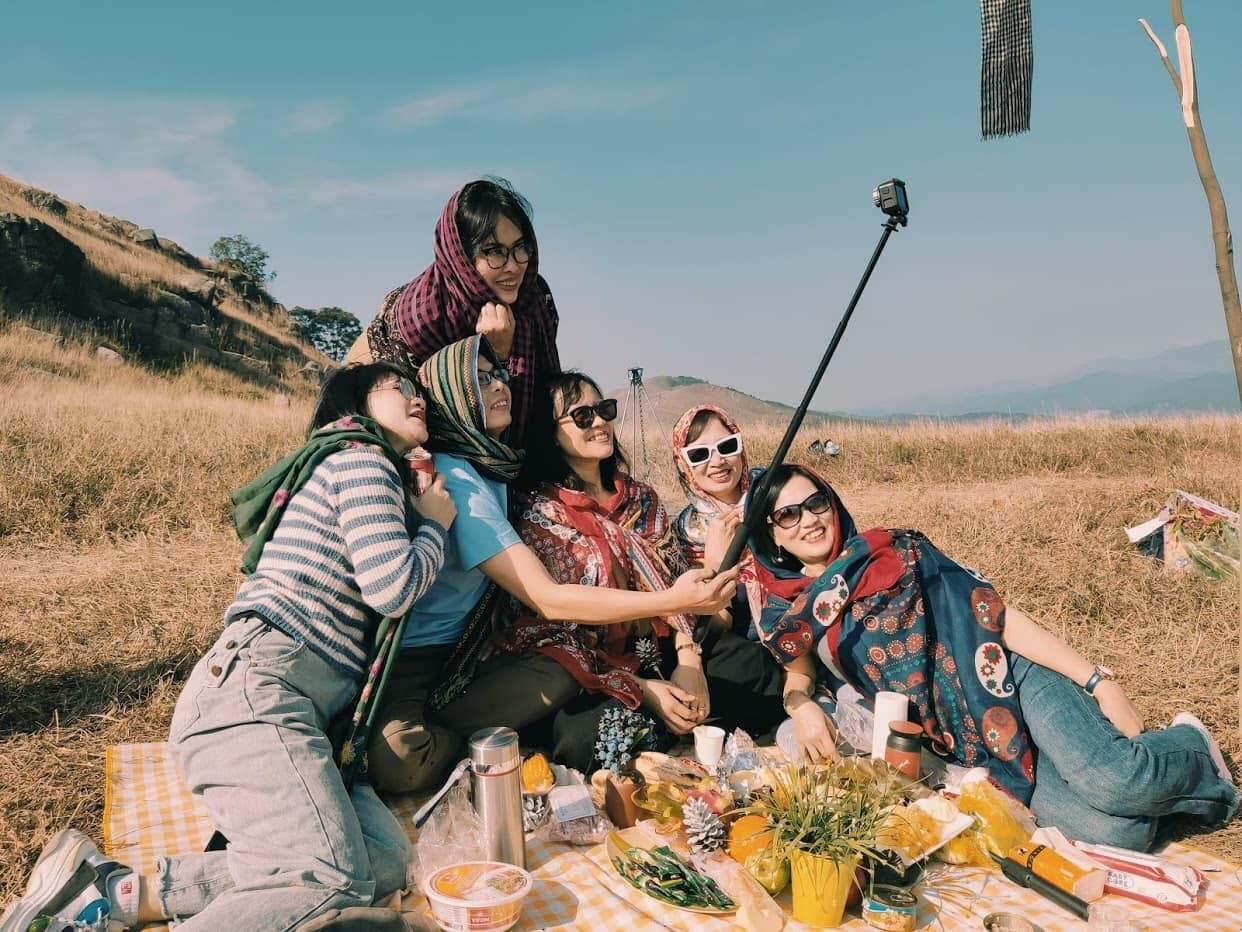 Photo: Quang Duc
Linh Trang

In the ripe rice season, people from hamlets in Binh Lieu District, Quang Ninh flock to the fields to harvest crops.

Dong Trieu Town, the eastern gate of northeastern Quang Ninh Province, has long been known for its coal and pottery industries.