Tourism industry needs more than just vaccines to survive
The tourism industry, directly and indirectly, is believed to have a profound influence on socio-economic life in the central region for years. 
This industry is under heavy pressure to survive, alter or crumble due to challenges brought about by Covid-19.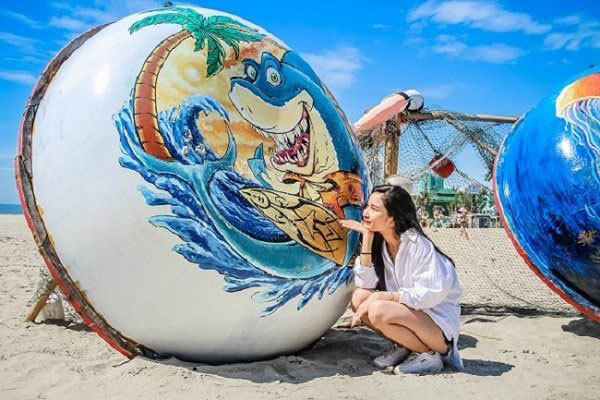 A visitor poses for a photo on a beach in Danang City. – SGT Photo: Nhan Tam
An abnormally quiet summer season
At this time last year, Danang's tourism industry was busy with stimulus events and programs all through summer, including the popular Fantastic Danang Festival 2020 that took place from July 30 to August 5. The city identified this as an opportunity to stimulate tourism, paving the way to restore other economic fields such as transportation, trading, construction and banking in the context that the Covid-19 pandemic had been put under control in Vietnam.
Thanks to the programs, in June 2020, Danang welcomed more than 450,000 visitors. The number was expected to be much higher in July and August - the peak summer tourism season. Cao Tri Dung, chairman of the Danang Tourism Association (DATA), at that time believed that more and more tourists would come to the city until the end of the year paly because they wanted to travel after a long period of social distancing.
The tourism industry in other central provinces such as Quang Nam, Thua Thien-Hue and Binh Dinh was also happy with the good news. Danang was the gateway, welcoming passenger flights from other places to the central region. Many travel companies in Danang took the opportunity to invest in travel and transportation and accommodation services to serve tourists on the central route from Quang Binh to Binh Dinh.
However, it all went downhill following the new Covid-19 outbreak in Danang from the evening of July 24, which spread to other localities. Danang was then locked down for more than 30 days.
Danang then shifted to operating rescue flights to bring thousands of tourists stranded in the city back to their hometowns.
"We lost the peak summer season. We can now only come back thanks to the year-end festive season and the new year," Doan Hai Dang, chairman of the Danang Travel Association, had said at the time.
However, the pandemic grew unpredictable and the tourism industry continued to do badly across the country. According to statistics, in the first six months of 2021, the revenue from tourism and related services only reached VND322 billion, down more than 33% year-on-year.
Now, businesses are entering the second quiet summer season in a row, with no guests.
"I am very keen on welcoming domestic tourists this summer, but what man proposes god disposes," said Nguyen Ngoc Anh, director of Omega Tours. "The pandemic broke out again. Customers have canceled or postponed their booked tours. All of our cars could not be used for months. We don't have a source of revenue, but we have a lot of expenses every day from bank interest to taxes and maintenance costs," he said, adding that almost all travel companies are in the same situation.
Accommodation establishments are also in an equally "tragic" situation. Almost four-and-five-star resorts along the beach must cut staff. Meanwhile, many other smaller hotels have closed their doors for many months or to be sold.
According to statistics from the Danang Tourism Department, by the end of 2020, 38,717 of 50,963 tourism workers were furloughed. This year, till the end of June 11,802 of 24,248 tourism employees were forced to quit their jobs.
What the tourism industry in Danang is doing now is making alternative plans because it cannot yet receive guests by air or road.
"With the aim of gradually warming up tourism activities in Danang, helping tourism businesses resume operations, our department would coordinate with DATA to map out solutions to restore tourism activities as soon as the Covid-19 pandemic is brought under control," said Nguyen Xuan Binh, deputy director of the Danang Department of Tourism.
Specifically, apart from ensuring safety, the Danang Department of Tourism will coordinate with local districts to propose measures to develop agricultural and community tourism in some destinations. 
Local tourism: A lifeline?
Encouraging local residents to travel is a feasible option carried out by some localities in the central region.
YesHue Eco eco-tourism area in the mountainous district of Nam Dong in Thua Thien-Hue Province, is offering picnics for locals, including adults, students and children.
"It is a good choice to attract tourists who are Thua Thien-Hue residents," said Le Thi Kim Hang, director of YesHue Eco, adding that to ensure the health and safety of guests, it limits the number of guests a day, requires tourists to file health declarations, apart from other requirements, including asking guests to wear masks and wash their hands before entering the site. Moreover, all of her associates already got vaccinated.
YesHue Eco is one of the few tourism businesses in the central province to implement the program called "Hue people travel to Hue."
The Thua Thien-Hue Tourism Association has proposed appropriate policies to stimulate tourism through a reduction in prices and a combination of services.
Nguyen Hoang Thuy Vy, deputy chairwoman of the association, said it is developing packages for guests who want to discover their hometown, from cuisine to wellness services. The association is also encouraging resorts in remote areas to promote packages such as bathing, convalescence, soaking in mineral water, bathing in streams and staying at resorts on weekends.
Businesses also agreed that the province needs to exempt or cut admission fees at heritage sites.
As for tourism trends, according to the Thua Thien-Hue Department of Tourism, the current trajectory of the pandemic is still unpredictable, so this summer, and maybe by the end of 2021, Thua Thien-Hue will only target local residents and partly those from safe regions.
However, some said the policy of "Hue locals traveling to Hue" or "locals traveling in their localities" in general is only a temporary solution.
First, locals travel only during certain times (weekends, summer, holidays, Tet, etc.). Secondly, not many local people travel, so very few travel companies can serve them and they can even go on their own. Moreover, not many travel companies (including accommodation, travel and tourist attractions) reopen at this time because of the burden of operating costs, including human resources.    
The city of Hoi An in Quang Nam Province is another example. Data from the Quang Nam Tourism Association showed some 90% of the revenue of the city comes from tourism, both directly and indirectly. Most tourists in Hoi An are foreigners or domestic guests from other parts of the nation. Therefore, the tourism industry here is almost exhausted.
One of the solutions given by the Quang Nam Department of Culture, Sports and Tourism is to encourage Quang Nam residents to visit destinations inside Quang Nam. "A group of guests can travel in their private cars and spend the weekend at the resort," suggested Le Ngoc Tuong, the department's vice director.
However, many businesses think that it is difficult to do so because of the costs and the local government's ad hoc decisions on lockdowns resulting from Covid-19 outbreaks.
Reportedly, in Quang Nam, there are a few businesses under the management of international corporations that are encouraging the people of Quang Nam to visit Hoi An for tourism and relaxation, but only on weekends. The businesses admit that this is only a temporary solution. 
Vaccines and a new tourism ecosystem
"It is necessary to carry out vaccination campaigns as soon as possible and think of a new way to attract tourists," said Phan Xuan Thanh, QTA's chairman. The businessman added that there should be a list of localities prioritized for vaccine allocations. Provinces that mainly rely on the tourism industry are examples.
"Whenever a few localities can welcome domestic and international tourists, it means that Vietnam's tourism brand is still competitive," said Thanh, adding that the government should allow those coming into close contact with Covid-19 patients to be quarantined at hotels, instead of state-run isolation centers.
Thanh also agreed that a new tourism trend will be to adapt to Covid-19 in the future. Taking his own business, Emic Hospitality, as an example, he said lean operations, a focus on core values, HR training and new products are the way forward for him.
He also encouraged member enterprises from QTA to join hands to serve guests better.
Regarding tourism in the new era, Nguyen Thanh Binh, vice chairman of Thua Thien Hue Province, said that there must be a synchronous solution consisting of three steps. The first is to strengthen the popularity of safe destinations, which is carried out consistently from the government to individual businesses, tourism service providers and the community. Secondly, it is to define the target audience and the scope of business. In the immediate future, there are activities to attract domestic tourists, followed by inter-regional visitors. Step three has a long-term, strategic solution to the new normal.
It is known that the Hue tourism industry had carried out surveys of tourism trends.
Accordingly, it was found that travelers prefer destinations that are close by, safe and not too crowded, apart from reasonable prices.
In addition, wellness tourism associated with the natural environment and fitness activities, sports and healthy food has also attracted the attention of tourists.
According to insiders, a new tourism ecosystem will soon be formed, associated with vaccines and tourism in the new normal (few people, ecology). And the central region will have a peak summer tourism season in 2022. To adapt to the change, Thanh said enterprises must think about re-investment. 
Source: SGT

Concerns over COVID-19 forced Nguyen Thuy Quynh from Hanoi to cancel her family trip to the northern province of Thanh Hoa for the Reunification Day (April 30) and Labour Day (May 1) holiday which lasted four days from April 29 to May 2.

Businesses have sustained a new blow from the fourth recurrence of Covid-19.