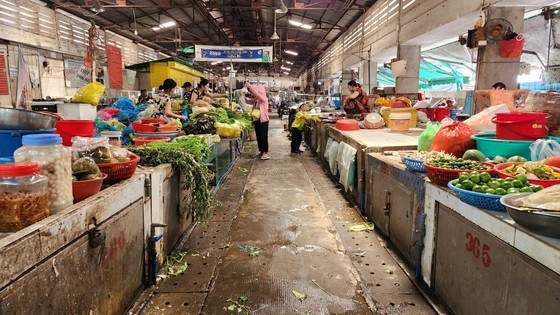 Sparse customers in the fresh food zone at Go Vap Market. (Photo: SGGP)
Deserted traditional markets
Ba Chieu Market in Binh Thanh District is among the top ten most-favorite traditional markets thanks to its diverse products, reasonable prices, and friendly and jovial traders. However, after the Covid-19 pandemic, the covered market has been bleak, with many abandoned stalls.
The area selling fresh produce is disorderly and dirty; water from the tanks holding seafood spills onto the walkway, plus trash discarded by small traders, creates an unpleasant smell.
Mr. Huynh Thanh Truong, Head of the Ba Chieu Market Management Board, said that, currently, only 588 out of 1,473 stalls remain in operation.
Mr. Huynh Thanh Truong confirmed that the revenue generated from fees is insufficient to cover expenses, and since the market is a revenue-generating public unit, there is no budget for repairs.
Several parts of the market have deteriorated, but nothing can be done about it. Despite operating for more than 80 years, the market has only been renovated twice, with contributions from small traders funding the repairs.
The most recent renovation was done in 1994, and as a result, many structures and facilities in the market are in a state of disrepair, with roofs leaking and walls seeping water whenever it rains.
Similarly, there are five markets in Go Vap District, but each market operates at only 50% capacity, with deteriorating and dirty infrastructure.
After more than 30 years in operation with over 300 stalls, Tan Son Nhat market is now deserted, with many stalls displaying rental signs.
The area for fresh food is disorderly and does not ensure food safety and hygiene. The market toilets have not been upgraded and are extremely unhygienic.
The long-standing markets located in the busiest shopping areas of HCMC are also facing the problem of small traders leaving and deteriorating infrastructure.
Ben Thanh Market in District 1 currently has 1,300 out of 1,437 stalls in operation, but the number of customers has decreased by 30-40 percent compared to normal times.
Meanwhile, at Tan Dinh Market in District 1, stalls selling fresh seafood encroach on the road, and water from food flows onto the street before reaching the drainage system. Other business areas are similarly dilapidated and degraded.
The number of small traders at Tan Dinh Market has also decreased, with only 895 out of 1,013 stalls currently in operation, and the number of shoppers has dropped by about 30 percent.
Traditional market upgrades needed
Mr. Nguyen Van Thoan, Deputy Head of the Management Board of Go Vap Market, said that the market has been in business for over 100 years, but the latest renovation and upgrade was in 1990. After the Covid-19 pandemic, only 200 out of 484 stalls remain active.
The problem of disorder in the fresh food area (Zone C) is due to the lack of awareness of small traders in complying with the requirements of the market management board.
To address these issues, the management board has proposed to the Go Vap District People's Committee to upgrade and renovate Zone C, as well as to partially shift the shopping activities to the night to increase efficiency.
The management boards of other traditional markets also confirm that their operations are inefficient due to the deteriorating infrastructure.
Moreover, small traders have had to compete with modern commercial channels and street vendors surrounding the market.
According to Mr. Nguyen Nguyen Phuong, Deputy Director of the HCMC Department of Industry and Trade, the city currently has 232 traditional markets. These markets were established a long time ago, along with the development of residential areas.
However, most of these markets have degraded over time, with inadequate and outdated public facilities, a lack of wastewater treatment systems, insufficient storage facilities for goods, and substandard business areas.
Based on the reality, the Department of Industry and Trade of HCMC proposes that the People's Council of HCMC consider providing support mechanisms for districts and towns in the task of renovating and upgrading traditional markets through the allocation and regulation of budget estimates for each district and town.
Additionally, for traditional markets to continue to develop and meet the shopping needs of residents, the departments, agencies, and localities need to continue to enhance the management of spontaneous sales points around traditional markets, develop plans to arrange and organize reasonable and convenient business areas and raise awareness of food safety and environmental hygiene among small traders.
At the end of 2016, Binh Tay Market in District 6 began to close for repairs and renovations with a budget of over VND100 billion from the stall rental fees of the merchants.
The renovation includes replacing the roof system and tiles, repainting all walls, columns, and ceilings, renovating staircases and banisters, raising and tiling the floor, building new public restrooms and a backup power generator house, and installing security cameras and fire protection systems.
However, the stalls, especially in the fresh food area, still have issues with disorderliness and foul odors. Currently, 1,900 out of 2,358 stalls are open at the market.
On March 23, approximately 100 traders at An Dong Plaza Shopping Center in District 5 closed their stalls in response to the new rental policy set by the Management Board, which will take effect at the end of the transfer period in April.
The Management Board has offered rental contract terms of six months, one year, two years, or five years for merchants to choose from, with a rental price of VND36.9 million per month.
There is a 5-percent discount for payment of six months at once, resulting in a rental price of VND35.05 million per month. Additionally, for payment of 12 months for rental contracts from 1-5 years, a 10-percent discount on the rental price will be applied, equivalent to VND33.21 million per month.
In their complaint, the merchants claimed that the rental prices set by the company are unreasonable, and in some cases, the rental prices are not reduced but even increased, just by comparing the rental rates of some stalls.
Meanwhile, the purchasing power at An Dong Plaza is declining seriously, so these traders have proposed that the An Dong Plaza Management Board reduce the stall rental fee by about 55% to support them in overcoming this difficult period.
Source: SGGP