Traffic authorities fail to slow down Hanoi's congestion woes
VietNamNet Bridge – Unco-ordinated and wrongly placed traffic lights have actually become a hindrance instead of an aid to the flow of traffic in Ha Noi.
VietNamNet Bridge – Unco-ordinated and wrongly placed traffic lights have actually become a hindrance instead of an aid to the flow of traffic in Ha Noi.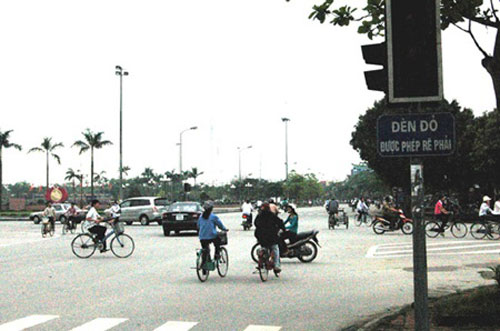 Unco-ordinated and wrongly placed traffic lights are hindering efforts to improve the capital's traffic infrastructure network.
The capital city is struggling to deal with a fastly growing population with a traffic infrastructure network that is overwhelmed and being constantly degraded.
They claim that instead of helping solve traffic problems, many traffic lights are the causes of traffic jams and complications.
A researcher from Ha Noi University of Transport said there was still no agreement on one standard for traffic lights throughout Viet Nam.
He named the names of a few different standards, such as 22TCN 237, TCVN 4449-1987 and TCXDVN 104 20077, noting that having too many standards was as bad or worse than having no standard at all.
Major Pham Quang Minh, deputy captain of Ha Noi Traffic Police, said that traffic signals were co-ordinated in only 90 out of 248 areas in the city.
The rest operated according to fixed time controls and worked independently from the rest of the system.
Another problem is how the flow of traffic is measured. Without a computerised vehicle-counter system, the number of vehicles is still being measured using data collection sites and cameras.
Traffic controllers then rely on gathered statistics and their job-experiences to programme the traffic signals.
This can put signal sequences out of synchronisation with actual traffic and often leads to traffic jams.
At intersections in Ha Noi, it's not uncommon to experience traffic signals that hold up flows of traffic, while the other cross road, which is almost devoid of traffic, gets the green light.
In some cases, traffic signals actually create confusion. The corner of Ton Duc Thang and Nguyen Thai Hoc streets can be particularly tricky. Until recently, drivers were allowed to turn right at a red light. There was even a signboard advising them to do so and a cross-sign to indicate it was a non-stop area.
In mid July, the signboard was removed and drivers had to stop at the red light. However, the cross to indicate it was a non-stop area remained. Drivers now have to decide which sign to follow.
Nguyen Van Thieu, a driver who drives to and from the city every day to work, said at major intersections, such as Tran Duy Hung and Nguyen Chanh, Le Van Luong and Nguyen Tuan, the waiting time was too long and usually resulted in a traffic block.
He urged the authority to install additional traffic lights at these intersections and to divert part of the traffic to the left.
Pham Hong Quang from the Viet Nam Academy of Science and Technology said that the problem was a lack of a central command network to coordinate and manage traffic controls for the city.
He said that what was known as a "red wave" occurred when a series of traffic signals stopped vehicles at every single set of lights.
"We often see red-waves in Ha Noi. This increases the total waiting time in traffic, sends noise, pollution and petrol consumption soaring and also leads to accidents," he said.
A modern traffic light centre was opened yesterday in the city to control all lights at intersections and match traffic flow.
The VND231 billion (US$11 million) centre, which is equipped with 450 surveillance cameras, is also expected to help the police stop traffic violations.
VNS/VNN