Travel demand to surge during coming holidays
Outbound tours are preferred by Vietnamese travelers for the upcoming holiday starting April 29, according to travel agents and tour operators.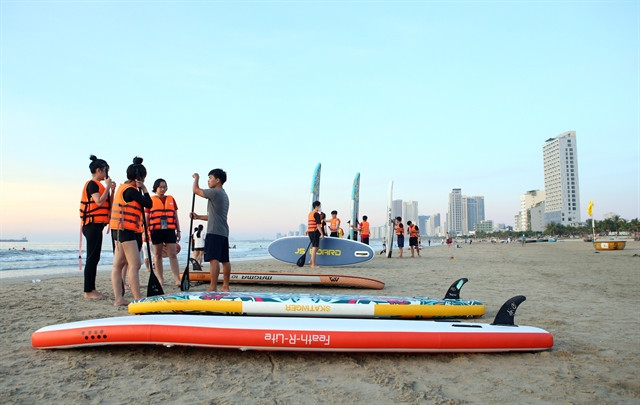 Working people will enjoy five consecutive days off from April 29 to May 3 to celebrate the commemoration of the Hùng Kings (the nation founders) that falls on April 29, the National Reunification Day on April 30 and International Labour Day on May 1, which has prompted a surge in tour bookings.
Trần Phương Linh, marketing and IT director of BenThanh Tourist, said some customers can arrange to extend their holiday to nine days for long-haul outbound destinations.
BenThanh Tourist reported an increase of 30-40 per cent in tour bookings for the coming holidays compared to last year.
Tours to Hong Kong and Taiwan have been fully booked one and a half months ahead of the Reunification Day and International Labour Day holidays, Linh said.
Saigontourist is offering more than 200 inbound and outbound tours for the holidays.
The company expects to serve more than 100,000 leisure and MICE (meeting, incentive, convention, exhibition) customers.
Nguyễn Nguyệt Vân Khanh, marketing director of Vietravel, said more than 3,000 customers have booked tours for the Reunification Day & International Labour Day holidays, with outbound tours accounting for 70 per cent of overall tour bookings.
Thailand, Cambodia, Singapore, Malaysia, South Korea, Japan, Taiwan Island, and Dubai are favourite destinations, Khanh said.
Nguyễn Minh Mẫn, marketing and communications director of TSTtourist, said domestic tours to islands and beaches as well as tourist destinations in the Central Highlands, and central and northern regions were mostly chosen for the coming holidays.
The company expects to serve 2,000 customers during the holidays, Mẫn said.
The Vietnam Railways Corporation (VNR) will operate additional 52 train services between April 28 and May 3 to meet rising travel demand for the holidays.
In the north, it will add 22 train services connecting Hà Nội with Lào Cai, Hải Phòng, Thanh Hoá, Vinh, Đồng Hới, and Đà Nẵng.
In the south, it will add 28 train services connecting HCM City with Đà Nẵng, Quảng Ngãi, Quy Nhơn, Nha Trang, and Phan Thiết.
It will also run two more trains connecting Hà Nội and HCM City during the holidays. — VNS