Travel firms report Tet "bountiful crop"
Though people have to cut down expenses, they still spent money to travel on Tet days.
VietNamNet Bridge - Though people have to cut down expenses, they still spent money to travel on Tet days.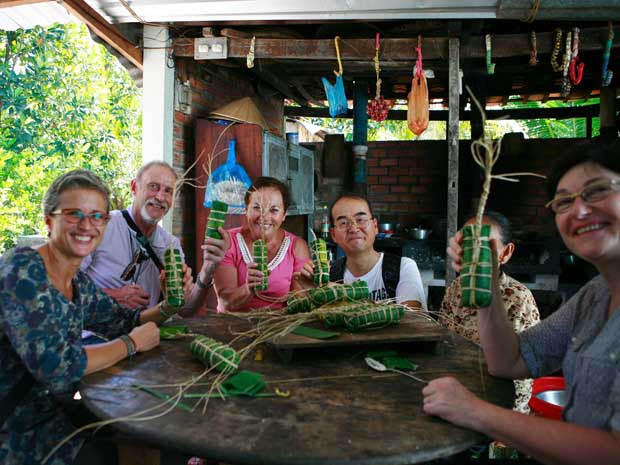 Localities benefiting from the influx of tourists

According to Vietravel, this firm served more that 34,000 inbound tourists, 25% more than last year, from the first to the ninth day of Tet. The number of tourists booking tours to foreign countries, especially Southeast Asia nations, suddenly accelerated in the last minute. There were about 2,000 inbound tourists and over 2,100 outbound ones in the busiest days.

Lien Bang Travelink also confirmed that their outbound tours increased about 20% compared with the previous Tet, while inbound tours only raised 12%. As for Saigontourist Travel Service Company, the number of Vietnamese tourist traveling internally and externally increased 30% and over 50% respectively.

Other travel firms said that the outbound tour growth rate was higher than inbound ones, yet the total number of inbound tours still dominates.

Besides, many families decided to travel in the self-sufficient way to nearby areas in order to minimize the expenditure. Khanh Chi, living in Bien Hoa city, said that she together with other six members of her family took a two day trip to Vung Tau – Long Hai. The trip was a great pleasure for them and it only cost 10 million dongs. Chi's family was not the only family to choose this kind of traveling. According to Ho May tourist area management, 60% of 30,000 tourists came with their families in the self-sufficient way.

Although travel firms in HCMC and Hanoi had stopped accepting new bookings of Nha Trang tours very early due to the massive numbers, the high number of tourists traveling on their own still made all beaches there overcrowded, especially from the third to the seventh day of Tet.

Vietnamese Tet holiday attracting foreign tourists

The great number of international tourists contributed to the tourist revenue growth in many localities. That Vietnamese traditional Tet had been promoted as the most fascinating tourist season for foreign visitors brought travel firms satisfactory results.

According to the Ho Chi Minh City Department of Culture, Sports and Tourism, the number of foreign tourists in Year of Snake Tet approximately increased about 8% compared with the last year. Travel firms that had the highest growth rate of international tourists were JTB, Saigontourist, Vietravel, Ben Thanh, Fiditour, Hoa Binh Viet Nam and Apex. As a result, their revenue from foreign tourist rose about 7%.

Saigontourist Travel Service Company's two favorite tours "Visting Mekong Delta in Tet holiday" and "Spending Tet with Saigon people" attracted 40% more foreign tourists than last year. Overall, there were 46,000 foreign tourists in 68,000 tourists that Saigontourist served this Tet.

The number of tourists visiting Hue in five days of Tet was 52,000, increasing 32.8% compared with last year, including 30,000 foreign ones. Travel firms in Hue held some new special tours to help tourists understand more about local customs like visiting and praying at Hue Pagoda, trying playing folk games, visiting Thanh Tien paper flower village, joining Huyen Tran temple festival, etc.
Bao Han