When a man and a woman meet and decide to spend the rest of their lives together, the couple embarks on a journey of love and togetherness.
Vietnamese girl with the dream of cycling around the world
Cyclist falls in love with nature
Wheels of love bring scholarships for students
Falling in love with Vietnam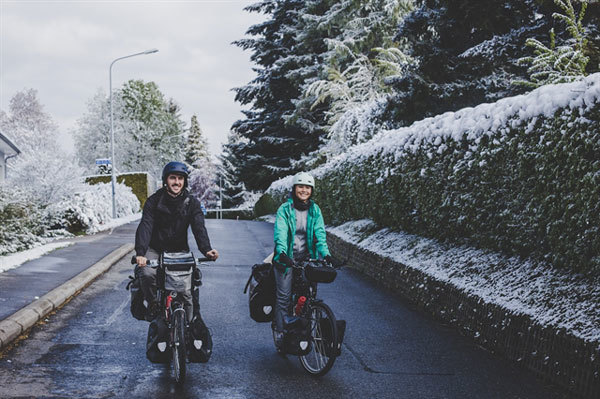 ON THE ROAD: Khanh Nguyen and Thibault Clemenceau are cycling from France to Vietnam to raise money for charity. — Photos Courtesy of Non La Project
But for one man from France and his Vietnamese bride, that journey is a lot longer than normal.
After getting hitched, Khanh Nguyen and Thibault Clemenceau decided to spend their honeymoon cycling from France to Ho Chi Minh City… a staggering 16,000km journey.
"Since I was a little kid we have always done a lot of bicycle with my brothers and my father," said 29-year-old Thibault.
"My first big trip was to go to get the bread at the age of 10 to the bakery which was two kilometers. Then I did 10km, 20km, 50km. Until an amazing trip six years ago with my brother in Europe of 4,000km. The feeling of joy and freedom at that time was so intense that I knew one day I would go for something bigger."
His bride added: "I don't know why but when Thibault proposed to me to go from France to Vietnam by bicycle I immediately said 'yes' without asking any questions. I guess a part of me is very adventure seeker and that I fully trust Thibault!
"It was a bit more difficult to convince my family and my sisters that I could go for such a trip. It was not even a thing my family could even think about. But by sharing our plans and explaining our project, they now see we are happy on the road and they fully support us!"
The couple's journey is not just because of their love of cycling, but also to raise money for a charity in Vietnam, Poussieres de Vie.
The organisation helps Vietnam's disadvantaged people through funding a managing a variety of projects to bring children back to school, teaching them a trade and helping them develop.
Thibault said: "In 2015, one of my friends was working for Poussieres de Vie as a volunteer teacher. As she knew I liked photography, she invited me one afternoon to discover the school and share some moments with all the kids.
"There was a great atmosphere and vibes there the following morning I really wanted to volunteer for this NGO."
The couple are currently still in Europe, but their journey will see them cross Pakistan, Kazakhstan and Mongolia before entering Vietnam in the north and cycling the length of the country to Ho Chi Minh City.
"So far we have done four countries, France, Switzerland, Germany and Austria," Khanh said.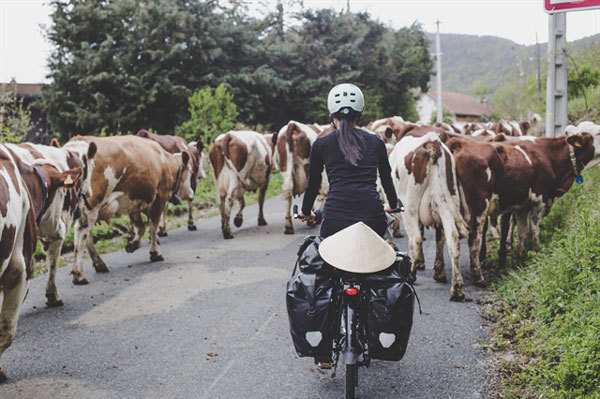 MOO-VE OUT THE WAY: Khanh Nguyen negotiates her way through a herd of cows during her mammoth cycle adventure.
"The most memorable country for me was Switzerland. Especially because I could see snow for the first time in my life in the mountains. It was white all around us and to ride bicycle surrounded by snow was kind of magical. Cold but amazing!
"I would say that Europe is much more quiet, greener and cleaner compare to Vietnam. You can sometimes spend one day one road and meet one or two people only while in Vietnam this is impossible! There are people everywhere. Forests and nature in Europe are amazing to discover.
"In Europe, I can see as well many people going by bicycle. For some people it is really a lifestyle! Some cities such as Munich and Geneva really support and respect bicycles with dedicated bicycle lanes which ensure the bikers safety. In big cities in Vietnam it is almost impossible to commute by bicycle."
They hope to complete the journey in less than a year and raise $16,000 for the charity. So far they have managed to collect a quarter of their target.
The pair may be on an adventure of a lifetime, but it's not all been plain sailing on their journey.
"A very tough day was as well in the East of France, close to Strasbourg," Thibault said.
"It rained nonstop during 90 kilometers. Despite our rain gear, all our clothes and shoes got wet. It was cold and we really started to have no energy and to get sick."
Khanh added: "One day in the central mountains of France was horrible! Very difficult climbs and with the weight of my bike and the stuff I carried my legs were literally burning."
The couple's mammoth journey may leave them exhausted by the time they reach their destination next year.
But they know it's a small price to pay to help change the lives of some of Vietnam's most disadvantaged children.
• To make a donation visit https://poussieresdevie.org/en/nonlaproject/. VNS
Paul Kennedy