Quang Ninh Province has another gorgeous destination for tourists to enjoy. The People's Committee of the northern coastal province of Quang Ninh has recognised Cai Chien Island in Hai Ha District as a provincial tourism site.
Unspoiled charms of deserted beaches in Quang Ninh
Quang Ninh strives to become international tourism hub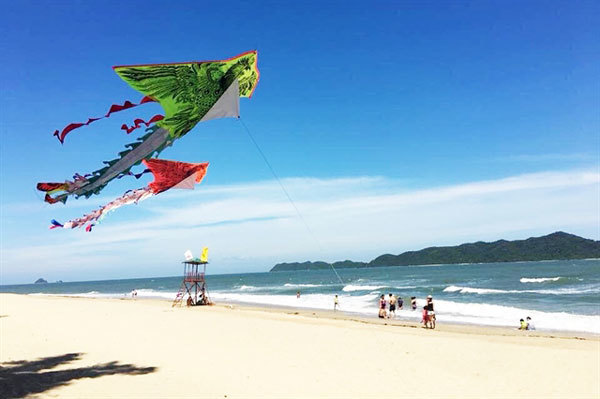 Tourists enjoying the beach on Cai Chien Island. The number of tourists to Cai Chien has been steadily increasing in recent years. Photo qtv.vn
Cai Chien Island is thought to have great potential for tourism due to its beautiful natural scenery and peaceful atmosphere. The island is also famous for its rich forest ecosystem, home to many species of wild animals, as well as its fresh seafood.
The provincial Management Board for Relics has assigned Hai Ha District People's Committee to co-ordinate with the Department of Tourism to promote the island as a tourism destination and lure investment.
The board also asked related authorities to work together to manage the Cai Chien tourism site.
The provincial police, military command and border guards were urged to work with the district's People Committee to ensure security for the site to meet the demands of tourism development.
Covering a total area of 15,545ha, of which nearly 13,000ha is water, the site includes three pristine beaches: Cai Chien, Vung Bau and Dau Rong.
On the east side of the island, Dau Rong Beach is one of the most beautiful beaches in Quang Ninh with blue sea and more than two kilometres of sand.
In recent years, the number of tourists to Cai Chien has been increasing thanks to the untouched beauty of the island.
Local authorities have encouraged people to keep the environment clean and have opened training courses on community-based tourism.
Dozens of households on the island have invested in opening homestays with hundreds of rooms to serve holidaymakers.
Visitors can reach the island by ferry from Ghenh Vo Wharf in Quang Dien Commune.
The ferries can carry people and vehicles with up to 32 seats. Every day, three ferries sail at fixed times from the mainland to the island commune and vice versa. They run at 6:30am, 10:30am and 4:30pm.
Quang Ninh's tourism potential
The tourism sector in Quang Ninh Province has been growing at a fast pace in recent years.
The province is endowed with natural advantages for sea and island tourism. It has a coastline of more than 250km and more than 2,000 islands and islets which account for two-thirds of the total number in Vietnam.
It is home to popular destinations such as Ha Long Bay and Bai Tu Long Bay.
Ha Long Bay (literally "descending dragon bay"), was twice recognised as a World Natural Heritage site by UNESCO in 1994 and 2000. The bay spans 1,553sq.km and includes 1,969 islands of various sizes.
It features thousands of limestone karst formations. The limestone in the bay has gone through 500 million years of formation in different conditions and environments.
The geo-diversity of the environment has created immense biodiversity, including tropical evergreen, oceanic and sea bio-systems.
In 2018, Ha Long Bay made it into the top 15 most Instagrammed global cruise destinations based on a survey of 1.8 million posts tagged on various ships and ports by travel cruise site SeaHub.
Located 80 km from the mainland, Co To Island is another attraction in Quang Ninh. The district comprises Co To Lon (large Co To Island), Co To Be (small Co To Island) and 15 smaller islands.
Besides enchanting beaches, the island has natural forests, lighthouses, parks, wharves, fishing villages, bays and a rock garden.
Located in Bai Tu Long Bay, Quan Lan Island in Van Don District has become an ideal summer destination thanks to its pristine beauty, clear blue seawater and fine white sand.
Last year, Quang Ninh hosted the National Tourism Year 2018 under the theme "Ha Long-Heritage, Wonder, Friendly Destination". The province welcomed 12.3 million visitors over the course of the year, including 5.2 million foreigners, and earned VND24 trillion (US$1.03 billion) in tourism revenue.
Van Don International Airport, which opened in December 2018, is expected to help the province achieve its target of welcoming 15-16 million tourists each year, including 7 million foreigners, by 2020 and 30 million arrivals, including 15 million foreigners, by 2030.
VNS