Com hap la sen (Steamed rice with lotus seeds, wrapped in a lotus leaf) was once the food of kings in the 18th century, during the Nguyen Dynasty.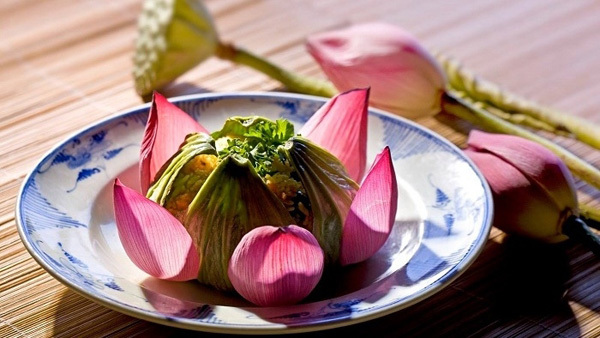 'Com hap la sen' takes pride of place in Hue's royal gastronomy. (Photo: nethue.com.vn)
Com hap la sen is arranged like a blooming lotus flower wrapped inside a lotus leaf with rice and lotus seeds.
To make com hap la sen with a deep lotus flavour, the cook uses boiled water to cook the rice. The challenge is keeping the rice in a lotus flower shape while retaining the green of the lotus leaf.
The dish is now so popular that it is served at weddings and birthday parties, unlike in the past when it was only served to the king.
Nguyen Van Hoc, a Hue resident, thinks of the dish as the work of a talented artisan who creates rice with cool, fragrant and attractive colours. "The lotus seed scent is deeply imbued into each soft rice grain and mixed with the sweet flavour of chicken, shrimp, lotus seeds and other ingredients, all mixed together to create a very unique and aromatic flavour," he says.
NDO/VNS

In a first, the annual Hue Traditional Craft Festival will go on for a month, starting from May 29-June 26, announced the organization board.