At least 70 per cent of tourism businesses in Da Nang have resumed operations after two waves of COVID-19, and all were committed to health and safety conditions.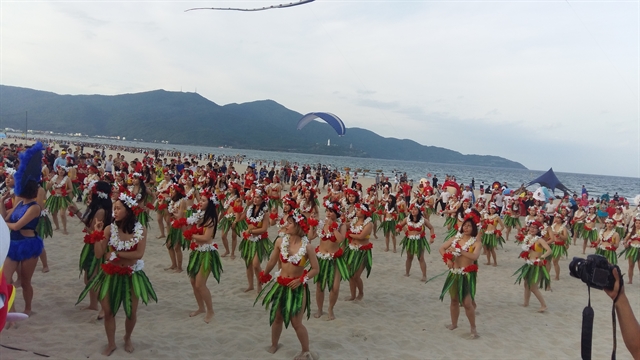 Dancerson the beach in Da Nang. The city is a popular destination forJapanese tourists. 
Vice director of the city's tourism department, Nguyễn Xuân Bình, spoke at the Đà Nẵng tourism webinar – entitled: 'Đà Nẵng, the convergence of central Việt Nam's heritages, a safe and fantastic destination in 2021' – that was organised by the Japan Association of Travel Agents in the Japan Outbound Tourism Council's Destination Webinar Series.
Bình said the webinar was an opportunity to provide information on Đà Nẵng and central Việt Nam to Japanese tourists and partners of the Japan Association of Travel Agents.
He said Đà Nẵng, located along the central coast of Việt Nam, includes UNESCO-recognised world heritage sites including Hội An – a popular destination with many Japanese values.
"Đà Nẵng is also a beach hotspot with fascinating local experiences in culture, cuisine and entertainment, MICE and golf tourism. We hope to draw higher Japanese tourists flows to the city and destinations in central Việt Nam," Bình said.
He said COVID-19 has disrupted tourism between Việt Nam and Japan in 2020.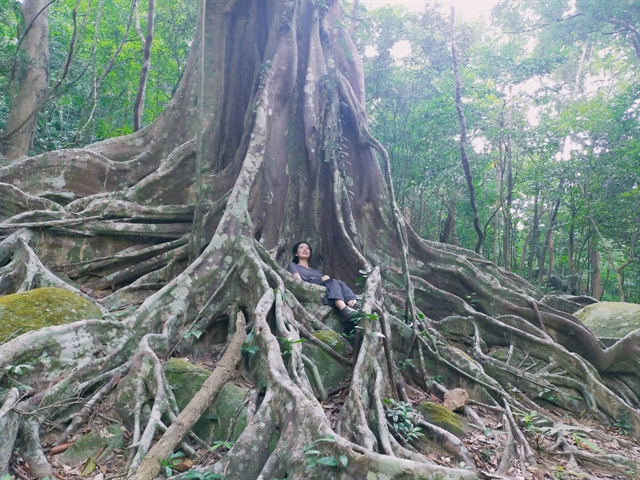 Touring jungles of Đà Nẵng is an option for tourists.
"I hope that tourism will recover as soon as flights between Đà Nẵng and cities in Japan resume with determination in controlling the COVID-19 pandemic," he said.
Bình added that Đà Nẵng International Airport has been granted 'Airport Health Accreditation' by the Aviation Consulting (ACI), verifying COVID-19 prevention measures at the airport.
Vũ Nam, deputy head of the tourism marketing department under the Việt Nam National Administration of Tourism, said Việt Nam was named the world's leading heritage destination at the World Travel Awards last November in Moscow, Russia.
In 2019, Việt Nam hosted 1.5 million tourists from Japan, and 500,000 Vietnamese travellers booked tours in Japan, and the figure would be 2 million tourists between the two countries in 2020.
Nam highly appreciated the efforts made by the Japan Association of Travel Agents in promoting destinations in the world including central Việt Nam.
He said Việt Nam has controlled COVID-19, as the country recorded 1,347 cases with 35 deaths as of December 1.
Yakabe Yoshinori, Chief Representative of the Consulate Office of Japan in Đà Nẵng said Đà Nẵng was safe in terms of security, traffic, and environment.
Đà Nẵng was important to Japan's diplomatic and economic policy as it is an entrance to the East Sea, and a good connection to the East-West Economic Corridors that links Việt Nam, Laos and Myanmar as well as the southern economic corridor, according to the diplomat.
"Đà Nẵng and neighbouring provinces are a second home to 440 Japanese people, and the central region hosted 180,000 Japanese tourists. It's expected that more and more Japanese tourists will come to Đà Nẵng and central Việt Nam when COVID-19 is controlled," said Yakabe Yoshinori.
The introduction of a Consulate Office of Japan in Đà Nẵng aims to provide easy conditions for both Vietnamese and Japanese visiting each country as well as the increasing Japanese investment flow.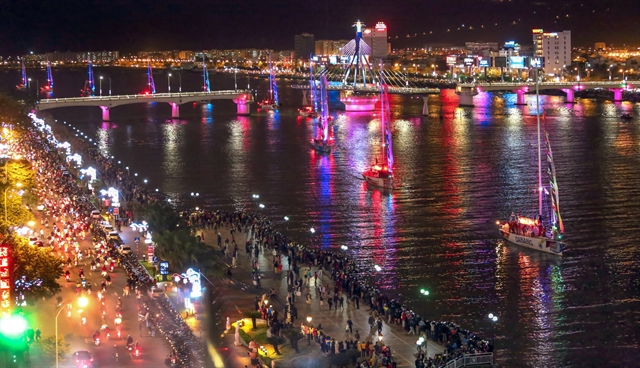 A night cruise on the Hàn River in Đà Nẵng. The city has lured tourists with different tour services.
"The city is not only a good connection with world heritage sites including Hội An, Mỹ Sơn Sanctuary and Huế Monuments Complex, Phong Nha-Kẻ Bàng, but various choices for eco-tour services," he said.
He added that a nursing home for old people will be built in Đà Nẵng, and more Japanese would prefer coming to the city. He said there were 60 Japanese restaurants in Đà Nẵng.
In March of 2020, the city's tourism promotion centre inked an agreement on tourism promotion in Japan with Sunrise Group Asia (Sunrise Đà Nẵng) company, looking to expand to new tourism markets in the future.
The agreement aims to support Japanese tourists and promotion programmes of Đà Nẵng in Japan through two social networks – Danang Fantasticity and Sunrise Danang – to all cities in Japan.
In December, Thừa Thiên-Huế, Quảng Nam and Đà Nẵng agreed to develop a joint tourism promotion programme to boost travel demand to the central region.
Road and train trips are available from Đà Nẵng to two UNESCO-recognised world heritage sites – Hội An and the Mỹ Sơn Sanctuary – and the world biosphere reserve Chàm Island-Hội An in Quảng Nam, as well as the Huế Monuments complex within one or two hours. — VNS

The central city of Da Nang has focused on recovering the pandemic-hit tourism to continue boosting the sector's sustainable development, focusing on high-end services in association with resort real estate.