Enjoy the luxurious stay with Michelin star dining experience at the theatrical beachfront restaurant…all these utmost experiences make JW Marriott Phu Quoc Emerald Bay become a must-visit place during the upcoming holiday time (April 30th-May 1st).
After successfully organizing one of the most glamorous and awaiting wedding in the world -of Indian billionaire couple Kabbia and Rushang last month, JW Marriott Phu Quoc Emerald Bay continues to set the new height of gastronomy journey in Phu Quoc Island with Michelin Star Chef Week.
Two Michelin Star Former Pâtissier de l'Année Ophélie Bares joins Chef Lakhdari for delectable double act at the immersive art deco dining experience Pink Pearl - a French fine-dining restaurant. 
Conceived by the resort's Master of Ceremonies, designer Bill Bensley, Pink Pearl is inspired by the tale of Madame Pearl Collins, whose extravagant gastronomic soirees at this beachfront art deco mansion became the stuff of Phu Quoc legend like fabulous scenes of "The Great Gatsby".
In this dramatic setting, Chefs Bares and Lahkdari will bring together their unique talents to write a new chapter to Pink Pearl's decadent history, tantalizing guests with an innovative one-off tasting menu. 
From 27 April to 1 May 2019, during the Vietnamese Reunification Day 30/4 and International Labor Day 1/5, Pink Pearl set to become the stage for a mouthwatering culinary collaboration, as Chef de Cuisine Amine Ouameur Lakhdari teams up with award-winning French pâtissier extraordinaire Ophélie Bares to create, for the very first time, a unique 'Two Chefs, Four Hands' fine dining menu featuring a range of finest seasonal ingredients, both local and imported, such as Pertuis Green Asparagus, Oscietre Caviar, Japanese sea urchin and Wagyu beef, and Marou Chocolate.
In Europe, especially Germany, Pertuis Green Asparagus is considered to be the "King" of vegetable world because of its high nutrition facts. Oscietre Caviar is widely famous for its name "black gold" representing the luxury and always being in the list of the most expensive food in the world. 
Well-known for being expensive and good for health, Japanese sea urchins have price of millions VND for one kilogram. In addition, Wagyu beef from Japan - one of the world highest quality and high-priced beef, is renowned for its superior flavor, tenderness and high amount of intramuscular fat with a marbled appearance. 
Last but not least, one of the premium ingredients used is Marou chocolate from Vietnam, which is honored to be the world best chocolate by New York Times. 
True to the resort's whimsical design narrative, the menu will remain a surprise until on the day of, and only revealed to guests as they dine.
Working alongside Chef Lakhdari, Two Michelin Star Guest Chef Bares will curate a guest-chef fine dining menu of original dishes which fuse the best elements of each chef's talents and surprise the guest.
A limited-time only menu features authentic French savory recipes fused with unexpected applications of pastry techniques, and a delicate balancing of sweet, savory and spice.
Diners will be able to enjoy this gastronomical menu for VND3,700,000* (5-courses) or VND4,900,000* (7 courses) per person. Wine pairing can be opted for an addition of VND1,850,000* per person. It will worth every single penny for your dining experience.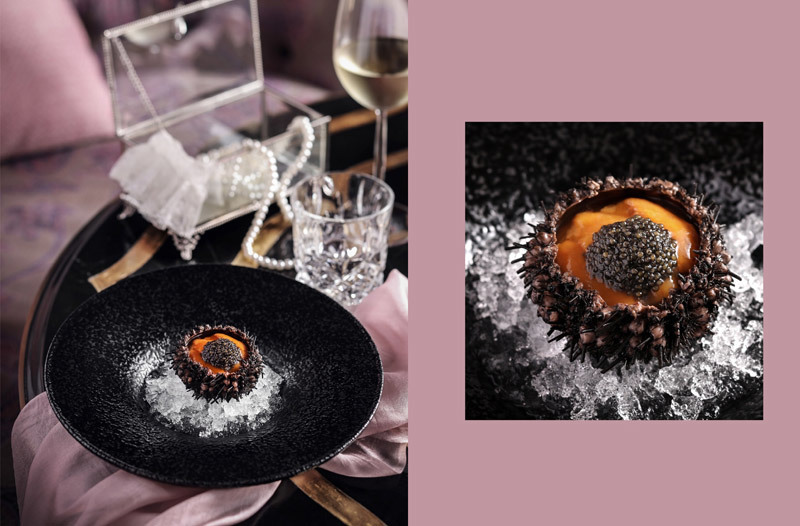 Discover world-class cuisine with Michelin-starred chef at JW Marriott Phu Quoc
One of the region's leading luxury resorts, JW Marriott Phu Quoc Emerald Bay presents an idyllic paradise against a backdrop of untouched beaches and crystal waters.For a more immersive experience, guests can reserve the "Whimsical Gastronomic Journey" experience package which includes two-night stay in Emerald Bay View Room, breakfast for two at Tempus Fugit, a "Two-Chef, Four-hand" fine-dining experience for two at Pink Pearl and round-trip airport transfer.
A one-of-a-kind design narrative, award-winning wellness program, and innovative dining experience all come together and make for an unforgettable getaway in one of Vietnam's best-kept islands.
Contact: 0297 377 9999 | mhrs.pqcjw.reservations@marriott.com
For more information, please visit: https://www.jwmarriottphuquocresort.com/en/home/
Thanh Van
Located in Bai Kem (Kem Beach) of Phu Quoc Island, a beautiful beach with white sand and crystal water, JW Marriott Phu Quoc Emerald Bay is a masterpiece of world-renowned architect Bill Bensley and the investor Sun Group.

The resort's design is based on the 1920s fictional story of Lamarck University, with 244 rooms, suites, apartments and villas, arranged as a model of 18 faculties from nature, society and architecture to chemistry and zoology. The rooms are designed in an open direction, embracing the paradise-like beauty of the Kem Beach. Here, visitors become "luxury scholars", to enjoy the feeling of the past in a school-like space with white chalk, blackboards, prestigious sports trophies and many items collected by Bill Bensley from around the world.

A highlight of JW Marriott Phu Quoc Emerald Bay is Chanterelle Spa by JW. Positioned as a high-end spa with seven treatment rooms, a separate suite, two Reflexology rooms and therapists, it combines nature and traditional medicine. Chanterelle - Spa by JW brings customers different experiences filled with freshness and energy.

Along with world-class services, JW Marriott Phu Quoc Emerald Bay, which opened in late 2016, has quickly become a popular destination for celebrities, showbiz and business people.