A garden in the northern province of Hai Duong Province has recently become a tourist attraction after it was chosen as a new home by many storks.
A corner of the stork island in Hai Duong Province. Photo by VTV
The 14,000-square-metre garden in Vinh Hoa Commune, Ninh Giang District is owned by the family of Ha Van The. Here many storks are building their nests on various trees including longan, litchi, bamboo, chinaberry, and mango.
According to The, the trees here grow very high thanks to fertile soil, and is an ideal environment for storks to build their nests and hatch eggs.
"It took five years for the Stork Island in Chi Lang Nam Commune in the neighbouring Thanh Mien District to attract the first storks to stay, here we saw their nests just some months after they arrived," The said.
The man said that besides the lush garden which offered a safe environment, the surrounding rice farms and lakes and rivers ensure a good food source for the bird.
He added that some other areas in the district had also seen storks and night herons build nests, but they soon left after being disturbed.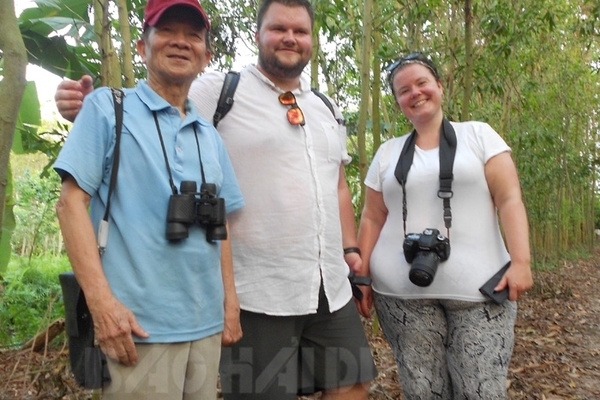 Foreign tourists at The's garden in Vinh Hoa Commune
"Some years ago, hundreds of storks came to live at a small islet in Ninh Hai Commune," The said. "After a market was built and many shops appeared with noisy music, the birds left."
At around 5 pm, flocks of storks and night herons were flying back to the garden. The atmosphere is noisy for a while, and then quiet again as the birds came to rest in their nests.
The shared that his garden is attracting visitors including foreign tourists to come for sight-seeing and learn about the birds.
"I hope that the local authorities will adopt measures to protect the birds including a ban on stork hunting so that we can attract more bird species in the future."
Dan Viet/Hai Duong Newspaper/Dtinews

For nearly thirteen years, thousands of storks have considered a two-hectare riverside area in Gia Vien district, Ninh Binh province as their shelter.