As one of the top tourist attractions in northern Vietnam, Ha Long city is working to improve its service quality and protect the environment.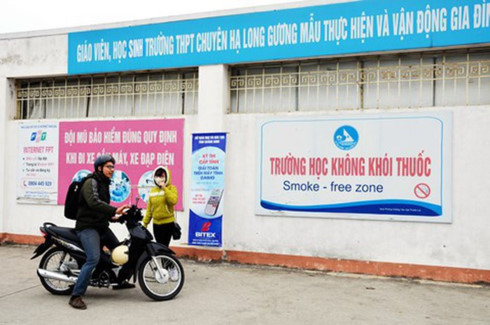 A school in Ha Long City says no to smoking. (Photo: Infonet) 
In the past decade, the city has adopted a smoke-free campaign with the aim of creating healthy environment and raising awareness of the harmful effects of smoking and second hand smoke. 
The Backfire Bar and Café in the center of Ha Long City says no to smoking.
It lures customers with a large smoke-free space decorated with lush green trees and a sign on each table saying "Thank you for not smoking". The café separates a small outdoor area for smokers.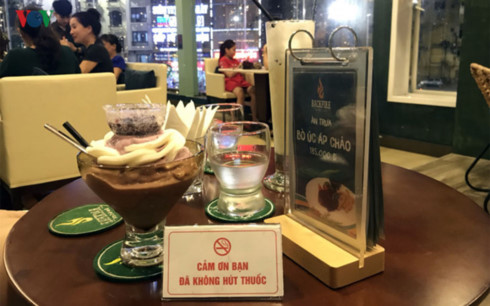 A cafe in Ha Long City puts a sign on each table saying "Thank you for not smoking".
Nguyen Bao Thoa, manager of the Backfire Bar and Café, said "Some customers react angrily to our no-smoking policy by leaving their already-served drinks and going away. Our staff still treats them politely. But, surprisingly, some return later with their wives and children because they want the children to enjoy a non-smoking play space. That makes us touched."
No-smoking signs in Vietnamese, English, and Chinese, are found throughout public places, at markets, shopping malls, hostels, the boat terminal, and on cruises on the bay.
Vu Thi Hoa, a trader at the Ha Long I market, which is popular with tourists, acknowledged an improvement in public awareness of the smoking issue. 
"There were a lot of smokers a decade ago. Now the number of smokers has decreased sharply. Only longtime smokers find it hard to give up smoking and smoke in a permitted area", Hoa said.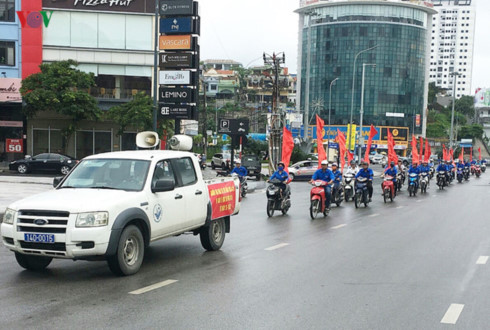 Ha Long City authorities adopt communications campaigns to raise public awareness of tobacco harms.
The smoke-free tourism city campaign has had good results. According to a survey by the municipal Health Department, the number of Ha Long residents who are aware of smoking's harmful effects and have voluntarily given up smoking rose from 50% in 2009 to 80% in 2018.
Nguyen Thi Len, Head of the Health Division in Ha Long City, said "We will enhance our communications campaign to make students aware of the Law on the Prevention and Control of Tobacco Harms in Vietnam. All people should raise their awareness of this issue."
Ha Long City and Hoi An City are the two Vietnamese localities that have been honored by the Smoke-free Cities ASEAN Network.
Ha Long city hopes to establish its trademark as clean, beautiful tourism city, just as Singapore did. VOV     

Open top double-decker buses were officially put into operation in Ha Long city in the northern province of Quang Ninh on June 18, providing visitors with an exciting experience of touring the coastal city.

Ha Long City authorities in the northern province of Quang Ninh have considered installing an escalator at Bai Tho Mountain.

Cruising Ha Long Bay has long been one of the top things to do when visiting Vietnam, but now tourists have a new way to experience the dazzling natural attraction, the US Cable News Network (CNN) Travel said.