A young tour guide group in Hanoi are trying to deal with pickpockets, which have become increasingly common at Hanoi's tourist sites.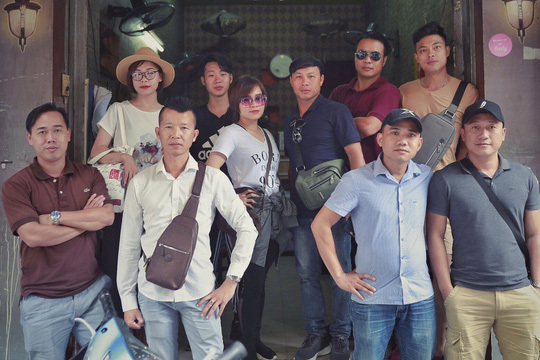 The tour guide group establish to identify pickpockets
The people from Muoi Tour Guide Club have set up a team to hunt for pickpockets. 
More visitors have been pickpocketed at Hanoi tourist sites.
Two Australian visitors recently had their wallets stolen after leaving Tran Quoc Pagoda. Immediately, they called their bank in Australia to lock the credit card.
While waiting for locking the card, up to three transactions were made totalling AUD,6000.
Earlier, two other Australian travellers faced the same problem in Hanoi. They got a phone message about the credit card transaction worth AUD5,000.
The transaction was carried out a shop on Trang Tien Street. When the Australians came to the shop, the criminals had already left. According to the shop cameras, both the thieves were foreigners.
Ngo Quy Tien, a senior tour guide in Hanoi Old Quarter, said that "We often say to foreigners that Vietnam is a safe, peaceful and friendly destination, but in reality, pickpockets have badly affected the country's tourism sector."
Another tour guide named Nguyen Tiep said some tourists blamed their tour guides for not taking care of them carefully enough.
To improve the situation, Muoi Tour Guide Club decided to establish a group to identify pickpockets which has been operated since May. The group has 20 members, including four women.
Members of the group are assigned to watch for suspects, Tien said. He and other tour guides even have refused many tours with attractive payments to focus on the group's work.
Nguyen The Anh said after a short period, he could recognise how suspected pickpockets operate. They often go in groups and wear coats or sun protecting clothes.
They also usually wear wireless earphones to easily contact their accomplices.
According to the tour guides, they have detected around 15 suspects divided into five small groups. They claim they have hired a hotel on Nguyen Truong To Street in Ba Dinh District to live.
Some days ago, the club and some local residents caught a Mongolian man pickpocketing two South Korean female visitors. Dtinews