The HCM City Department of Tourism aims to promote the application of digital technology at 100 tourism sites in the city to enhance the experience of tourists as well as locals.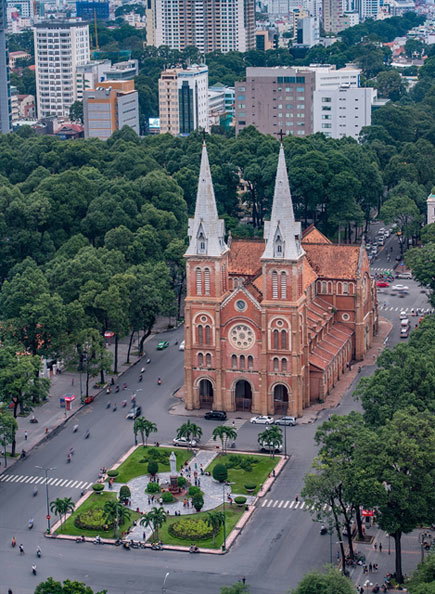 VR technology will be used to show visitors the 
Notre-Dame Cathedral Basilica of Saigon along with 100 other tourist attractions. – VNA/VNS Photo Trang Duong/Photo huongdanviendulich.org
QR Codes are being increasingly used in HCM City's tourism. Through a simple scan, customers can access different trip options and discover information like availability and prices.
This year, the department is taking steps to use VR (virtual reality) technology such as 3D models and 360-degree photos at 100 tourist attractions, including museums and cultural heritage sites in HCM City, said Nguyen Thi Anh Hoa, director of the city Department of Tourism.
The department is preparing the "100 exciting destinations in HCMC" programme with new tourism products and services.
The city is also focusing on carrying out multimedia communications and online communications to promote the tourism brand ''Vibrant Ho Chi Minh City'', as identified in the Ho Chi Minh City Tourism Development Strategy to 2025 and vision to 2030.
In addition, the city will produce short films about lifestyle, culture and cuisine to restore tourism activities after the COVID-19 pandemic.  

The list of "100 exciting things in HCM City" includes:
1. Five museums: The War Remnants Museum, the HCM City History Museum, the Hồ Chí Minh Museum (HCM City branch), the HCM City Museum, the HCM City Fine Arts Museum.
2. Five architectural works: Notre Dame Cathedral, Giác Lâm Pagoda, the Central Post office, the Municipal Theatre of HCM City (Sài Gòn Opera House) and Hải Thượng Lãn Ông Quarter.
3. Five historical, cultural and art relics: the Củ Chi Guerrilla Warfare Tunnel, Independence Palace, Sác Forest – Cần Giờ Resistance Base, Thiên Hậu Temple, and Emperor Temple.
4. Five leisure destinations: the Suối Tiên Tourist Site, Đầm Sen Culture Park, Bình Quới Tourist Site, Sài Gòn Zoo, and A Glimpse of Việt Nam Tourist Site.
5. Five traditional markets: Bến Thành, An Đông, Bình Tây, Soái Kình Lâm, and Tân Định.
6. Five tourism types: ecological tourism, gastronomy, city tour, shopping and waterways.
7. Five tourism events: Spring Flower Road, HCM City Tourism Festive Days, Southern Fruit Festival, Tao Đàn Spring Flower Festival, and Delicious Dishes Gastronomy Festival from Countries around the World.
8. Five luxury hotels: Sheraton, Caravelle, Majestic, Park Hyatt Saigon, and Rex.
9. Five business hotels: New World, InterContinental Asiana Saigon, Windsor Plaza, Legend Saigon, and Continental.
10. Five places for exhibition and conference: White Palace, the Saigon Exhibition and Fair Centre, the Phú Thọ Gymnasium, the Văn Thánh Tourist Site, and the Tân Bình Exhibition and Fair Centre.
11. Five shopping places most favoured by tourists: Tax Trade Centre, Vincom Trade Centre, Crescent Mall, Miss Áo Dài, Minh Phương Lacquer, and Fine Arts Store.
12. Five restaurants most favoured by tourists: Muối Xiêm Country Pancake, Cham Charm, Saigon Cooked Rice, Mandarin, and Ngon.
13. Five souvenir products: Vietnamese Dress (Áo dài), Palm-leaf Conical Hat (Nón lá), Hand-made Embroidery, Silk and Sand Picture.
14. Five Southern foods: Country Pancake, Gỏi Cuốn, Cooked Broken Rice, Spring Roll, and Braised Fish.
15. Five places for night entertainment: Bán Nguyệt River, Phạm Ngũ Lão Ward, Hard Rock Cafe, Megastar Cinema, and Saigon Bar.
16. Five art performance places: the Opera House, Rồng Vàng Water Puppetry Stage, IDECAF Stage, Hồng Vân Theatre, and Small Stage Theatre.
17. Five favourite spa and health care locations: Ngọc Anh Spa, Sen Spa, La Cochinchine, Authentic Spa, and Anam QT Spa.
18. Five exciting cafes: Highlands, Trung Nguyên, Gloria Jeans, Central, and Windows.
19. Five road transport brands: Taxi Mai Linh, Taxi Vinasun, Phương Trang Company, Vietravel, and Hòa Bình Travel Company.
20. Five most-favoured fruits: Mangosteen, Mango, Star Apple, Grapefruit, and Blue Dragon.
VNS

Sustainable regional linkages between HCM City and five other regions are expected to play a vital role in the recovery of the tourism industry, which has been seriously affected by the COVID-19 pandemic.

More nighttime tourism services would help extend tourists' length of stay and spending in HCM City, experts have recommended.